Beer Review: BridgePort Brewing Company's Trilogy Series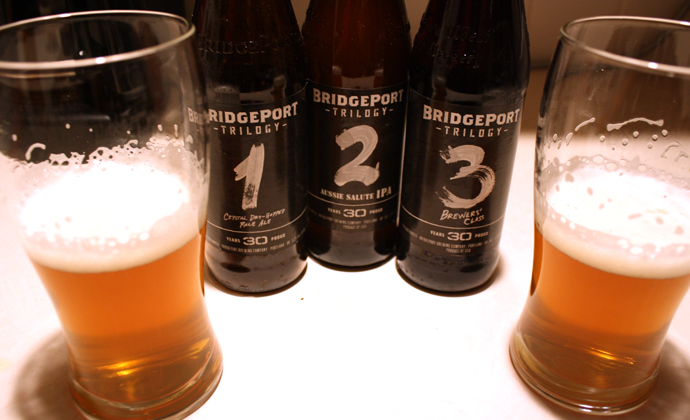 Back when Portland, Oregon's BridgePort Brewing Company first got started, Apple had just introduced its first Macintosh personal computer, and everyone from A Flock of Seagulls to Van Halen was giving rise to big hair on MTV.
As far as beer was concerned, weekends were made for Michelob and Miller Lite not only tasted great, it was less filling too. It was only a few short years since President Jimmy Carter signed the landmark legislation that reopened markets for small, independent brewers, and trailblazers like BridgePort were literally at the forefront of a coming craft brew renaissance.
Here in present time, the brewery is celebrating its 30th anniversary. To honor the occasion, they've introduced BridgePort Trilogy, a series of three limited edition beers. Fans are encouraged to check out all of them, and vote for the one they like the best. The beer with the most votes will then go into regular production and join BridgePort's core lineup of regular releases next year.
SPOILER ALERT: The votes are in, but you can still enjoy the beers and weigh in on the conversation.
The series starts with BridgePort Trilogy 1, a hazy, golden crystal dry-hopped pale ale with a floral and citrus-fruity nose. It goes down easy, washing over the palate with some malty sweetness followed by bitterness that fades to a dry finish with some residual hoppiness.
BridgePort Trilogy 2, an "Aussie Salute" IPA, comes with a much more pronounced hop character than its predecessor. This beer is the result of a collaboration with former BridgePort brewmaster Phil Sexton, who formulated the brewery's first IPA, before relocating to Australia. It's made with the same Willamette Valley-grown Centennial and Chinook hops BridgePort's been brewing with all along, but gets some additional complexity courtesy of Australian-grown Galaxy and Ella hops.
BridgePort Trilogy 3, a dry-hopped session brown ale brewed in conjunction with students from the Fermentation Science program at Oregon State University, could be the best of the series. It pours a deep orange-amber color with a foamy, off-white head. It fills the nose with earthy hops, caramel and nutty notes. Each sip yields malty sweetness with more caramel and some citrus that gives way to hoppy bitterness at the finish.
All three beers are certainly worthy of celebrating BridgePort's big milestone. They come brimming with the big, bold flavors and aromas that craft beer dorks have come to expect and obsess over. But perhaps even more importantly, all those sweet, fruity and bitter bursts are incredibly balanced, and show a remarkable sense of restraint on the part of the brewers. And that's something that only comes with 30 years of practice.
Tags:
Beer
Recent Articles

Feedback
How are we doing? Tell us what you like or don't like and how we can improve. We would love to hear your thoughts!