Beer Review: Narragansett Autocrat Coffee Milk Stout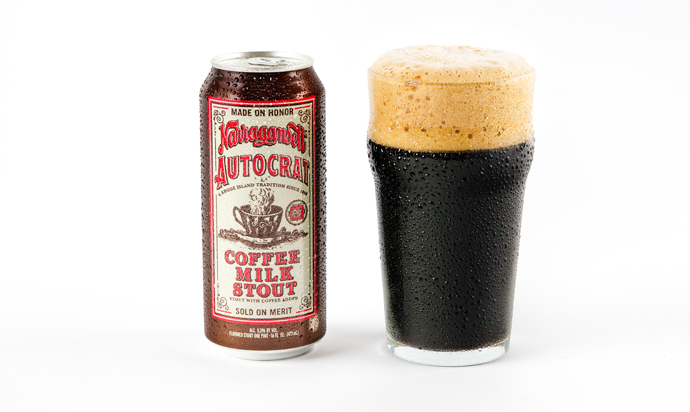 With the season of clambakes fading ever further into our collective rearviews, the good folks behind the Official Beer of the Clam — aka Narragansett — are bringing back their limited-release Autocrat Milk Stout for the coming winter months.
The stout serves as a celebration of two Rhode Island icons; the beer that's best friends with bivalves everywhere and Autocrat Coffee, whose coffee syrup is the key component in America's smallest state's official beverage, coffee milk.
Poured into an imperial pint glass, the deep brown stout forms a thick and foamy three-finger light brown head that clings to the sides of the glass as it slowly recedes. When held close to light, the murky brew appears opaque without so much as a flicker shining through.
Strong black coffee, bitter chocolate and sweet cream dominate the nose. Those same characteristics come through loud and clear with each sip, but on the palate, that bitter chocolatiness and creamy sweetness hang in near perfect balance. It's neither bracing nor cloying, and goes down easy, finishing up on the sweeter side of things.
And while not nearly as dense and chewy as similar stouts, 'gansett's Autocrat satisfies with a medium body and a viscosity that's similar to low fat milk.
As far as food pairings are concerned, save it for dessert or after dinner cheese courses, where its light and creamy consistency is a perfect match for chocolate and cream-based confections like cannoli and pana cotta, or aged cheddar, camembert and chevre cheeses.
Photo: Narragansett Beer
Tags:
Beer
Recent Articles

Feedback
How are we doing? Tell us what you like or don't like and how we can improve. We would love to hear your thoughts!