Drinking Historically at The Olde Bar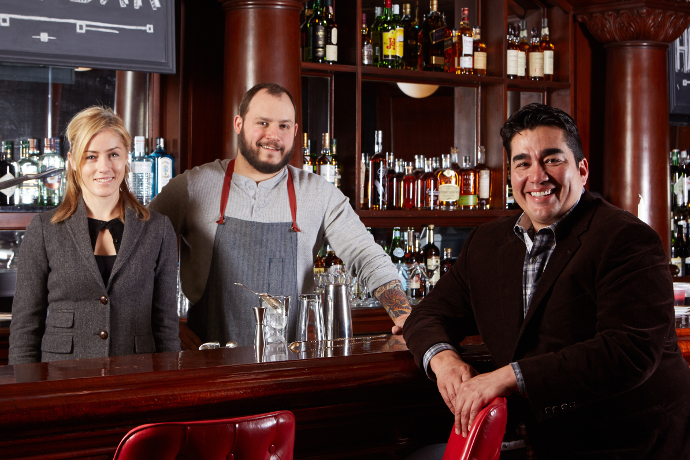 Right to left: Charlotte Voisey, Erich Weiss and Chef Jose Garces
At The Olde Bar, now open in the Bookbinder's building in Old City, the cocktail menu is peppered with historical nods to the building in which the bar resides, the surrounding neighborhoods and notable ladies and gentlemen from a bygone era. Developed by spirits consultant Erich Weiss and Charlotte Voisey, William Grant & Sons Portfolio Ambassador and host of The Proper Pour, the menu is currently divided into The Signatures, Warm Cocktails, Punches, Shooters, The Classics, Beer/Cider, Wine and a deep collection of Spirits ranging from aperitifs to bourbon, scotch, cognac, rum, vodka, gin to digestifs and amari by the glass.
If you have a thirst for knowledge of the first golden age of cocktails, then you'll be tickled by an impressive selection of 28 classic cocktails including, the Old Fashioned, Manhattan, Boulevardier, Sidecar, Sazerac, Ramos Gin Fizz, Aviation and many more.
'The Signatures' drinks portion in particular is a bit of a love letter to Philadelphia's history, but written in booze. It features some riffs on classics while staying true to Philadelphia's roots. A few stand out drinks that we urge you to try include: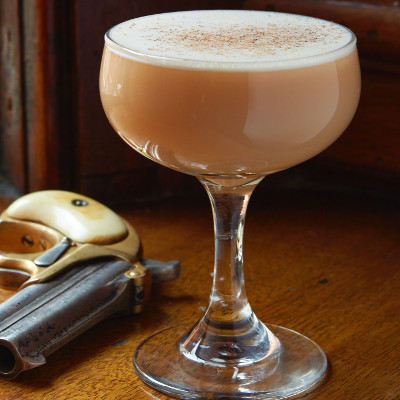 "John Krider Sportsman's Depot: "Gun Maker, Dealer in Fishing Tackle and all kinds of Sporting apparatus""
The Krider Flip references a gun shop owned by gunsmith John Krider, which could be found at 2nd and Walnut Street. With clever ingredients like Bulleit Rye, Gunpowder Tea Syrup, Montelobos Mezcal, Campari, Egg and High West Campfire Whiskey Spritz, you get a drink with smoky notes but with a very, very smooth texture thanks to the whole egg. Yes, one whole egg. The inclusion of whole eggs in cocktails is a tradition that goes back to the seventeenth century. Eggs lend drinks a creamy and silky mouthfeel.
"A for-real Irish apology to Ms. Harriet Blackburn, late torchbearer and caretaker of the saloon in which you imbibe."
Made with Jameson, St. Germain, Blackberry & Sage Syrup, Fresh Lemon Juice and Bitters, the Sorry Miss Blackburn also references another local to the neighborhood. This Miss Harriet Blackburn in particular lived above the original Bookbinder's restaurant.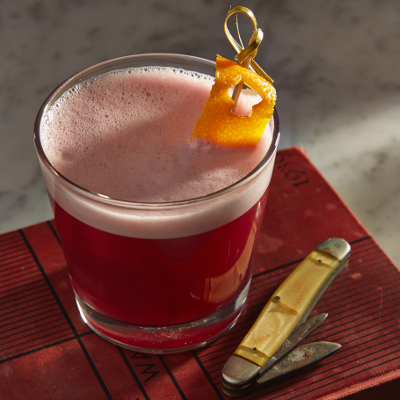 "Somewhat bitter, somewhat sweet. When hand-me-downs become pick-me-ups."
The 5th Grandchild is a nod to Erich Weiss himself as he is literally the fifth grandchild of the original Bookbinder's proprietor, John M. Taxin. Weiss wanted a drink on the menu that had Old Grand-Dad Bourbon in it, so Voisey devised this cocktail which includes, the aforementioned Old Grand-Dad Bourbon, Port, Pineapple Gum, Ancho Reyes Chile Liqueur, Fresh Lime Juice and Mole Bitters. It's a playful, strong drink that gets its body from the port, and a nice spicy finish from the Ancho Reyes liqueur.
"Founded in 1896, created 1910. The cocktail of choice for Philadelphia's 'captains of industry and distinguished patrons of the oak-paneled lounge.'"
Some bar patrons of the male persuasion might feel some kind of way about ordering or receiving a pink drink. But don't fret, as once upon a time, pink was the designated color of little boys. The Clover Club was inspired by a Philadelphia men's club which met in the Bellevue-Stratford hotel. This pre-prohibition cocktail is made with Bluecoat Gin, Dolin Vermouth, Raspberry Syrup, Fresh Lemon and Egg White.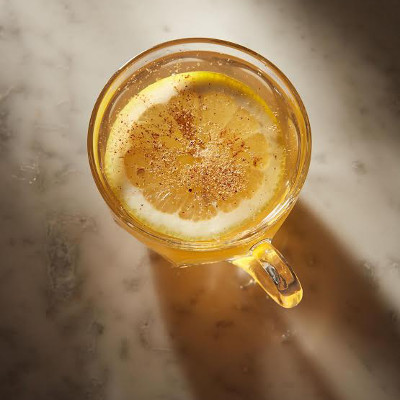 "The quintessential American Punch"
This menu wouldn't be complete without the Fish House Punch, which was inspired by a libation imbibed by a group of high-society gentlemen who belonged to a club called the 'State in Schuylkill Fishing Corporation,' aka the Fish House. The punch is rumored to have been birthed in 1732, and to have been a favorite of George Washington. The Olde Bar's version includes Smith & Cross Rum, Appleton Rum, Different Drum Pennsylvania Rum, Western Grace Brandy, Peach Brandy and Fresh Lemon Juice.
"Oh, the Hubris of Mr. Connie Mack"
The other punch on the menu, the Swampoodle Punch, references an old neighborhood in North Philadelphia where the Connie Mack Stadium could be found. It was a baseball park that was once home to the Philadelphia Phillies. Toast to history with Jameson, Cruzan Blackstrap Rum, Strawberry Shrub and Dead Rabbit Orinoco Bitters.
The beer portion of the menu doesn't escape history either. There was once an outdoor market on Dock street—which is around the corner from the bar—where vendors sold provisions, oysters among them, so it was only appropriate that Dock Street Brewery make a special Oyster Stout for The Olde Bar.
The Olde Bar is one of your new best bets for Happy Hour (4–6 PM every day) with buck-a-shuck oysters, 3 for $5 or 6 for $10 East Coast oysters, $5 select snacks, $4 house red and white wines by the glass, $3 select drafts and $6 Fish House punch.
There are lots of great stories surrounding the drinks on the menu, sit at the bar, take a break from your phone. and talk some history with the bartender. We're in Philly after all. Here's to drinking in the history!
The Olde Bar; 125 Walnut St.; 215-253-3777
All photos by Michael Persico
Tags:
Cocktails
,
Food
,
Spirits
Recent Articles

Feedback
How are we doing? Tell us what you like or don't like and how we can improve. We would love to hear your thoughts!