Hawaiian Shirt Alert: Grey Lodge Pub Celebrates Groundhog Day, Feb. 2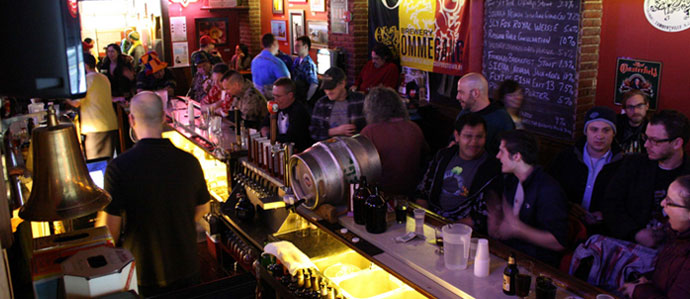 Perhaps one of the stranger events we have ever heard of is Grey Lodge Pub opening at 7 AM on February 2nd in time to watch Punxsutawney Phil poke his head out at 7:20 AM. This year, Groundhog Day falls on the Monday after the Super Bowl. You already requested off for that day, right? Perfect!
The owner, Mike Scoats, breaks out one of the most ridiculous tap lists for those brave enough to travel out so early. Prizes will be awarded for best and worst hawaiian shirts and the winner of a hula hooping competition. Of course there will be great beer and food to go around! The event is cash only, though, so come prepared.
Featured beers for Groundhog Day 2015:
Dock Street 2014 Summer in Berlin
Flying Fish Bourbon Barrel Aged Abbey Dubbel
Free Will Kriek
Manayunk Siebra Saison
Otter Creek 2012 Russian Stout
Russian River 2013 Consecration
Russian River 2012 Supplication
Sly Fox Brewers Select IPA
Struab Groundhog Brew
Troegs Dreamweaver
Trubbel de Yards
Event Lineup According to Grey Lodge:
7 AM: Punxsutawney Phil's Weather Prognostication
Our doors will open at 7am, the earliest we are allowed to open by law.
We open at 7 AM becausePunxsutawney Phil does his prognostication at 7:20 AM, and we can't miss that; that's the whole point of Groundhog Day! We will have our large-screen, high-def TVs tuned to PCN, ready for Phil's pronouncement. We'll have loads of noisemakers to greet Phil's appearance.
Our kitchen will be open with a special breakfast menu.
Featured Beers: Russian River 2013 Consecration and Russian River 2012 Supplication. We age these sour masterpieces especially for Groundhog Day.
8 AM: Troegs Hawaiian Shirt Contest
The Hawaiian Shirt contest is an annual Groundhog Day tradition. Wear your best (worst) Hawaiian shirt. Troegs will have prizes for the best (worst) ones. Best/worst - same difference.
Featured Beers: Troegs Dream Weaver Wheat (draft) and Troegenator (cans).
9 AM: Groundhog Prognostication Reenactment
Last year, We couldn't open until 9am because it was a Sunday. So took lemons and made a radler or something like that. We had a live reenactment of the prognostication in Punxsutawney. It was so much fun that it is now a tradition. Thanks to Mike Lawrence for this video of the 2014 reenactment. If you want to volunteer to be a reenactor, please email scoats@greylodge.com.
Featured Beers: Straub Groundhog Brew
10 AM: Sly Fox Hula Hoop Contest
Continuing with the Hawaiian theme, it's a hula hoop contest. Prizes for the best and most enthusiastic hoopers. This is always a fun one.
Featured Beers: Sly Fox Brewers Reserve IPA (draft) and Sly Fox Helles (cans).
11 AM: Yards Dance Off
Shake your money maker for prizes!
Featured Beer: Trubbel de Yards. This dubbel/triple Belgian combo is always a special treat whenever Yards is able to brew some.
12 PM: Flying Fish in a Barrel
Going with the barrel aged Flying Fish theme, Mary Grace will have a Flying Fish in a Barrel promo. We don't exactly know what this is yet.
Featured Beer: Flying Fish Bourbon Barrel Abbey Dubbel.
1 PM: Lucky Cat Day Seasonal Beer Prognostication
Like Punxsutawney Phil, the Grey Lodge's Wissinoming Winnie is a prognosticator. Unlike Phil who prognosticates weather, Winnie prognosticates beer.
Every February 2, with the help of her Inner Circle, Winnie determines if there will be 6 more weeks of winter beers or if the spring seasonals will arrive early. Winnie's Inner Circle is comprised of her hand picked (paw picked?) menagerie of local beer folks.
Featured Beers: Free Will Kriek.
After the Prognostication, it's time to go home for a well deserved nap. Or stay a spell, we'll be here til 2 AM.
Photo by Drink Philly
Add to Calendar 2015-02-02 7 AM 2015-02-02 2 AM 15 Hawaiian Shirt Alert: Grey Lodge Pub Celebrates Groundhog Day, Feb. 2 Website: http://greylodge.com/groundcat.html Grey Lodge Pub false YYYY-MM-DD
Event Date: 02/02
Event Time: 7 AM - 2 AM
Location: Grey Lodge Pub
Price: PAYG
Type: Beer,Food,Holiday,Parties
Website: http://greylodge.com/groundcat.html

Tags:
Beer
,
Food
,
Holiday
,
Parties
Recent Articles

Feedback
How are we doing? Tell us what you like or don't like and how we can improve. We would love to hear your thoughts!