From Oaxaca With Love: Exploring Dock Street Spirits' Vicio Mezcal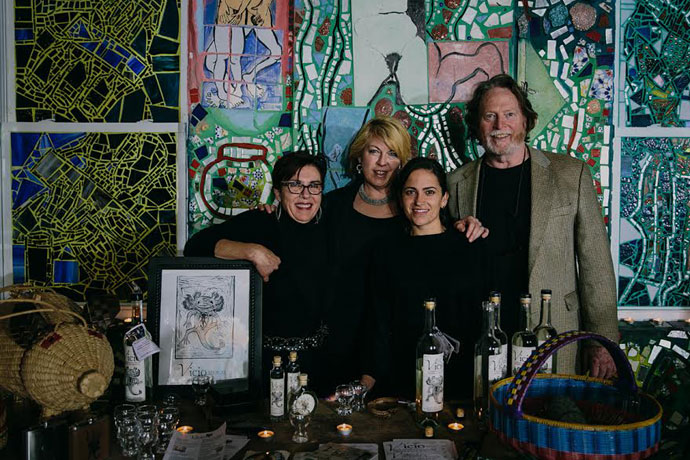 We've got a new product here in Philadelphia by way of Oaxaca, Mexico from the folks at
Dock Street Spirits
, founded by
Rosemarie Certo
,
Marilyn Candelero
and
Regina Pfohl
. Mezcal is an emerging, premium category that's slowly but surely catching up to its cousin, tequila. Drinkers' relationship with tequila has evolved over the past couple years due to bar programs and brand ambassadors working diligently to move tequila away from the spirit that you pound shots of, towards one that's enjoyed in cocktails made with fresh juices, like The Paloma (tequila, grapefruit, lime) or Margaritas that aren't made with store bought sour mix; while also offering high quality aged tequilas for sipping. Now the challenge is to educate consumers about Mezcal and how to drink it.
Some quick notes on Mezcal:
Mezcal has a protection of Appellation of Origin status, meaning it can only be produced in seven areas exclusively in Mexico: Oaxaca, Guanajuato, Tamaulipas, Durango, San Luis Potosi, Guerrero and Zacatecas. Having appellation status has helped mezcal gain the visibility of tequila in global markets, and has given the product a turn around in perception of its quality. In Mexico it was mostly seen as the working man's drink, made and consumed in some of the poorest regions of the country.

Mezcal, unlike tequila, can be made from many different varieties of agave or maguey plants including espadin, tobala, barril and cupreata; and is roasted in palenques (rock-lined pits) for three to five days to achieve its signature smokey flavor.

Vicio Mezcal (along with 90% of other mezcal) is made with espadin, one of the highest quality agave plants that can be used to create this beverage.

It is typically consumed straight, and Vicio Mezcal in particular was designed to be drunk straight, as it has a velvety mouthfeel with a smooth flavor profile that makes it an ideal intro to your journey into learning about and drinking mezcal.

Mezcals are the ultimate in small-batch, family made, singe-village spirits that showcase the terroir of the particular region in which they're made;

the production methods

have been passed down from one generation to the next, so different families have their own signature recipes which don't lend towards mass production. Hence one of the reasons why the price point for this product tends to be on the higher end.

As a product, it's showcased a rapid growth in terms of sales and quality perception, per

this case study

, "In 2006, only 23% of consumers in Mexico perceived mezcal to be a high quality alcoholic beverage. By 2008, this number rose to 41%, and in September 2009, mezcal was sold in one of the most exclusive stores in Mexico, for the first time." Overall, mezcal has shown growth in sales, while tequila has slowed down in the global markets.

Mezcal is marketed in four categories: young, rested (aged 4 months to 1 year), aged (1 year aged in wooden barrels) and semisweet (mezcal that's been softened with the addition of herbs or fruits).
Dock Street Spirits decided to pursue this category due to it's place as an emerging product through which they could differentiate themselves in the highly competitive spirits industry. They have seeded the product to a select few bars and restaurants in Philadelphia, including
The Dandelion
,
Standard Tap
,
A. Bar
and
The Olde Bar
, among others. The mezcal section of most bars is limited to two to four bottles, with regular brands including Del Maguey and Illegal. So as a category, the competition isn't as overwhelming compared to, say, the 20 or so bottle line up found in the brown spirits categories.
The process of creating it started some four years ago when the team traveled to Mexico. They explored different distilleries and met with a few different families that have made this product for generations. They taste tested their way around Southern Mexico and eventually fell in love with one particular farm/family with whom they've entrusted specific instructions on the flavor profile that they were looking for. They've got an engineer down there that oversees quality control and makes sure the batches achieve the particular flavor profile they've designated. They've also got their own special ingredient that they added to the traditional recipe while still maintaining the integrity of the product.
The design of the bottle's label was hand-drawn by the son of one of the mezcaleros that distills Vicio. It depicts Axolotl, a Mexican salamander. It's a type of walking fish that's native to Oaxaca. They were looking for a symbol that would describe the effects of mezcal. Something that draws you inward. Something about a transformation and growth. The drawing depicts the large salamander with a smaller one inside himself to showcase knowing one's self.
Vicio Mezcal is 48% ABV with a floral nose, smooth mouthfeel and smoky finish that's best enjoyed neat in a rocks glass or a tumbler. However if you'd like to mix it, here are a few recipes to try.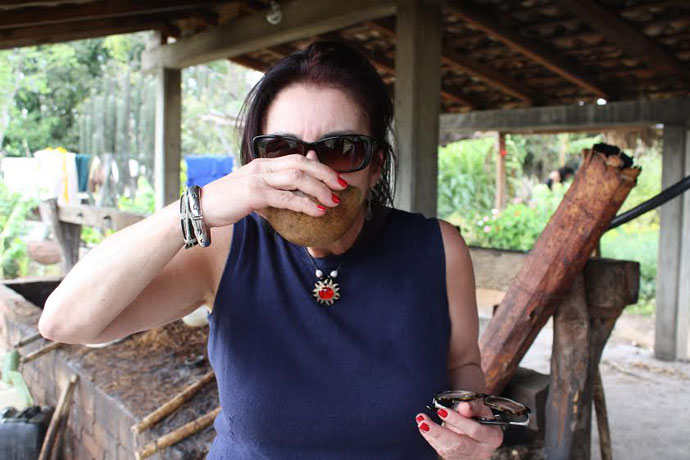 Dock Street's Mezcal Mule
1 1/2 oz. Vicio Mezcal
1/2 oz. fresh lime juice
2 oz. Dock Street Summer in Berlin (berliner weisse) or High Quality Ginger Beer
1 oz. simple syrup

Serve in a copper mug or highball over ice.

Smoke the Paloma
2 oz. Vicio Mezcal
1 oz. fresh grapefruit juice
1/2 oz. fresh lime juice
1 1/2 oz. seltzer
Grapefruit or lime wedge

Place ice cubes in a highball glass. Add mezcal, grapefruit and lime juice, then top with seltzer.

Vicio Negroni
1 oz. Vicio Mezcal
1 oz. Campari
1 oz. sweet vermouth

Combine all ingredients in a mixing glass and stir with ice. Strain into rocks glass with one large ice cube. Garnish with lemon peel.

Vicio Mezcal is currently available in Pennsylvania and New Jersey, and Dock Street is looking to expand to New York, Boston and eventually California.

Top photo (Rosemarie Certo, Regina Pfohl, Marilyn Candelero, Joe Dodds) by Neal Santos, Other photos by Dock Street Spirits
Tags:
Cocktails
,
Spirits
,
Tequila
Recent Articles

Feedback
How are we doing? Tell us what you like or don't like and how we can improve. We would love to hear your thoughts!