Cocktails Bring Together the Kitchen and Bar at Aldine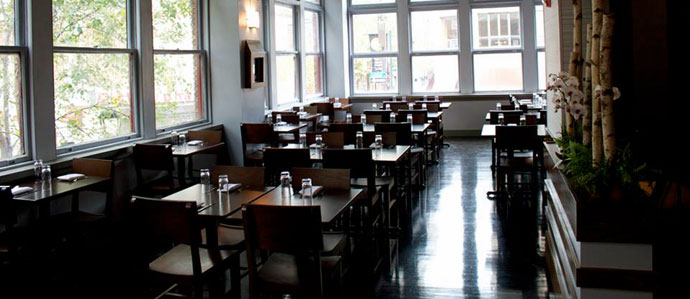 Aldine, the airy, second floor dining room from husband and wife team, George and Jennifer Sabatino, is clearly a collaborative effort. Jennifer heads up the front of house and bar programs while George and his crew turn out thoughtful plates from the open kitchen. But after sitting down to talk to Jennifer about the beverage program at the newly opened Aldine, the interplay between the front and back of house is apparent, especially on the cocktail menu.
"The cocktail program here takes a lead from George's made-from-scratch ideals," Jennifer explains. Mixers come from kitchen to the bar where Jennifer and her staff do some infusing on their own. She's particularly proud of a house-made take on Campari (much like the original, it's a proprietary and top secret recipe) as well as amortizing wine for a house sweet vermouth. "We make a really nice Negroni, it's not on the menu but I think it's one of the nicest cocktails we have," she says.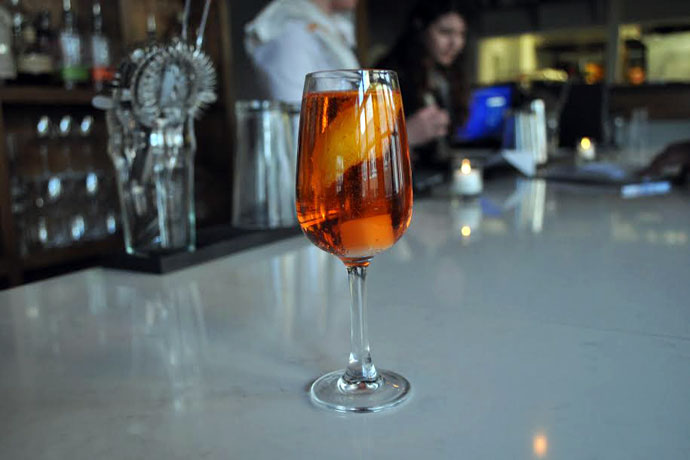 The short and sweet cocktail menu is designed to mimic the food menu, listing base ingredients and leaving preparation and techniques up to the imagination or their team of well-trained service staff.
The six cocktails on the menu are listed with the primary spirit first followed by three mixers that are incorporated into the drink. For the gin drink, a glass is given a Vieux Carre absinthe rinse before being filled with gin, Concord grape juice and finished with a splash of sparkling wine. During the warmer months, fennel flowers garnished the glass, playing with the fennel flavors of the absinthe.
Wintery apples are riffed on with the bourbon cocktail that gets mixed with a shrub made with cider and vinegar and sizable pieces of fresh ginger for a punchy garnish.
Aldine's tasting menus are another place where both the bar and the kitchen get to have fun with drinks. The five-course omnivore and herbivore menu are offered with a four drink pairing, a cocktail with the first course, two glasses of wine with the mid and entree courses and a dessert cocktail.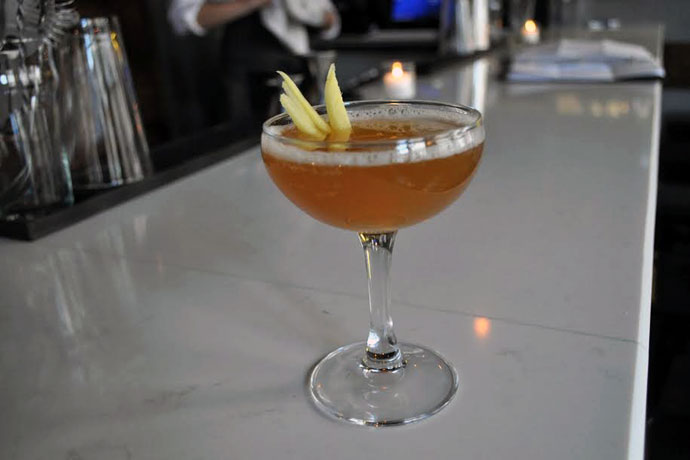 Whether he's working with animal proteins or vegetables, George begins the tasting with something raw and acidic, like, say, raw tuna with orange, fennel and sesame, the perfect place for a bright drink like Jennifer's take on an Aperol Spritz. She makes her's in a mini flute with a grapefruit bitters-soaked sugar cube in the bottom before filling it with bitter Aperol, sparkling wine and a fresh lemon twist.
When dessert rolls around Jennifer gets to have a little fun with the restaurant's strict house-made butter only policy. For her hot buttered rye, a scoop of Chinese five spice, cinnamon, molasses, brown sugar and nutmeg butter is melted with a bit of hot water and rye then topped with whipped cream made from the same Green Meadow Farm cream that the butter is made from.
Perhaps the most thoughtful element of Aldine's beverage program is the non-alcoholic portion. While doing a honeymoon/research trip for Aldine, Jennifer and George did what she called a "little tour de Michelin star" trip to San Francisco. Not being a drinker, they were both disappointed with the pairing options that didn't involve wine or cocktails. Not content with club soda and orange juice served in a Champagne flute, the pair were inspired to create a few sodas elegant enough to pair with the rest of the Aldine experience. Jennifer and George have stepped up their NA offerings with sodas like smoked tea and blood orange, cream using whole vanilla beans and a wine-less sangria, served in cocktail glasses and all elegant enough to match perfectly with their menus.
Aldine is open Monday to Thursday from 5–10 PM, Friday and Saturday from 5–11 PM and Sunday from 5– 9 PM.
Aldine; 1901 Chestnut St., 2nd floor, 215-454-6529
Top image via Aldine, Cocktail images by Caroline Russock
Tags:
Cocktails
,
Food
,
Spirits
Recent Articles

Feedback
How are we doing? Tell us what you like or don't like and how we can improve. We would love to hear your thoughts!