The Franklin Presents the Special 'Dutch County Memories' Cocktail Tasting Menu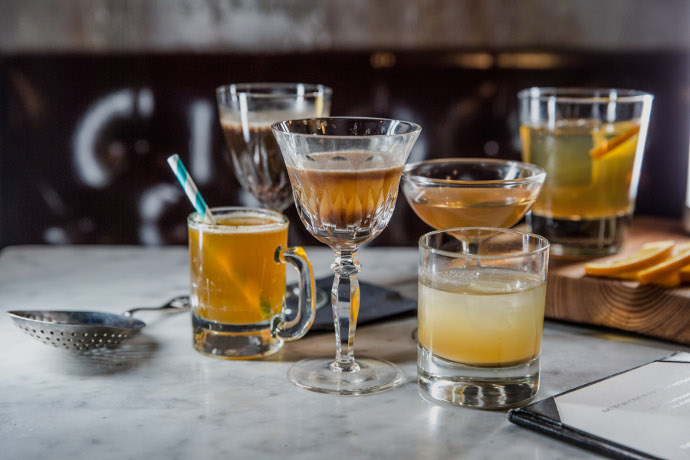 The Franklin's Head Bartender, Sara Justice, has been working on this five-course tasting menu throughout the winter with the goal of showcasing Pennsylvania Dutch flavors and allowing for more engagement and conversations with guests. The menu tells a story reflecting Justice's childhood and the traditional Pennsylvania-German cuisine she grew up eating in Lancaster county.
The drinks are made with some very specialized techniques and utilize a few seasonal, house-made ingredients that render a unique collection of libations that perfectly flow one after the other.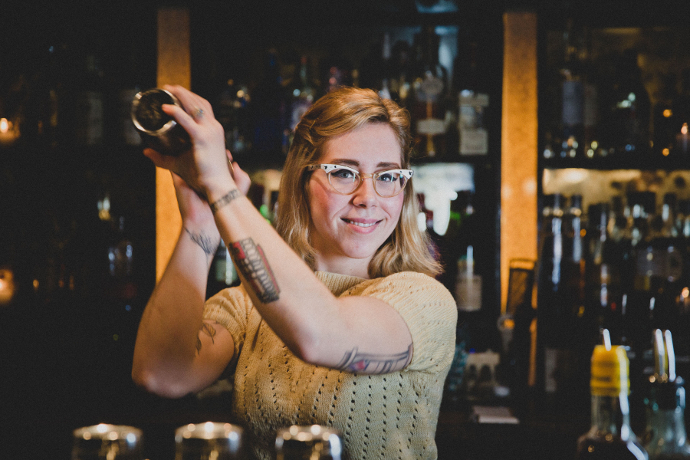 The tasting menu opens up with a citrusy, refreshing and clean cocktail called Birch Beer that's served in a tiny mug with a paper straw. It's made with navy strength gin, birch, licorice and fresh lime served with club soda. Before prohibition, birch beer was a mildly fermented beverage made from birch sap; the birch syrup in this cocktail is made from birch sap from birch trees in Alaska that can only be tapped twice a year.
The second course is Plum Pudding, which is made with rum, toasted milk, plum butter and allspice and served up. To make the toasted milk, dehydrated milk is toasted with butter to the point where it's almost caramelized. Then, it's blended with Ron Zacapa 23 and frozen so the butter separates and can be skimmed off easily. This process is known as fat-washing and gives the cocktail a nice, rich mouthfeel while also providing it with a savory flavor profile that transitions very smoothly from the Birch Beer cocktail.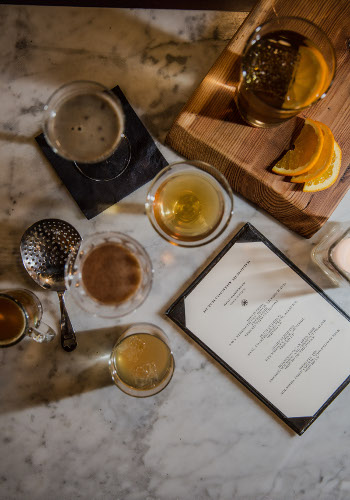 In the middle of the menu is Night Sledding, a refreshing palette cleanser made with rye whiskey, pine and menthol served up. Inspired by a Manhattan, this cocktail is light, fresh, crisp and not overwhelmingly minty. It works as a great bridge between the first and the last two cocktails. The menthol in it is a tincture made with vodka infused with menthol candies, which adds a nice, cooling sensation at the end.
The fourth course is entitled Roasting on an Open Fire. This is an incredible concoction inspired by an Old Fashioned that will leave you wanting more. Consisting of smoked bourbon and chestnut praline and served on the rocks, it's one of the most boozy tasting drinks on the menu. It takes two days to prep the smoked bourbon, which is infused with chestnuts, smoky bacon, red wine and butter, all of which are cooked down and reduced. That resulting mixture is then blended and put into the bourbon via fat-washing, which leaves the bourbon with a very smoky, nutty, rich and savory flavor profile. The chestnut praline is made in-house with charred chestnuts roasted with sugar. All this makes for an incredible drink that's particularly remarkable and super satisfying. There is nothing else quite like it in Philly at the moment.
Lastly, there's the 'dessert course'; Shoo Fly Pie made with molasses, port, cognac and whipped oat milk served up. Even though this very clever and technically challenging cocktail was inspired by its namesake, the texture, taste and frothy topping also brings to mind a delicious oatmeal stout. The molasses, port and cognac are mixed at the bar, and the house-made whipped oat milk—which is made with toasted oat germ and gelatin—is served table side and floated on top of the drink. It's a rich, creamy and very satisfying end to the tasting menu.
In addition to the tasting menu, there are two complimentary amuse beverages served to guests. Schnitz & Sherry is served before the Birch Beer, and Buttermints & Soda is served in between Roasting on an Open Fire and Shoo Fly Pie.
Overall, the menu is a very pleasurable, thoughtful and unique tasting experience that pays a great homage to our region and its heritage. It's available through the end of March at $65 a person excluding tax and gratuity.
The Franklin is open nightly from 5 PM until 2 AM. The Upstairs at The Franklin is open from 6 PM until 2 AM on Friday and Saturday.
The Franklin; 112 S 18th St.; 267-467-3277
Photos by Neal Santos
Tags:
Cocktails
,
Spirits
Recent Articles

Feedback
How are we doing? Tell us what you like or don't like and how we can improve. We would love to hear your thoughts!