A Week of Philly Wine Week Events at Panorama, March 22-29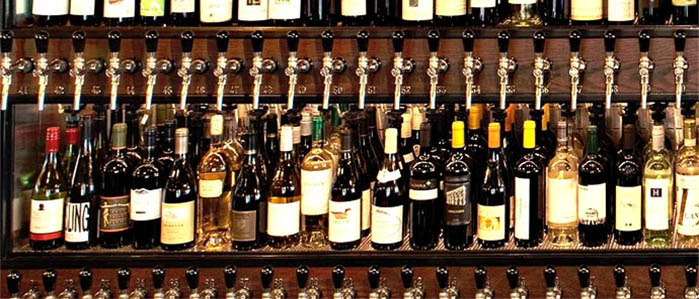 With 120 wines on tap, it's only natural that Panorama would have a jam-packed Philly Wine Week schedule!
Wine At Nine
March 22–29; 9–10 PM
Every night of Philly Wine Week at 9 PM, Panorama is featuring half-priced select wines by the glass originating from the highlighted Philly Wine Week wine region of the day. The region lineup for the week is Austria/Germany on Sunday, March 22, Spain/Portugal on Monday, March 23, France on Tuesday, March 24, Washington/Oregon on Wednesday, March 25, Italy on Thursday, March 26, PA/Local on Friday, March 27, Argentina/Chile on Saturday, March 28 and Australia/NZ on Sunday, March 29.
Philly Wine Week: Discounted & Featured Wine Flights
March 22–29; Open–Close
Every Wine Tasting Flight will be $5 off for the entire week including two of Panorama's Premium Wine Tasting Flights featuring small production wines or highly allocated wines. Sommelier selected favorites and PA exclusives will both be 25% off for the duration of Philly Wine Week. The 25% off flights include the Super Limited Production & Cult Classics Flight of 5 Wines (Flight #603) for $40 and the Sommelier's "Tasting Menu" Flight of 5 Wines (Flight #604) for $27.
"Bar-Somm. Smack Down" with Wine Based Cocktails
March 23; 7:30–9 PM
Panorama's "Bar-Somm. SmackDown" allows you to be the judge. This event is a cocktail competition where wine-based cocktails prepared by a handful of Philly's very best bartenders go head-to-head. Tickets are $18 per person and include a signature Panorama reception cocktail, a mixology demo and a chance to sample all four entries and vote for the winner.
Casual Walk-Around: Wines of Randall Grahm's Bonny Doon Vineyard
March 24; 6–8 PM
Join Panorama as they host Bob Trimble of Randall Graham's Bonny Doon Vinyard in a casual walk-around tasting of the vineyard's wines. Learn the clever and creative wine story of one of the most influential individuals in American viticulture for over 30 years. The scheduled wines will include: Querry Cider (Pear, Apple and Quince), Vin Gris de Cigare (Provencal Style Rose), Le Cigare Blanc (White Rhone Style Blend), Clos de Gilroy (Grenache, with a dab of Syrah & Mourvedre), Le Cigare Volant (Flagship Wine, Homage to Chateauneuf du Pape) and A Proper Claret (Bordeaux Styled Blend). Tickets are $35 per person and includes all wine, tax, tip, light hors d'oeuvres and cheese.
Wines of Washington State: Seminar & Tasting with Thom Horsey
March 25; 6:30–8 PM
Learn about the wines of Washington State in this seminar and tasting with Thom Horsey, National Wine Educator of Ste Michelle Wine Estates. The wines featured during the seminar will include Chateau Ste Michelle Columbia Valley Riesling, Chateau Ste Michelle Columbia Harvest Select Riesling, Chateau Ste Michelle Sauvignon Blanc, Chateau Ste Michelle Cold Creek Chardonnay, 14 Hands Merlot, Horse Heaven Hills Cabernet Sauvignon, NorthStar Merlot and Spring Valley Vineyard Nina Lee Syrah. Tickets are $35 and include all wine tastings during the seminar.
Casual Walk-Around: Tasting of 6 Premium Classic Wines of Northern Italy
March 26; 6–8 PM
Panorama's second Casual Walk-Around of the week will feature six premium classic wines of Northern Italy. Missed him the night before? Not a problem, enjoy a Meet and Greet with Thom Horsey, the National Wine Educator from St Michelle Wine Estates. The wines from Montenisa will be of the sparkling variety including Franciacorta Brut and Montenisa Franciacorta Brut Rosé, and the wines from Prunotto will include Arneis, Fiulot Barbera d'Asti, Mompertone and Barolo. Tickets are $40 per person and include all wines, light hors d'oeuvres and cheese.
Friday Night Flights: Biodynamic Wines from France & Italy
March 27; 6–8 PM
Naturals at Night! Sip on organic and biodynamic wines from France & Italy in a casual walk-around tasting. The event will include cheese, light hors d'oeuvres, and wine with Panorama Sommelier, William Eccleston & Giacomo Di Lisi of SOILAIR Selection Wines. Explore the trends toward natural winemaking and taste the extra dimensions of flavor in six fantastic organic & biodynamic wines that are new to the PA market area. Scheduled 6 wines include an exciting lineup from Italy and France and finishing with a certified biodynamic Barolo from Oddero, poured with style from Magnums! Tickets are $40 per person and are inclusive to all event features.

BIG BOTTLES of Bastianich Happy Hour
March 29; 5 PM
By now you've probably had a busy week of Wine Week events, so head down to Panorama to "wine down" Philly Wine Week 2015 with a big bang. Enjoy selections from big bottles of Bastianich, wines from Northern Italy. Panorama will be pouring from 3-Liter bottles of three stellar offerings of the prestigious Bastianich family of wines. The wines are scheduled to include: Vespa Bianco (Sauvignon Blanc/Chardonnay/Picolit from Friuli), La Mozza (Perazzi Sangiovese from Morellino di Scansano, Tuscany),andVespa Rosso (Merlot/Refosco/Cabernet Sauvignon/Cabernet Franc from Friuli). All wines are just $8 a glass, and the special is good through the last drop!

Purchase tickets for any ticketed event during the week here.
Tags:
Education
,
Food
,
Wine
Recent Articles

Feedback
How are we doing? Tell us what you like or don't like and how we can improve. We would love to hear your thoughts!