Exploring the Sustainable Beverage Program at Kensington Quarters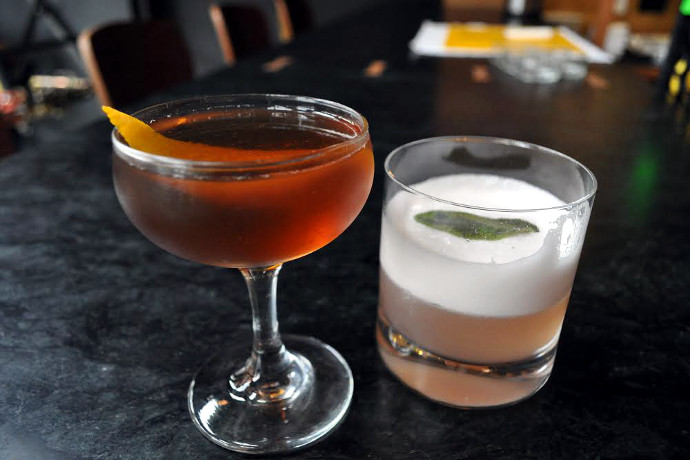 At
Kensington Quarters
, a combination restaurant, butcher shop and kitchen classroom in Fishtown, sustainability is taken very seriously. For owners
Michael
and
Jeniphur Pasquarello
, free roaming and grazing animals raised without hormones, steroids and antibiotics are a must and genetically modified organisms, aka GMOs, are a no-go in the restaurant.
For general manager Nicole Sullivan, running a GMO-free beverage program proved to be something of a challenge.
"Our whole beverage program here is non-GMO so that's something that we have to be very cautious about when it comes to vodkas and American whiskies," she explains. "With corn chips and things like that, when you go to Whole Foods you see the non-GMO label, but it's not something that people are talking about in the spirit world."
That means that bar staples like Tito's Vodka and a good number of American brown spirits are missing from the shelves at Kensington Quarters. But there are several national companies that have opted to produce spirits using non-GMO grains including Four Roses, Hudson and even Wild Turkey.
European spirits like amaros and vermouths, the majority of which are GMO-free, more than make up for the lack of big name American spirits.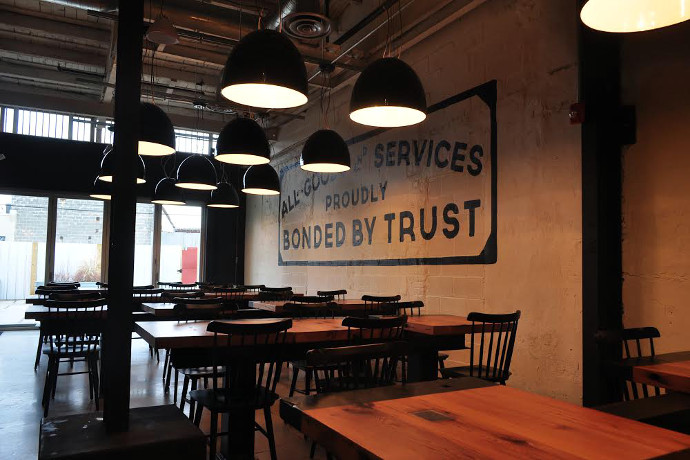 With a taste for cocktails that are booze-forward, Sullivan has crafted a short and sweet list that makes good use of her carefully sourced bar.
The Wishbone, a blend of Purus Organic vodka, Dolin Blanc vermouth and prosecco, is light and refreshing while still packing a punch. The Pollo Rosso is Sullivan's favorite, a flip made with Koval bourbon, an egg white and Cocchi Rosa, a lightly bitter aperitif from Asti, Italy.
Since Kensington Quarters opened its doors in the fall of 2014, much of the summer season was missed and Sullivan was not able to incorporate too many seasonal fruits into the cocktail menu. But she did get her hands on some frozen local raspberries from Red Head Farm that she blended into a syrup for the Big Mistake with Death's Door gin and Cocchi Americano.
Kensington Quarters boasts an extensive wine on tap program, another nod to the sustainably-minded business plan. "What's great about the tap wine is the sustainable aspect of it. It's coming in a keg instead of all of the glass that needs to be recycled," Sullivan explains. The list is a mix of eight old and new world wines that are available by the glass or bottle at a discounted price.
As far as beer goes, Kensington Quarters tries to keep its footprint low with a 12-tap system. "I try to pick out the breweries that are doing a good bit with sustainability, what they're doing with their waste and energy," Sullivan says. "A ton of craft breweries are really into it. It's nice to work with people who are so like minded which is different than in the spirit world and they make it really easy on me. People like Yards down the street, using wind powered energy, it's great what they do."
Stop by Kensington Quarters for a sustainable cocktail after 5 PM any day.
Kensington Quarters; 1310 Frankford Ave., 267-314-5068
Photos by Caroline Russock
Tags:
Cocktails
,
Food
,
Wine
Recent Articles

Feedback
How are we doing? Tell us what you like or don't like and how we can improve. We would love to hear your thoughts!