Drink Your Way Through the 2015 Philadelphia Science Festival, April 24-May 2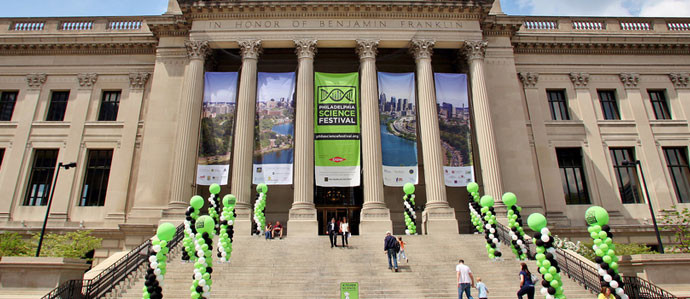 If you enjoy drinking, then you enjoy science. Or you at least enjoy the product of science. Brewing and distilling are more than a craft or an art, they're a science. Every spring, Philadelphia has a city-wide festival dedicated to all things science. From quizzos, to workshops, to discussions and beyond, we've gathered up all the boozy, science-y goings on into a handy list. See ya in the field!
Friday, April 24
Philadelphia Science Festival Kick-Off Party, 7 PM
Franklin Institute (222 N 20th St.)
Be part of the classic video game-themed kick off extravaganza at The Franklin Institute. The party will feature over 40 interactive activities including the tapping of the official Science Festival beer, Parallel Brewniverse, brewed by Yards Brewing Company.
Sunday, April 26
Fishtown Science Crawl, 2 PM
Various Bars
Hop on board this science-themed bar crawl for an afternoon of hands-on experiments and drink specials. The crawl runs along Frankford Avenue with different activities and experiments at each stop. Grab a $5 wristband for special happy hour pricing at all venues.
Monday, April 27
Science on Tap Quizzo, 6 PM
National Mechanics (22 S 3rd St.)
Get to Old City for an evening of science trivia with Quizmaster Jason Richardson of the Black Tribbles. Star Trek, natural history, Harry Potter, chemistry, beer, it's all up for grabs during this quizzo.
DIY Brewing: Cider and Mead, 7 PM
Yards Brewing Company (901 N Delaware Ave.)
Already have a handle on homebrewing beer? How about cider and mead? This class will teach you the skills needed for brewing these ancient favorites. You'll also learn the science and chemistry behind brewing, and you will even get to take home some of your own cider or mead at the end of the evening.
Tuesday, April 28
Cookie Lab, 6:30 PM
Parkway Central Library (1901 Vine St., 4th Fl.)
Learn the science behind baking the classic chocolate chip cookie, and taste how little adjustments can make a big difference in the final product. You'll also get to enjoy your cookies with White Russians; the adult version of milk and cookies.
An Alchemist's Toast to Health, Wealth and Longevity, 6:30 PM
Chemical Heritage Foundation (315 Chestnut St.)
Raise your glass to the alchemists of history who played an important role in shaping modern scientific research. Learn about those who thought they could turn lead into gold, heal multitudes of diseases and even bring back the dead, all while sipping on some modern alchemy, booze and brews.
Wednesday, April 29
Nerd Nite: Science Myths Busted!, 7:30 PM
Frankford Hall (1210 Frankford Ave.)
Join your fellow nerds for a night of examining popular myths and the logical rebuttals to them. Examine myths from cryptozoology to gluten free diets while sipping suds from near and far.
Thursday, April 30
Dinner from the Weeds, 6:30 PM
Parkway Central Library (1901 Vine St., 4th Fl.)
Join local chef Daniel Stern and professional forager Tama Matsuoka Wong for a dinner made from what many consider to be weeds. You will also learn about the top ten spring weeds found in Philly. Dinner includes dishes like Bark and Wild Mushroom Veloute, Artemesia and Stinging Nettle Clam Dumplings, Spicy Watermelon and Wild Striped Ceviche with Sumac and Rose and cocktails like So Sumac Me and Nothing But Nettle.
Friday, May 1
Beer Lab, 7 PM
Yards Brewing Company (901 N Delaware Ave.)
It's like you're back in school, but with beer. Learn about the process of brewing from start to finish and learn the science behind each step. Topics include barley, hops, malting, water, pumping, skunking and yeast. You'll want to take notes in this class, because there are some great prizes available for those with the best grades.
Photo via Philadelphia Science Festival
Tags:
Bar Crawl
,
Beer
,
Cocktails
,
Dinner
,
Education
,
Festival
,
Food
,
Parties
,
Spirits
,
Wine
Recent Articles

Feedback
How are we doing? Tell us what you like or don't like and how we can improve. We would love to hear your thoughts!