Tired Hands Fermentaria Opens in Ardmore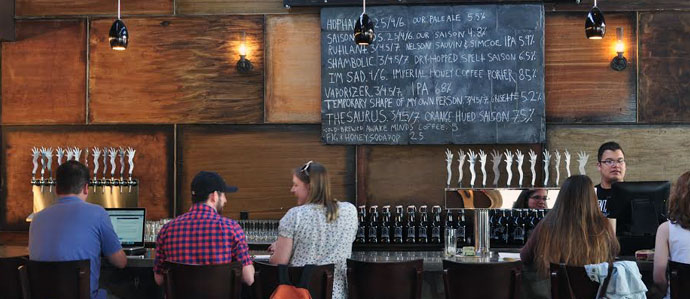 Coming from the cozy
Brew Cafe
just down the street, the opening of the new
Tired Hands Fermentaria
in Ardmore is a pretty huge move. Housed in a former trolley repair shop,
Jean Broillet IV
is now working with a 13,000 square foot space.
When scouting locations for his next endeavor, Broillet was looking for a warehouse space. "I was looking for big," he explains. "As a growing business and a business that seeks to facilitate everyone comfortably, we pigeonholed ourselves with the first location. The operational space there for guests is 1,500 square feet, so it gets uncomfortably crowded there constantly. So the thinking of this facility was to make a clearing house, a pressure release valve where we can be very, very busy here and still be comfortable."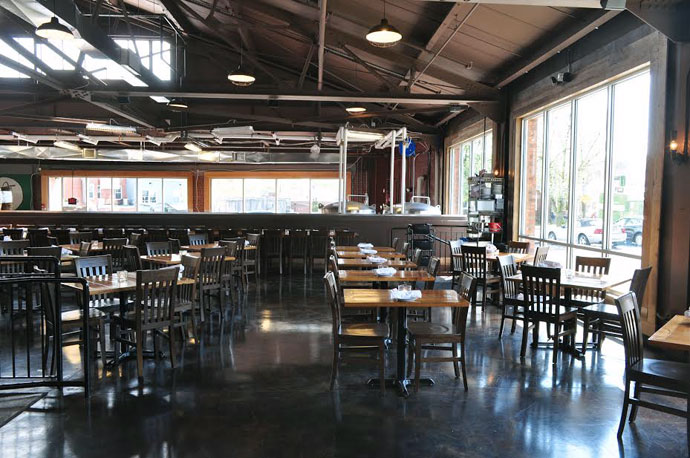 Comfortable is a bit of an understatement. The new space is enormous, with spacious bar and table seating, loads of windows, great natural light and killer views of the brewing operation.
And like every brewing company there is plenty of fermentation going on at Tired Hands. When asked about the name, Broillet responds, "There's not much to tell. I made up the word. Obviously, the word ferment is in there which is a cornerstone of what we do. We do a lot of pickles and obviously beer is fermented. We do a lot of bread here."
With the name, Broillet was seeking to even the playing field in an industry that is undoubtedly male-dominated. "It sounds feminine, there's a lot of chest-beating in the beer world, a lot of big guys, dogs, boats."
But there's something else to the Fermentaria (rhymes with taqueria). "It sounds kind of Spanish, but it's not."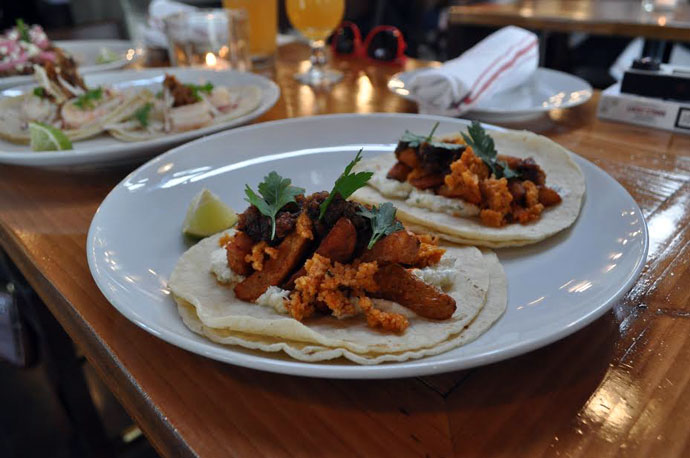 Chef Bill Braun explains, "We really wanted to do tacos, but not Mexican food so really, tortillas as a vehicle for whatever we wanted to put on them."
The food menu at the Fermentaria is broken down into four sections — tacos, small plates, large plates and desserts. Much like Tired Hands' beers, there's a level of playfulness to Braun's menu. His vegan tacos pair crispy maitake mushrooms with chile-braised eggplant and a coconut crema-- Chinese food on a tortilla as he explains it.
Shareability was a key factor when designing the menu. Larger entrees, like fried chicken with spicy coleslaw with buttermilk biscuits and honey butter, are designed to be split by two or more guests, ideally at the communal table in the dining room that Broillet dubbed the viking table.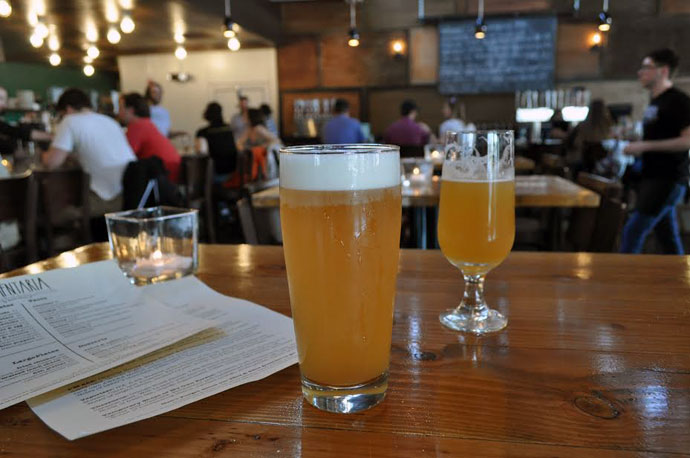 Although the giant new space allows Broillet lots of space to expand his list of beers, he's intent on keeping the lists at the Brew Cafe and the Fermentaria unique. " We operate two facilities in the same town so they have to be different." So if you're looking for a Dramatic Horoscope Injury, an IPA brewed with Vienna malt you have to head over to the Brew Cafe, and if you're in the market for I'm Sad, an imperial honey coffee porter, the Fermentaria is the place to be. Happily, both locations offer four, eight and 16-ounce pours to enjoy the full roster of Tired Hands brews.
Tired Hands Fermentaria is open Wednesday through Monday (closed Tuesday) from 12 PM–12 AM.
Tired Hands Fermentaria; 35 Cricket Terrace, Ardmore; 484-413-2983
Photos by Caroline Russock
Tags:
Beer
,
Food
Recent Articles

Feedback
How are we doing? Tell us what you like or don't like and how we can improve. We would love to hear your thoughts!