Seasonal Cocktails Are Springing up at Vernick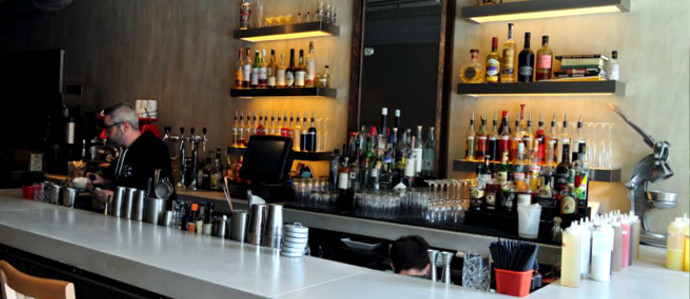 Ever since
Vernick
opened its doors onto Walnut Street back in 2012, the bar has been perpetually packed with Rittenhouse locals and destination diners alike. The opening cocktail menu was a vibrant mix of classic and current cocktails crafted by Boston import bar manager Vincent Stipo, creating a bar scene that was both convivial and classy.
When Stipo departed, another Bostonian stepped in to take over, JB Bernstein. Bernstein and his wife had recently relocated to Philadelphia and he was already well-acquainted with Stipo and Venick's general manager and go-to wine guy, Ryan Mulholland.
"This place has a pretty good Boston connection and it was a good fit right off the bat," says Bernstein.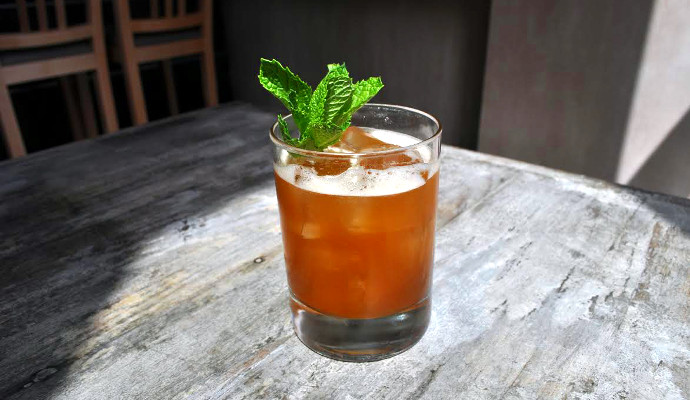 Bernstein took the reins at the bar, expanded the cocktail selection and has recently introduced a third category to the classics and currents format, a new addition that he's calling "in season." Inspired by the ever-changing nature of the produce that the restaurant works with, Bernstein decided to forgo catchy cocktail monikers and instead let the ingredients speak for themselves. The first two seasonally driven cocktails on the list take advantage of delicate early spring flavors, lavender and rhubarb.
Inspired by classics, Bernstein's rhubarb cocktail is a riff on a classic daiquiri that begins with a simple syrup infused with rhubarb. Instead of opting for rhubarb's most common companion, strawberry, he swapped in Thai chile for a bit of heat and mixes it with a blend of rums and lime juice.
The lavender cocktail, served in one of Vernick's gorgeous martini glass meets champagne flute glasses, sees its floral namesake in both a syrup and a powder that's sprinkled on top after it's been shaken until frothy with gin, Chartreuse and an egg white. For an ingredient that oftentimes gets lumped into the smelling like decorative soap category, Bernstein's lavender cocktail has a bracing tartness that brings out the floral notes in a way that's elegant and infinitely drinkable without crossing over to the perfume side.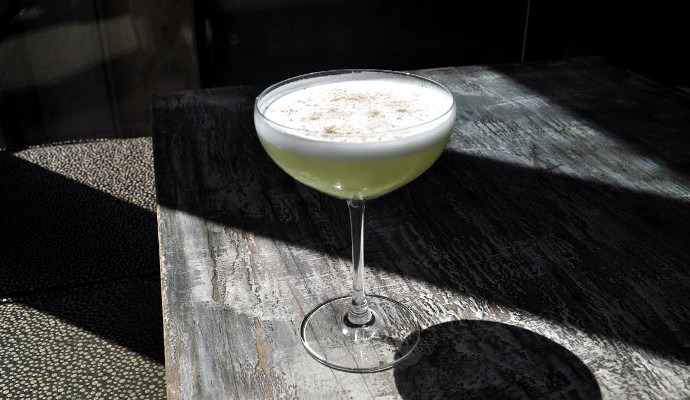 Bernstein's reimagined classics are all over the menu. The Bitter Sand takes inspiration from a Blood and Sand but swap in Cynar, an artichoke bitter, and the Diablito sees tequila-friendly tamarind and chile added to the mix.
Vernick has had an impressive selection of beers since day one — Hoponius Union from Jack's Abby, another Boston import is currently on the draft list — as well as a gorgeous selection of wines courtesy of Mulholland. They've recently introduced a few sakes to the menu, something that might not seem to gel at first until you take a look at Chef Greg Vernick's selection of raw offerings on the menu. Brought in by maverick local importer David McDuff, a ginjo and a junmai are currently on offer.
"It's a nice option to give someone when they're eating and they've already had a cocktail and a glass of wine and they want to do something different," explains Bernstein. "Bringing in sake is always fun."
Bernstein is looking forward to what he calls the ever-changing nature of his new cocktail category. He's subscribed to several newsletters from local farmers updating him with their weekly seasonal offerings.
Next up? "Right now we have green almonds so I was thinking about doing an almond syrup with green almonds. I've never worked with them before so it's purely experimental," he says. With orgeat or almond syrup as one of the classic tiki mixers, fingers crossed for a Vernick Mai Tai.
Vernick is open Tuesday to Sunday from 4:30 PM–1 AM.
Vernick; 2031 Walnut St., 215-467639-6644
Photos by Caroline Russock
Tags:
Cocktails
Recent Articles

Feedback
How are we doing? Tell us what you like or don't like and how we can improve. We would love to hear your thoughts!