Local Liquor Spotlight: Rowhouse Spirits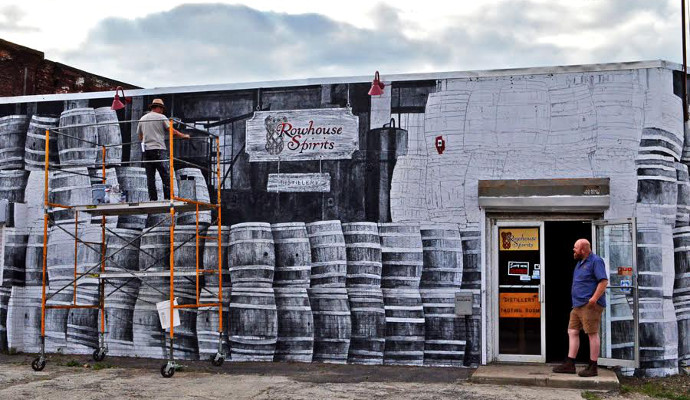 Pennsylvania has a long history of distilling. At one point, Pennsylvania had as many as 5,000 stills making spirits back in 1791. Lately, there's been a revival of small batch distillers in our region with distillery licenses growing from 12 in 2012 to 27 in 2014. One such distillery is Rowhouse Spirits, located in Fishtown.
I sat down with owner and distiller, Dean Browne, to talk about how Rowhouse Spirits came about and the current challenges small distillers face with operating their businesses and selling their products in Pennsylvania.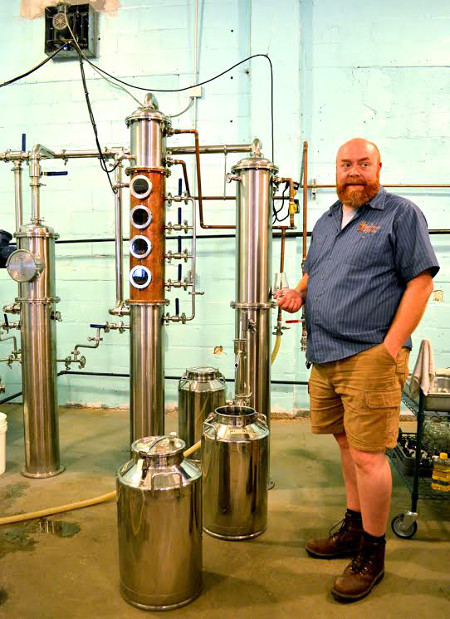 Browne was born in Canada and immigrated to the United States in 1993. He had been working in the IT industry in the 80's, which afforded him a lot of travel opportunities where he got to visit many distilleries and learn first-hand distillation methods in Asia and Europe. Browne is a self-taught distiller with over 10 years experience; he's also worked as a part-time brewer for the Philadelphia Brewing Company and Yards Brewing Company.
Browne's always been a fan of whiskey. It was the spirit of choice for both his grandfathers; one of his earliest memories is getting a nip of whiskey with honey in it when he was five years old. He developed a love for Johnny Walker Red as it was his grandfather's favorite, but as he got older he developed a love for other spirits such as gin and digestifs.
As to how Rowhouse Spirits came to be, he recounts that one day he was sitting at the bar at Southwark talking with Kip Waide, who asked him, "Why don't you just start a distillery? Why are you doing the beer thing?" The idea stuck with him, and so the journey began.
Rowhouse Spirits Distillery exists in a small, standalone building located on 2440 Frankford Avenue at the intersection of Haggert Street; it belongs to the Philadelphia Brewing Company, which sits directly behind it. The building is currently in the process of being repainted with a mural by artist Phillip Adams courtesy of the Mural Arts program. Adams is using denatured alcohol and charcoal to paint a mostly black and white distillery-themed piece featuring barrels and bags of grain on three of the sides of the building.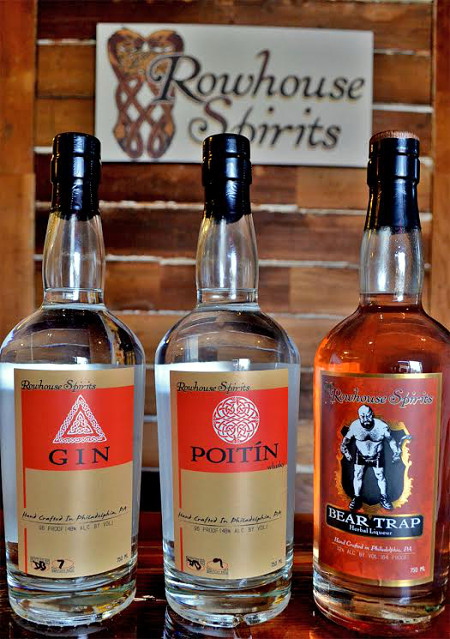 The distillery produces three products on copper stills imported from Alberta, Canada; a white whiskey called Poitin, a gin, and an herbal liqueur/digestif called Bear Trap.
Both the gin and herbal liqueur recipes were developed by simply infusing fresh herbs into vodka. Once put through the still, the gin recipe didn't need any modifications from its original infusion. In contrast, the Bear Trap recipe took seven tries, due to the ingredients used and the distillation method.
The gin is 96 proof, 48% ABV, and Browne's wife's favorite of the three spirits he makes. It's a full flavored, smooth gin with upfront juniper tasting notes; it's infused with botanicals (juniper, cardamom, coriander, allspice, chamomile, cassia—a type of sweet cinnamon) for two days.
Browne says that a lot of customers like drinking his gin straight, but it also mixes well in cocktails, like a gin fizz with a splash of grapefruit or in a classic martini.
The Bear Trap herbal liqueur is infused with 19 different herbs including parsley, thyme, tarragon, ginger, rosemary, hibiscus, rose hips and chili peppers. It gets its pinkish color from the fresh herbs added after distillation. It's just barely sweet enough to be called a liqueur and it is drinkable on its own; however, it plays well with the Rowhouse gin in a mixture of grapefruit juice with a dash of bitters.
Fresh and organic botanicals are sourced as much as possible from local Greensgrow Farms. Although many ingredients aren't grown locally so careful organic, non-herbicide sourcing is considered.
Poitin means small pot, and it's what the Irish call moonshine; Browne's version is 96 proof, 48% ABV. The poitin recipe was super simple to develop and execute. Browne says he was happy with what came off the still right off the bat. It takes five days to ferment and then it's distilled—it's run twice through the still. Tasting notes include flavor from the malted barley (which is the only grain in it) and flavors developed by the yeast during the fermentation process. The aroma is young, reminiscent of Cachaca, Arrack or even Tequila. It's quite smooth, the sweetness of the barley lingers after the first sip. There's currently some of the poitin aging in barrels that Browne plans to release in the future.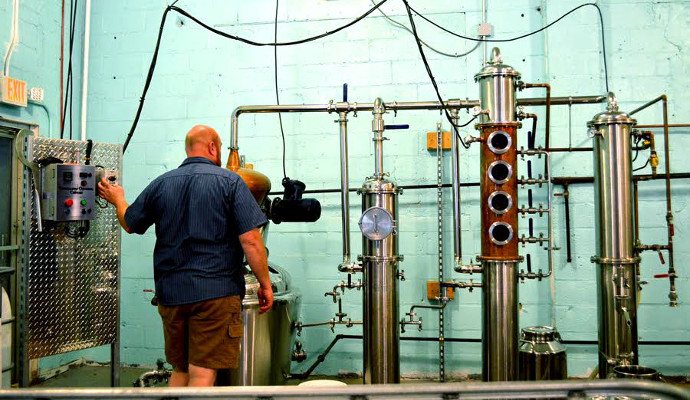 In terms of setting up the business, licensing in PA for distilleries was challenging but a new law implemented in 2012 helped make it easier to open Rowhouse Spirits. Under the current license, there's a limit on the quantity of product that can be produced, but it allows for direct sale.
One of the biggest challenges is with Pennsylvania Liquor Control Board (PLCB) is getting distribution access to their stores. Browne can sell directly to customers and bars, and can ship to residential addresses, but there are no carriers listed in PA that ship spirits to residential addresses. PLCB assumes that small vendors can ship directly to PA consumers via e-commerce, but carriers don't allow for this so Browne would have to make the deliveries himself.
The PLCB also makes it hard for local distillers to get on their shelves. However recently, they've announced an interest in supporting locally made products via the PA Spirits Program, which allows for distilleries to place up to 10 products in 10 different PLCB stores around the city. Distilleries will need to sell a case a month in order to stay on shelves. The program is a no-brainer from a marketing point. As we've seen with the success of local craft breweries, this city loves some locally made booze. Look out for Rowhouse Spirits available in New Jersey soon, as well.
You can visit the distillery and tasting room Thursday through Saturday from 12 to 6 PM to pick up a bottle or two. Or give the lineup a try in a cocktail at one of the following locations: La Colombe Fishtown, Johnny Brenda's, Earth Bread & Brewery, South Philly Taproom, American Sardine Bar, Strangelove's, Juniper Commons, P.O.P.E, Falls Taproom, Memphis Taproom, The Blind Pig and The Abbey.
Rowhouse Spirits Distillery, 2440 Frankford Ave.; 267-825-7332
Photos by Swabreen Bakr
Tags:
Spirits
Recent Articles

Feedback
How are we doing? Tell us what you like or don't like and how we can improve. We would love to hear your thoughts!