Palladino's on Passyunk Debuts New Head Bartender and Updated Cocktail List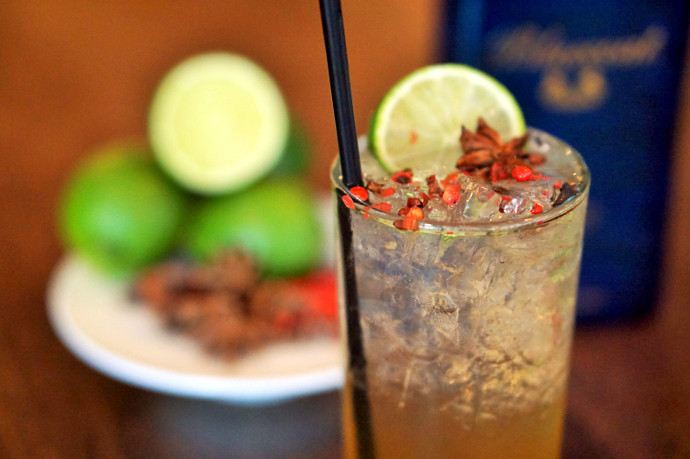 Palladino's on Passyunk has an updated cocktail list and a new head bartender, Philip Search, whose previous time behind the bar found him creating strong cocktail programs at Charlie was a Sinner and Farmers' Cabinet. Search has revamped the cocktail menu at Palladino's, and the current list of 10 new specialty cocktails is created with both fall seasonal ingredients and Chef Luke's fall and winter dishes in mind.
"I take my inspiration from Palladino's kitchen that has almost no pantry," said Search, referring to the fact that the restaurant uses mainly fresh and local ingredients and makes the majority of what ends up on diners' plates in-house. "I do as much in-house as possible."
Search uses seasonal ingredients in his housemade syrups, bitters, and tonics, and we tasted several of them before we sampled the cocktails they ended up in. Search has divided the cocktail menu into four categories to help people find something they're in the mood for: Refreshing Cocktails, Interesting Cocktails, Spirit-Forward Sippers, and Classics.
From the refreshing category, we sampled the Red Rum - an elevated rum and coke. Made with house winter cola syrup with the fall flavor of cinnamon, Bacardi Oakheart Rum, and club soda. It's a refreshing and familiar drink that's been taken up a few notches.
The other Refreshing Cocktails are the Cynar & Vodka Rosemary Smash with vodka, Cynar, lemon, rosemary, simple syrup, and crushed ice and the Seasonal Gin & Tonic (pictured) made with Bluecoat Gin, house winter tonic, and club soda.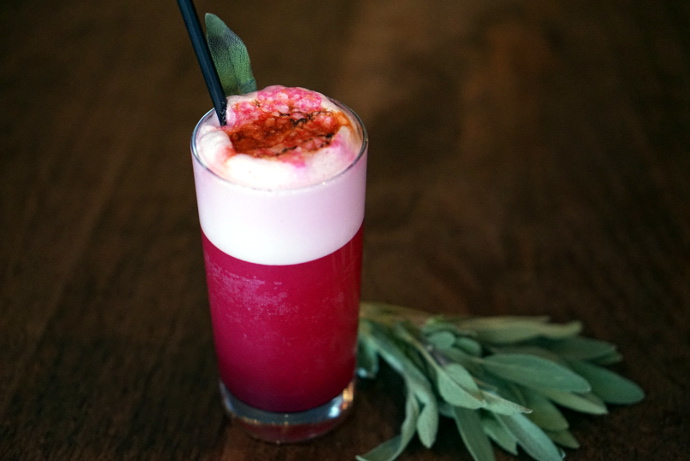 Tequila, house beet and sage syrup, egg white, and club soda go into the beautiful Beet & Sage Fizz (pictured) that's on the Interesting list. Bruleed with a torch that Search keeps on hand at the bar and wields with skill, the drink is so pretty that we hesitated to take a sip and ruin its perfection. It's light, slightly sweet, very refreshing, and definitely interesting.
Also from the Interesting category, the RX Thyme is Search's version of the modern cocktail classic, a Penicillin. The thyme-infused honey that goes into the drink is enjoyable on its own mixed with club soda, and in the cocktail with blended Scotch, house ginger syrup, lemon, and Laphroaig floating on top, it makes a great drink. The smokiness of the scotch in the drink made it a good choice to drink with the Tartufo Flatbread with stuffed stracchino cheese topped with wild mushroom, truffle sottocenere cheese, and parmigiano.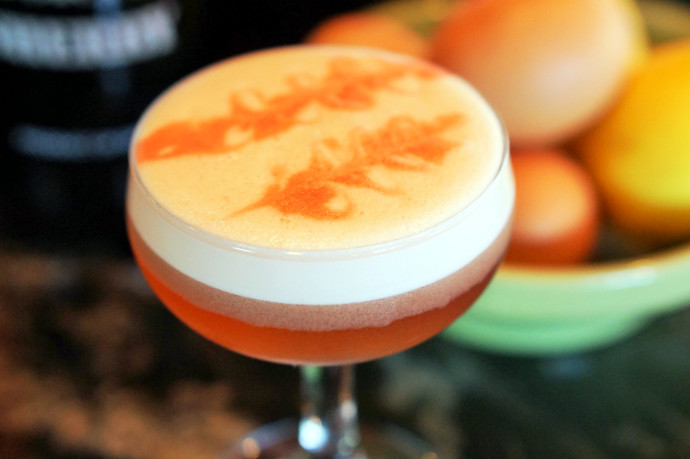 Two other Interesting Cocktails are on the menu include the Mezcal Rosemary Daisy made with Mezcal, Ramazzotti Amaro, Grand Marnier, agave, lemon, cucumber, rosemary, celery, and orange bitters and the Sloe Down (pictured) with Plymouth Sloe Gin, Oloroso, Sherry, egg white, lemon, simple syrup, and Peychaud's bitters.
The Cazzi Tuoi on the Spirit-Forward Sippers list is an Italian version of a Manhattan. Made with house sweet vermouth, house allspice dram, Carpano Antica, Averno Amaro, orange bitters, and clove, it is very citrus-forward. It's also Search's favorite cocktail at the moment. He says it's "wonderfully aromatic and really brings out the warm of the rye whiskey, and the amaro keeps it all in balance."
The Italian American made with Bulleit Bourbon, Amaro, and Nardini and the Royal Rations with Smith & Cross Navy Strength Rum, gin, Luxardo Maraschino, Carpano Antica, and orange bitters are the other cocktails in the Spirit Forward Sippers.
Search puts his attention to detail into the classics, too, and has created a House Martini made with vodka that's been infused with botanicals to make it gin-like. It's a great martini. The classic that really blew us away, though, was the Sour. He's put his own spin on the super-sweet, 1980s-favorite Amaretto Sour and greatly improved it. The sweet and sour is balanced perfectly with no heavy sweetness and no hit-you-over-the-head pucker from the lemon.
Search has matched the quality of the cocktails with the quality of the food at Palladino's. "I wanted to frame all my creations with a nod to Chef Luke's concept. We are an Italian restaurant in a historic Italian neighborhood of Philadelphia so many of the cocktails blend together Italian Spirits or styles of spirits like amaro with classic recipes from the great bartending and distilling history here in the U.S.," Search said. "It's a beautiful marriage, actually."
Palladino's celebrates happy hour every day with four $7 cocktails including the House Martini, $5 house wines by the glass, $3 Peroni drafts, and $4 Yards, Victory, and Dogfish beers. Monday through Friday, happy hour runs 5–7 PM, and on weekends from 2:30–5 PM.
Palladino's, 1934 E Passyunk Ave.; 267-928-4339
Photos via Kory Aversa
Tags:
Cocktails
,
Spirits
Recent Articles

Feedback
How are we doing? Tell us what you like or don't like and how we can improve. We would love to hear your thoughts!