Devil's Den
Leave your halo at the door..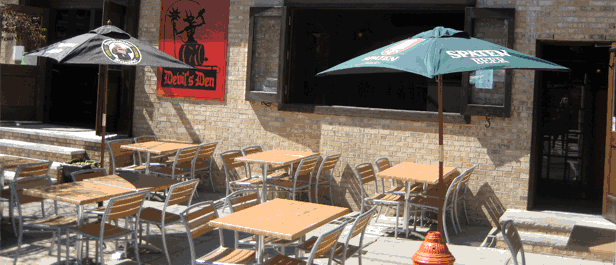 Devil's Den, which recently celebrated its 2 year anniversary, has a lot to offer the discerning beer drinker and foodie alike. To those not living in South Philly, the restaurant, which is on the corner of 11th and Ellsworth, may seem a bit of a distance. But once you've been there, you'll understand why it's a favorite of both locals and non-locals alike.
Several large windows face 11th Street and let in plenty of natural light. There are a number of high top tables in the bar area and a separate dining room. Outdoor seating is also available. The bar itself offers plenty of seats and faces two big screen TVs. The staff is knowledgeable and friendly and always willing to let you try a beer (or two or three) to help you find what you like. The crowd here is eclectic - you'll see everyone from families to those on their first date. It's really inclusive and welcoming to all.
Back in the spring, Chef Alex Urena came on board, taking over the menu. Today the menu consists of tried-and-true favorites like cheese fries, sliders, and mussels, along with some real treats like the casino flat bread and the braised pork sandwich (a favorite of this recently-turned carnivore). The kitchen tries out specials regularly, and those that fare well are often added to the menu.
Two towers of taps provide 16 draft beers, which change regularly and are among the most interesting selections in the city. There are over 100 bottled beers, too. The recent addition (as in about 2 weeks ago) of a beer engine is sure to excite many beer drinkers in the area. If variety is your thing, order a flight. For $8 - $9 you'll get 4 beers that are sure to please. The flights are pre-picked and themed. Want to take your beer with you? Growlers are available, or bring your own and have it filled.
Other than great beers and food, special events are another reason you'll want to make Devil's Den one of your regular haunts. Events from Oktoberfest celebrations to Sour Week (all sours on tap) to brewery nights are just some of the frequent happenings that make this a must-visit destination.
Happy Hour is Monday - Friday 5 pm - 7 pm. All draft beers (which are already reasonably priced) are ½ off. There's also an "In the Biz" night special Sunday and Monday, when a 20% discount is offered to those working in the food service industry. Brunch is served Saturday and Sunday from 10:30 am - 3:00 pm.
09.29.10
---
Helene is a craft beer enthusiast who aims to educate women (and men) about the wonderful world of craft beer. In addition to reviewing beers and bars on Drink Philly, she writes beer-related musings on her blog, Philly Beer Girl. You can also follow Helene on Twitter, where she tweets way too often - and at odd times - about what she's drinking.
Recent Articles

Feedback
How are we doing? Tell us what you like or don't like and how we can improve. We would love to hear your thoughts!