Bru and U-Bahn Break Out Rare, Sour Beers and Stouts Galore for Sour Bowl II and Stout Bowl I, Jan. 31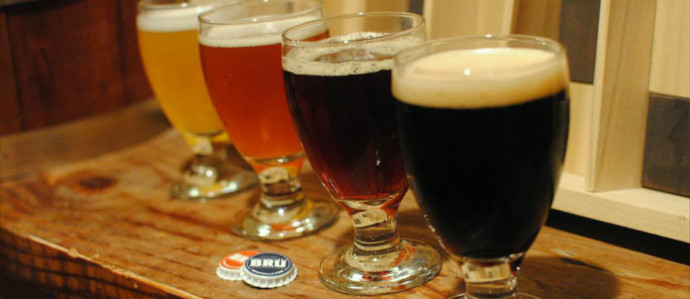 If you like sour beers, get ready for a tap list that is going to blow your mind. Scratch that. If you like beer--tart, malty, dark, hoppy--any kind of beer, this tap list will still blow your mind.
Brü Craft & Wurst has spent the last year stockpiling some of the best craft beers from far and wide. On Sunday, January 31, Brü will tap all 32 kegs of awesome, rare beer for Sour Bowl II. This year, 28 lines will be dedicated to sour and wild ales and four will be dedicated to IPAs. U-Bahn, Bru's sister bar that is located downstairs/nextdoor, is also getting in on the action this year by tapping 14 amazing stouts and a firkin on Troegs Nugget Nectar.
Kegs will be tapped at 11 AM, and all beers are on a first come, first served basis. Pours will be limited to one per draft per person at a time, in an effort to allow everyone a chance at everything they would like to try. But enough talk, here's the tap list:
American Sours
Russian River Brewing Company Supplication
Russian River Consecration
Russian River Temptation
Allagash Brewing Company Nancy
Allagash Tiarna
Jolly Pumpkin Brewery Rojzilla
Jolly Pumpkin Forgotten Tales
Firestone Walker Brewing Co. Sour Opal
Almanac Beer Co. Farmer's Blueberry
Almanac Truthful Statement
Avery Brewing Company Raspberry Sour
Goose Island Lolita
The Bruery Gypsy Tart
Captain Lawrence Brewing Company Cuvee de Castleton
Belgian and Import Sours
Gueuzerie Tilquin L'Ancienne
Birrificio del Ducato My Blueberry Nightmare
Rodenbach Caractere Rouge
Rodenbach Special Foederbier
LoverBeer BeerBrugna
LoverBeer BeerBera
BFM - Bière des Franches-Montagnes Square Root 225
BFM Abbaye St Bon Chien (2014)
Mikkeller SpontanWatermelon
Mikkeller SpontanMango
Panil Barriquee
Wild Beer Co. Sour Blend 2015
Hannsen's Oude Lambic
Cantillon Kriek
Stouts
Ninkasi Brewing Ground Control
Alesmith Brewing Company Speedway/Hawaiian
Alesmith Speedway/Vietnamese Coffee
Almanac Barbary Coast
Ballast Point Brewing & Spirits Victory at Sea/Peanut Butter
Half Acre Beer Company Big Hugs
Terrapin Beer Company Cinnamon Roll Wake & Bake
Dogfish Head Beer Worldwide Stout (2013)
Anderson Valley Brewing Company Huge Arker
Founders Brewing Co. KBS
Perennial Artisan Ales Abraxas
Deschutes Brewery Abyss

And if the awesome tap list wasn't enough, all beers will be priced between $7–$10 for the event.
With so many great beers, you'll need some food in your stomach too. The kitchen will be serving up specials that include house-made pickles, sandwiches, appetizers and desserts. We'll see you on Sunday!
Photo by Lauren Mame Thomas
Location: BRU Craft & Wurst
Price: PAYG
Type: Beer,Food
Website: https://www.facebook.com/events/1960515287506056/

Tags:
Beer
,
Food
Recent Articles

Feedback
How are we doing? Tell us what you like or don't like and how we can improve. We would love to hear your thoughts!