William Street Common Revamps Menu and Introduces Flat-Rate Drink Program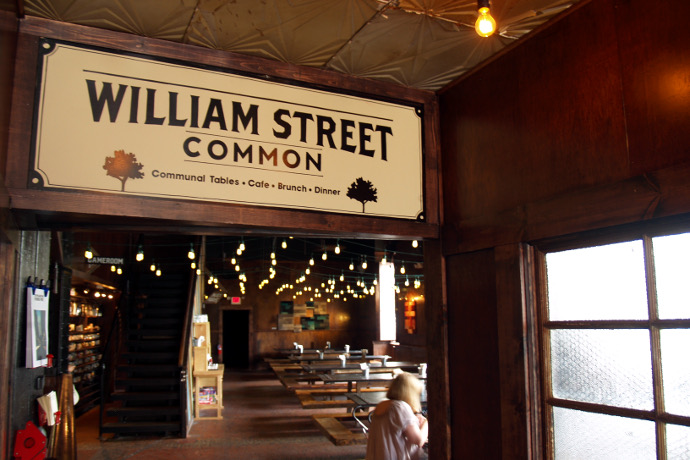 You might have to tip, but don't pull out your checkbook just yet. Some months ago we clued you into the unique goings-ons across the Schuylkill at William Street Common. They shook the restaurant game up, introducing themselves as unashamed innovators, incorporating a no-tipping policy into their business model, while guaranteeing a fair living wage for employees.
No stranger to the seemingly impossible, William Street Common is at it again. They've stepped away from the no-tipping policy, but still guarantee a fair wage for their employees. Perhaps more importantly for you, the reader, though, they've introduced a flat-rate drink program that is more than fair. Pushing gimmicks like "Wine Wednesday" and the larger institution of Happy Hour aside, William Street Commons now offers $3 drinks of all kinds, regardless of day of the week or time of day (so long as they're open, of course). And this deal does not just apply to beer, either - it encompasses their entire drink program, wine and spirits included.
Pessimists might say "Sure, but why would I want to embarrass myself by downing pints of Bud in public?" General Manager Dana Saltarella assures that that will not be the case. While they offer some classic light lagers, the options are quality locals, like Philadelphia Brewing Co. Kenzinger. That said, most of the tap list is comprised of quality brews you'd find at any other craft bar in the city, like Ballast Point Black Marlin Porter, Arcadia Witsun Ale, and Manayunk Brewing Co. Baby Got Hops IPA, just to name a few. Did we mention that all of those are only $3, all the time?
All this attention on the drink program, however, does not mean that the kitchen menu has been forgotten. While still consisting of quality ingredients, prices have dropped there, too. Saltarella says that while they will be employing a rotating menu -- designed to give chefs and customers alike an opportunity to try new flavor combinations -- some pub stand-bys like burgers, nachos, and pretzels (all made in-house, of course) will always be represented in some form, and all under $10 with little exception.
Some things, though, never change: William Street Common still exudes its original, muted industrial feel, with large communal tables in the main dining room, balanced by a more intimate second bar area, both of which are full service. You're also still invited to play pool or one of their numerous board games with friends. Essentially, the experience is as satisfying as ever, but now your wallet can be satisfied too.
William Street Common is open from 4 PM–12 AM Wednesday to Friday, 10 AM–12 AM Saturday, and 10 AM–3 PM Sunday.
William Street Common, 3900 Chestnut St.; 215-397-4693

Photo by Rob Jagiela
Tags:
Beer
,
Cocktails
,
Food
,
Spirits
Recent Articles

Feedback
How are we doing? Tell us what you like or don't like and how we can improve. We would love to hear your thoughts!