Close your eyes....make a wish!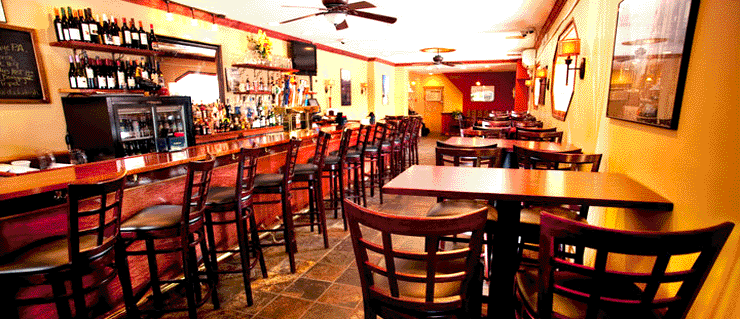 I went to Wishing Well during happy hour on a Tuesday night to break up my work week. Let me tell you - it was the jewel of the Italian Market. The bar was an adorable hole in the wall in South Philly. It was very warm and cozy with octagonal windows and a tile floor. I felt so comfy sitting with my friends at a high top table enjoying our drinks and food.
The tables, chairs, and even the bar were mahogany. It wasn't too crowded and my friends and I had a lot of space to let loose and enjoy ourselves with a lot of attention from our sweet waitress. As happy hour progressed more people trickled in, a lot of singles, so if you're looking for someone perhaps this is the place to go! It's also definitely a nice date happy hour bar.
My favorite part of the bar was the block wishing well in the back. There were also some flat screen TV's at the bar showing sports (what else?). The bar only sat 12 and there were probably only about 10 other tables in the whole place, but that's what it made it so warm and pleasant.
Happy hour* is from 5 to 7 during the week and during happy hour it is $1 off everything on the menu! On Tuesdays you get $3 off all wines (and it's also Southern Fried Chicken Night, 3 courses for $19!). Right away my friends and I wanted to order wine, because well, it was a long day and it was cheap. Unfortunately they were restocking their wine that night and they were out of Merlot. But our waitress was so accommodating and immediately started listing off other wines that we might like.
She even gave us samples of wines to taste first to make sure that we liked the wine before we ordered it. I ended up ordering a beer for only $4, a Prism Tea Party Unfiltered Pale Ale. It was a really good heavier beer that went perfectly with the burger I ended up ordering after hearing that Wishing Well's burgers were awesome. The rumors were true! The burger was so awesome that I scarfed it down without even wanting to add anything to it. We shared a huge portion of beer battered zucchini strips with a pecorino romano smoked tomato sauce which was delicious. We also shared fried dill pickles (which Snooki from Jersey Shore would be proud of). They came with a blue cheese dressing. I had never had fried pickles before, and I was extremely impressed. I would definitely order these again.
My favorite thing about the bar was that a portion of the proceeds made from well shots (clever) goes to charity. I'm all about giving to charity and I'm all about alcohol so this made me really happy. My second favorite thing about the bar was that because we ordered so much wine, they gave us some for free! Tuesday nights at Wishing Well just might become a tradition.
Editorial Note: One of Drink Philly's favorite menu items at Wishing Well is the Double Shame Burger! This item consists of two 8oz beef patties, 2 pieces of scrapple, 4 slices of American cheese, and 2 fried eggs. They even have a "Shame Burger from Hell Challenge" in which you need to eat two Double Shame Burgers, 2 orders of hand cut fries, and 2 pints of beer within 45 minutes without leaving the table and with everything licked clean! If you meet the challenge your meal is free and Wishing Well will give you a $25 Gift Certificate and put your photo on the wall!
---
*The Wishing Well's Happy Hour Specials have since changed, check them out HERE!
Recent Articles

Feedback
How are we doing? Tell us what you like or don't like and how we can improve. We would love to hear your thoughts!