Where to Watch the Flyers in the Stanley Cup Playoffs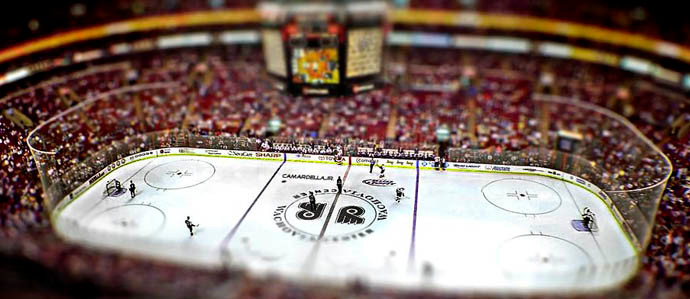 After an incredible surge in the last quarter of the year led by rookie sensation Shayne Gostisbehere and goaltender Steve Mason, the Philadelphia Flyers have brought our broken-hearted sports city something it hasn't seen in far too long — a playoff team. Many diehard fans will choose to glue themselves to their couch and pile of orange and black memorabilia, but far more will choose to head to a local watering hole to cheer on the Broad Street Bullies. While giant super-HD TVs and 50 cent "water-beer" specials may bring in the masses, others focus on a more authentic Philadelphia hockey watching experience. Whatever your preference, this is the comprehensive list.


This South Philly spot is located directly across the street from Pat's King of Steaks and will allow you to bring a sandwich in while you watch the game. Skee ball, pinball and pool will keep you entertained during the intermissions. (1231-1233 E Passyunk Ave.; 215-278-2429)
Taproom on 19th
This is a bar where Flyers fans can be with their true brethren, not hundreds of sweaty fair-weather fans. There are no specials on the weekends, but Monday games will be during half-off burger night, where guests can grab a giant Pat LaFrieda beef burger for half the price. (2400 S 19th St.; 267-687-7817)
Oscar's Tavern
A true dive-bar, Oscar's feels a bit like the upper deck of the Wells Fargo Center during a Flyers game, but with better beer prices — here, you can grab a frosty Yuengling in a humongous glass for $2.25. Don't miss the possible Claude Giroux sightings outside of Ladder 15. (1524 Sansom St.; 215-972-9938)
City Tap House Logan
If you want a raucous environment with delicious food and a ridiculously comprehensive beer list, look no further. Whether you sit at the bar or find yourself at a table in the back with friends, it's impossible to miss the action on the ice, thanks to their massive HDTV system. (2 Logan Sq.; 215-587-90040)
Xfinity Live
If you want to feel like you are at the game but you don't have tickets, then this is your spot. During games, guests will receive a Flyers Rally Towel, and if you are attending the game, you can show your ticket for half off any appetizer before or after the game. (1100 Pattison Ave.; 267-443-6415)
Pub and Kitchen
This is by no means a sports bar, but this neighborhood gastropub is an often-overlooked place to catch a game. With a well-rounded cocktail and beer list and impressive list of spirits, you can pair the game with upscale libations. They offer half off all oysters during their pre-game happy hour. (1946 Lombard St.; 215-545-0350)
Chickie's and Pete's
Make sure to visit this quintessential South Philadelphia sports bar for Flyers playoff games. Every seat has a great view of any of the HD TVs, and there are $2.50 Bud and Bud light drafts and $5 Three Olives martinis during games.
(1526 Packer Ave.; 215-218-0500)
McGillin's Olde Ale House
This is the perfect synchronization of sports and old-school drinking haven. McGillin's always devotes tons of love to the Flyers. The Freezing Flyer's Fantini is on special during all games, and all of the screens are completely devoted to hockey. (1310 Drury St.; 215-735-5562)
Watkins Drinkery
This corner bar has a quite respectable draft list and delicious game-centric grub (the rabbit stuffed burrito is a highlight). They offer half off all drafts during happy hour, and there's a pool room upstairs with a TV, if you're lucky enough to get to it first.
(1712 S 10th St.; 215-339-0175)
12 Steps Down
This Italian Market classic has plenty of TVs so that you can watch the game easily from any bar or table. Happy hour offers $2 PBRs and well drinks, and karaoke after the game Monday will keep the good vibes flowing.
(831 Christian St.; 215-238-0379)
Bainbridge Barrel House
This Queen Village spot will get you ready for the game, with half off all drafts during happy hour leading up to the game. If you'd rather pair your hockey with wine, you can also opt for $5 glasses of Chardonnay or Cabernet Sauvignon. (625-627 S 6th St.; 267-324-3553)
Cavanaugh's Rittenhouse
One of Philly's best sports bars, Cavanaugh's Rittenhouse will have the sound on for all of their 20 flatscreen HDTVs, which is a major plus. Get $2 off all wine, beer, mixed drinks and food. (1823 Sansom St.; 215-665-9500)
Stratus Rooftop Lounge
If you want to enjoy a bit of the posh life while taking in the game, Stratus Lounge will provide an incredible setting.There's a happy hour on Wednesday which will last from 5-8 PM, where you can grab $5 call drinks or house wine, $5 bubbly, and — incredibly —half-off of the bottle menu. (433 Chestnut St.; 215-925-2889)
Revolution House
This upscale Old City bar is home to mouth-watering wood fired pizzas and a refined cocktail list. Happy hour before the games on Monday and Wednesday offers half-off of all margherita pizzas and drafts, $5 red or white wines, and $6 specialty cocktails. (200 Market St.; 215-625-4566)
North Bowl
Play some happy hour bowling starting at 5 pm for $4.95 before the games Monday and Wednesday, then grab a seat at the bar to catch the action. Starting at 10 PM on Wednesday, you can hop back on the lanes for a miniscule $2 a game for late night happy hour. The upstairs features additional arcade games and pool. (909 N 2nd St.; 215-238-2695)
Photo via Flickr user R.T.Lee
Tags:
Sports
Recent Articles

Feedback
How are we doing? Tell us what you like or don't like and how we can improve. We would love to hear your thoughts!