Behind the Bar: Catherine Manning of La Peg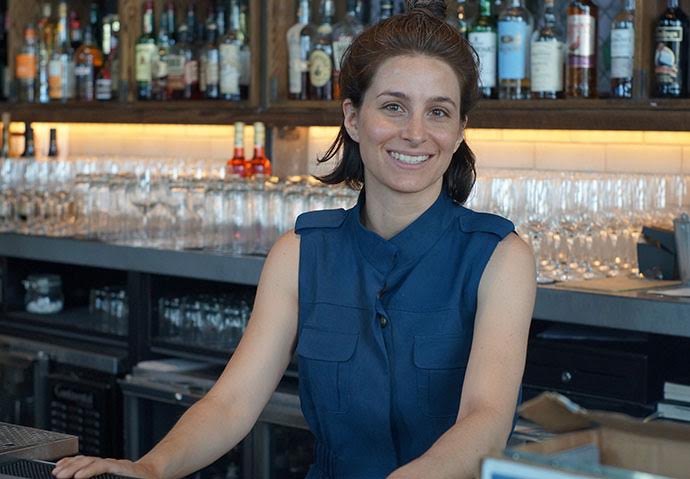 Drink Philly is proud to present a new feature,
Behind the Bar
, which will feature in-depth interviews with industry professionals and Philly's favorite bartenders alike. To kick things off, we interviewed Catherine Manning, who is the president of the
United States Bartender's Guild (USBG) Philadelphia
chapter and has been a bartender for nearly two decades. Catherine is a seasoned drink-slinger who has tended bar everywhere from the Borgata to the Franklin — now, she's behind the bar at
La Peg
, and she sat down with us to share some insights, her own story, and to talk about the bar industry at large.
Drink Philly (DP): Tell me a little bit about the place.
Catherine Manning (CM): Peter Woolsley opened this with a partnership with Fringe Arts and named it after his wife. It opened as a French brasserie and evolved into an American-style restaurant. It's been open for about a year and a half, in addition to the beer garden and seafood shack.
DP: How long have you been here?
CM: 6 weeks.
DP: Total years behind the bar?
CM: 19 years.
DP: Have you tended elsewhere?
CM: Everywhere – a.kitchen and a.bar, Starr, The Franklin, even the Borgata.
DP: How is the business different today than it was when you started?
CM: I think that the craft movement is here, when it comes to cocktails and spirits in particular. It's an amazing trend to watch, especially in Philadelphia. I do feel that customer service has deteriorated, but I think it's coming back that that's the most important part of the whole bar and dining experience. Beyond making a delicious drink, a bartender should create an entire experience.
DP: How has the clientele changed?
CM: I've never seen clientele change, but I've seen the change in clientele at specific places. People get older, and people get younger, and each place has its own crowd.
DP: What's trendy right now?
CM: Old fashioneds are the new "I know what's cool and I know what to drink" cocktail.
DP: What are some trends you wish would die?
CM: I'd really like speakeasy bars to die.
DP: Any predictions about where the industry might go next?
CM: I think we're going to see craft spirits sell very well, and I think we're going to see more "bad spirits," or chemically manufactured spirits without pure ingredients, coming back into the market. I think it'll be a constant up and down flow.
DP: What's your beverage of choice? What got you into it?
CM: Espolon, Campari, and tonic water. It's a cocktail that anybody can make, and it's always delicious. I like tequila shots and I love Negronis, so it seemed like a perfect marriage to me.
DP: Favorite beer?
CM: Dirty Frank's Miller Hi-Life. But only at Dirty Frank's.
DP: Favorite liquor?
CM: Toss a coin between green chartreuse and Old Grandad bonded.
DP: Favorite cocktail?
CM: Negronis.
DP: What's your perfect pairing?
CM: It comes down to where I am and choosing what to drink in that environment – that's a perfect pairing to me. For example, if I was visiting the Rum House in Portland, Oregon, I wouldn't dare ask for a beer and a shot – I would be ordering something like a Jet Pilot. Knowing where you are and what to order there is so important.
DP: What's the best and worst kind of customer?
CM: Best is someone who livens up the entire bar – someone who wants to be at the party who ends up almost creating the party. Worst is someone who doesn't really want to be there.
DP: Favorite bar joke?
CM: I do not tell bar jokes. It's not a part of my character.
DP: Where do you go for a drink when you're not working?
CM: Dirty Frank's is my neighborhood bar.
DP: What are some of your favorite bars and bartenders in Philadelphia?
CM: Library Bar (with Pablo "Papi" Hurtado), Ashton Cigar Bar (with Justin Bruno), 12 Steps Down (with Danielle Renzulli).
DP: What's the secret to being a great bartender?
CM: Truly enjoying people and interacting with them. You never know who you're going to meet, and people will always surprise you.
DP: If you could have a drink with any person alive or dead, who would it be and what would you have?
CM: Mezcal with any heinous person in history (it's so hard – there are unfortunately too many), so I could ask them real questions while they're drunk. A bottle of liquor in a conversation can really change things.
Photo via Drink Philly
Tags:
Behind the Bar
Recent Articles

Feedback
How are we doing? Tell us what you like or don't like and how we can improve. We would love to hear your thoughts!