Behind the Bar: Rachael Ewing of Diageo's Masters of Whisky Program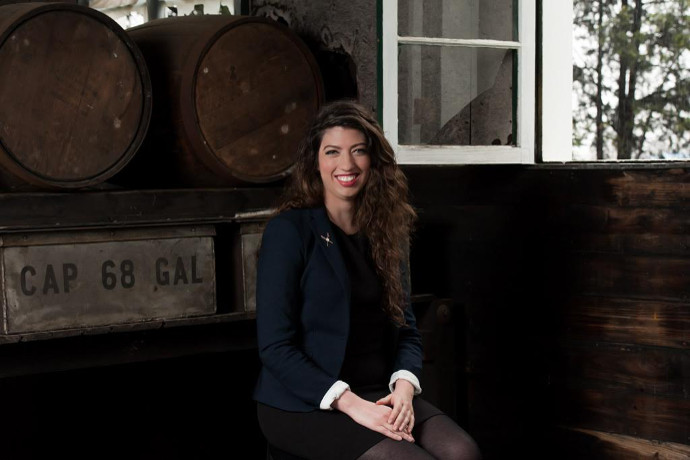 For the second entry in our Behind the Bar series, we had the opportunity to speak to an industry professional who has worked behind the bar and with liquor companies across the world — Rachael Ewing, a member of the distinguished Masters of Whisky program and an Ambassador of Whisky for Diageo. Rachael, a whisky expert who has worked everywhere from The Grill Bar in Scotland to Jack Rose Dining Saloon in Washington, D.C. and holds numerous certificates (including an expert's level certificate in the Sales and Service of Scotch Whisky from the Scotch Whisky Heritage Center in Edinburgh as well as a certificate from the Filson Bourbon Academy), sat down with Drink Philly to talk about whisky, her international resume, and why she thinks more and more people are enjoying whisky.
Drink Philly (DP): What specifically do you do?
Rachael Ewing (RE): Essentially, the Masters of Whisky program is meant to be a "elevated brand ambassador" program with qualifying stages only achieved by passing industry and internal exams and internships. My focus is solely on Diageo brands to educate and inform the consumer about the whisky category. Rather than being tied to one distillery only, I can talk about multiple styles from different countries. Diageo has the largest whisky portfolio of any brand ambassador program today. We cover just under 120 labels in total, including big names such as Crown Royal, Bulleit, Johnnie Walker but it also includes smaller brands like the Orphan Barrel Collection, Blade and Bow, Royal Lochnagar, Clynelish and many more.
DP: Tell me more about the Masters of Whisky program.
RE: A decade or so ago distilleries were sending master distillers from Scotland to the U.S. to teach people about whisky, and what they found was that some distillers were great orators and communicators, but they couldn't be here for any prolonged period of time as they had Whisky to make back home. From the beginning, the program was led by a retired Master Distiller called Evan Cattanach (who had worked/managed at 15 distilleries in Scotland) and the ethos was focused on communicating both knowledge and excitement about whisky. We're recognized by the industry and throughout the world as being leaders in our field.
DP: How did you get your start?
RE: I went to school in Scotland and I needed a part time job - I was studying politics and international relations at the University of Aberdeen, and my first job was working behind the bar at a place called The Grill, a legendary spot with 500+ single malt scotches on the back bar. I knew nothing about whisky, but they taught me everything I knew - I didn't even like whisky at first! I started to notice nuances in different whiskys, especially in the smell, and eventually could find my way around the shelves by smell. Aberdeen is actually quite close to many distilleries, so we would regularly host guests who worked for or with distilleries, and they would tell me stories about what they did.
DP: How did you get into whisky education?
RE: After that, I got my first job in East Africa (with a civil society NGO), and my manager looked at my resume, saw the line about The Grill, and told me there were plenty of ex-pats in the area with great scotches on hand. She asked if she could throw a dinner where I would educate guests about various kinds of whisky, and I continued working dinner parties and educating about whisky. After that, I got a certificate in the sales and service of single-malt scotch (in Scotland), which led to a job at The Jack Rose Saloon in Washington, D.C., though I started there as a beer tech by day and a whisky specialist by night. I left Jack Rose to be a sommelier for a whisky concept in Georgetown called The Whiskey Room, which was the smallest collection I ever worked with (we started with around 250 single-malt bottles and moved up from there). That's where I learned more about Irish whiskey. One day, I got a call from the Global Brand Ambassador for Glenmorangie, David Blackmore, who said he needed a brand ambassador for Glenmorangie and Ardbeg, which I took, and they moved me down to Florida (just north of Miami and Ft. Lauderdale). It was a regional job, so I traveled a lot through the Southeast and mid-Atlantic. That job ended in September of 2015, and I went back to D.C. for a bit to do consulting until this opportunity came up.
DP: Describe a typical day.
RE: I have two kinds of days - out of market days and in market days. In market days don't involve traveling - my first alarm goes off at 8, and I get up and check email and social media to see if anything urgent is happening. I work very closely with North American Wine and Spirits' sales team, so I spend a lot of time answering emails, talking on the phone, and I go over my schedule with Chris, who handles my day-to-day itineraries. When the bars/restaurants open I go for my first of many account visits, which means heading to a prearranged meeting with a bar or restaurant. I'll meet with a sales rep, talk to the head bartender or manager, take a look at the menus, and try and together, we decide whether or not I'm a good fit for staff education. Then there's usually some staff training during their pre-shift, and we try to make sure there's a consumer event. At the events, I usually speak with groups of VIPs to help casually inform and get people interested in and excited about whisky. For out of market days, I get up around 9, meet the sales rep at 10:30, and we'll head to about 6 accounts and make sure to get at least 2 staff trainings, but we'll also pop into new accounts to say hello and see how we can help the management with supportive category or portfolio education
DP: What's your favorite part of the job?
RE: I love the knowledge. Beyond the fact that the program forces me to challenge myself all the time, I'm also constantly learning new ideas and new facts from bartenders.
DP: Why do you think drinkers gravitate towards whisky?
RE: I want to believe that people aren't just buying the "image" of whisky any more (as much as Mad Men helped!), but that people are more interested in the quality of things that they consume. Whisky, with its ability to capture flavor and be so incredibly versatile, is a natural extension of that interest.
DP: What's your favorite cocktail?
RE: Hands down, it's a Blood and Sand. It was originally created for the silent film star Rudolph Valentino, who played a matador in a film also called Blood and Sand. Classically, it's made with a blended scotch, orange juice, sweet vermouth, and cherry heering, but I like it with a peaty malt - if I'm feeling fancy, it'll be Lagavulin 16 or Oban - it's a fruity drink, but if you add that peaty element, it comes across like a grilled pineapple.
DP: If you could have a drink with any person, living or dead, who would it be?
RE: I would want to have a drink with Janis Joplin, and I would want to drink an American whiskey with her - probably George Dickel 8. There are lots of historical figures I would love to interview, take notes and write papers about, but I think Joplin would just be good old fashioned fun!
DP: What advice would you have for someone who wants to do your job?
RE: Learn as much as you can - this job is really about taking what you're good at and the specific talents and interests you have and using those to create a fresh look. The Masters of Whisky program does draw on people from all walks of life (former chemists, salespeople, physicists and a Hollywood stuntman), and we all share this passion, but we also love to make whisky accessible for everyone by relating it to people's passions - sports, politics, theater, culinary arts, whatever it may be. It's obviously about knowing a lot, but this job is really about communicating passion with whisky as a vehicle.
Photo via Rachael Ewing & Diageo
Tags:
Behind the Bar
Recent Articles

Feedback
How are we doing? Tell us what you like or don't like and how we can improve. We would love to hear your thoughts!