Behind the Bar: Pablo 'Papi' Hurtado of The Library Bar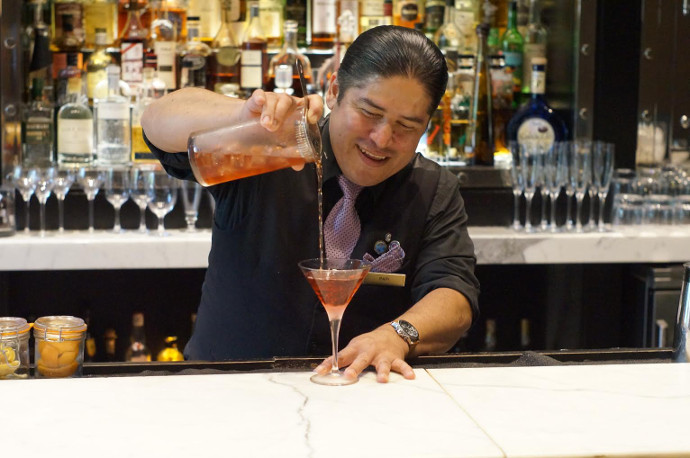 Our Behind the Bar series continues with a profile of Pablo "Papi" Hurtado, who opened the Library Bar at the Rittenhouse Hotel and created its cocktail menu. Hurtado has led an incredible life, training with some of the top mixologists around and sharing his expertise around the world, and thanks to that, he's fluent in 5 languages (Spanish, Catalan, Italian, Brazilian Portuguese, and English) and conversational in 2 (French, German). We sat down with Papi to ask about his storied career, the Library Bar, and what he thinks it takes to be a truly great bartender.
Drink Philly (DP): Tell me a little bit about the place.
"Papi" Hurtado (PH): The Library Bar opened its doors almost four years ago, and the main idea was to keep it very private, romantic, and sophisticated - almost like a speakeasy. Our popularity grew, and people talk about it a lot, and right now, Jesse [Dureka, another bartender] and I are almost too busy.
DP: How long have you been here?
PH: Since it opened.
DP: Total years behind the bar?
PH: 15 years.
DP: Have you tended elsewhere?
PH: Almost everywhere in the world — in Covent Garden in London, London Academy of Bartenders (and I graduated from there as a master mixologist), traveled for Diageo — but I was always at cocktail bars. I studied under Dale DeGroff, Danny Smith, Dre Masso, Thomas Estes, and Jon Gakuru (Lab). I spent around 10 years in London.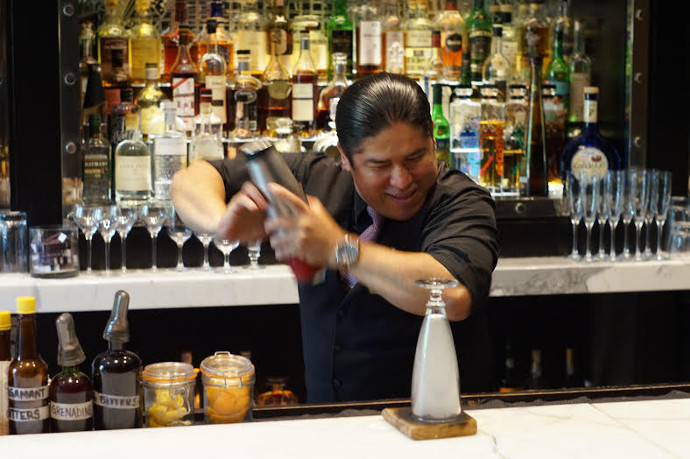 DP: How has the clientele changed?
PH: Right now, American bartenders can play and work within the industry of people that have been developing a new talent to cocktails. The U.S. loves exploring new and exciting cocktail concepts. As bartenders, we love that — the flexibility, the knowledge, and so on. When guests arrive at the bar and ask for a cocktail, it's because they've read about it, tried it before, or they've made it — they know about the product.
DP: What's trendy right now?
PH: Old fashioneds — they're the "new" kid on the block. It's my favorite drink to make — we make it uniquely here and use 3 different kinds of bitters (the Library isn't afraid of bitters), and we make our orange bitters in house.
DP: What are some trends you wish would die?
PH: I don't like the way the other people call everything a "martini" just because it's in a martini glass.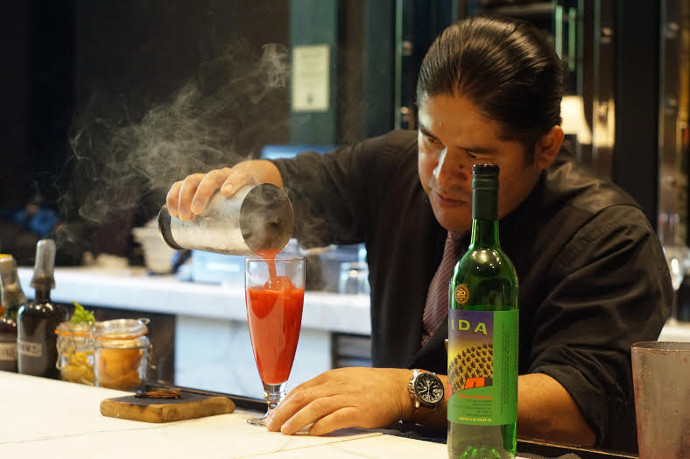 DP: Any predictions about where the industry might go next?
PH: I believe that chefs and bartenders will start to work together to complement the art that we both create. In the industry, we have to pair with each other, and bartenders need to learn more about cooking (especially balancing herbs and spices), since we're essentially liquid chefs.
DP: One unexpected fact about you?
PH: I don't drink cocktails. It's like how chefs go home and don't cook.
DP: Favorite beer?
PH: Paulaner Hefeweizen.
DP: Favorite liquor?
PH: Tequila.
DP: Favorite "cocktail?"
PH: A shot of tequila and a beer.
DP: What's your favorite kind of customer?
PH: The kind of person that arrives at the bar and is friendly enough to start a conversation and enjoy their drink with respect — not immediately get drunk. I love a guest who appreciates what we do and our passion for our craft.
DP: Favorite joke?
PH: Come to the Library Bar and I'll tell you a joke.
DP: Where do you go for a drink when you're not working?
PH: I love Tequila's, and I love going to David Suro there. I also love talking to bartenders when they come into my bar — especially Catherine Manning.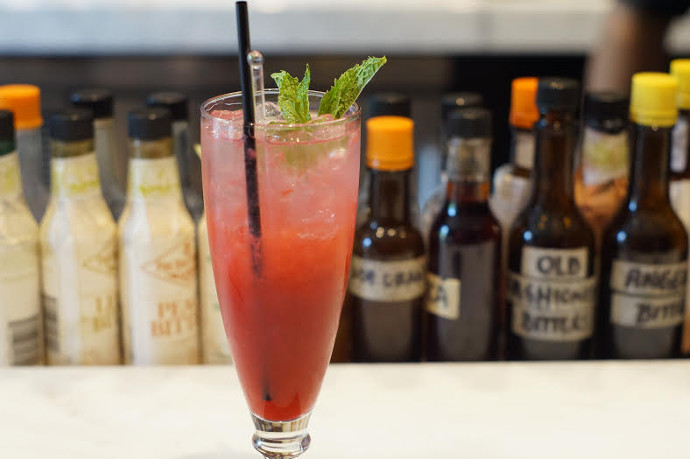 DP: What's the secret to being a great bartender?
PH: I believe that the experience has to be together — a fifty-fifty split. We have to read what the guests like and interpret that into a cocktail while making a unique experience. It's important that it's a collaboration between the guest and the bartender. I love asking questions.
DP: If you could have a drink with any person alive or dead, who would it be and what would you have?
PH: I would love to drink a Blue Blazer with Jerry Thomas, because that's one of my favorite cocktails - it's exotic, fun, and the guy was the father of mixology for not just America, but for the entire world.
Photo via Drink Philly
Tags:
Behind the Bar
Recent Articles

Feedback
How are we doing? Tell us what you like or don't like and how we can improve. We would love to hear your thoughts!