Things No One Asked For: A Plastic Bat That Doubles as a Beer Bong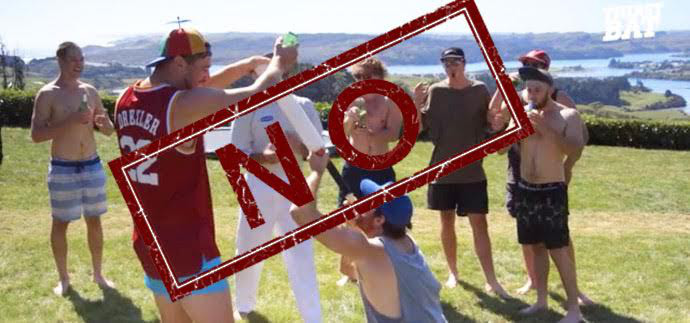 We've covered a slew of terrible drinking-related products on Kickstarter. There has been the protein beer (unsuccessful), the creepy Cool Baby (unsuccessful), or the Boozie (unsuccessful), to name just a few. Now, a pair of New Zealand bros are aiming to climb that mountain of bad ideas and firmly place themselves atop it with the ThirstBat.
The ThirstBat is basically a wiffleball bat (the "Chugger") with a bottle opener on top that can turn into a 30oz beer bong. Or, for presumably everyone not in the USA, there is also a cricket bat version (called the "Slogger" – slang that is also presumably for everyone not in the USA) that holds 50 oz of liquid. And let's be honest about what that liquid will be: cheap, disgusting beer that is going to taste like warm plastic after traveling through a bat you just played outside with for a few hours. Just don't spill it on your sleeveless shirt, bro!
So if you or any of your friends have ever looked at a wiffleball bat and thought, "You know, I'd really like to drink out of that," this is the product for you. We could also recommend many great programs around the country for dealing with your alcohol problem, hopefully before you get kicked out of whatever low-rent university you're using this at.
Tags:
Terrible Ideas
Recent Articles

Feedback
How are we doing? Tell us what you like or don't like and how we can improve. We would love to hear your thoughts!