3 Lehigh Valley Wineries To Visit This Weekend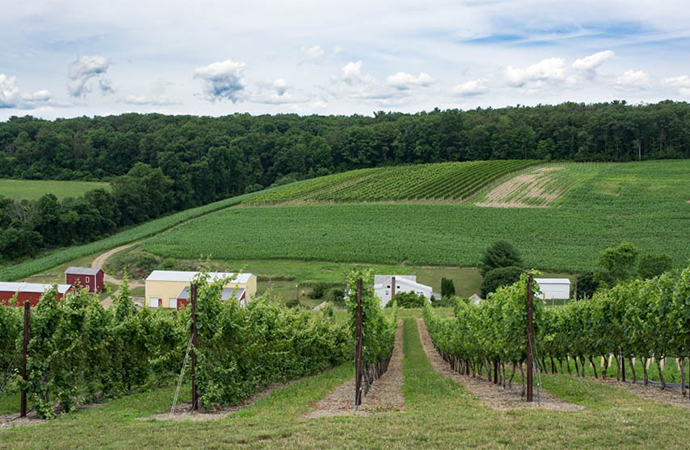 Despite Pennsylvania's varied climate, and soil that is well-suited for wine production, our state is often overlooked when it comes to our wineries. PA is home to over 170 wineries and a dozen wine trails, and the diversity would surprise you. Wine in Pennsylvania is often assumed to be sweet—perhaps overly so—with dessert wines, meads, and cloying rieslings being what most people picture. While this may have been at one point, today Pennsylvania has more unique wine regions than any other state, boasting pinot noirs, traminettes, and syrahs galore. Whether you prefer sweet or dry, bold or easy-drinking, there is a winery in PA that will suit your palate—and one of the best regions is just a short schlep from Philly.
The Lehigh Valley Wine Trail has nine wineries and an abundance of award-winning wines. The following standouts are producing some seriously impressive varietals and make for a lovely weekend trip outside of the city, with most of the bottles costing well under $20.
Just seven miles from Allentown, Vynecrest is the oldest vineyard in the Lehigh Valley. The 19th century Swiss Bank barn houses their varietals and is surrounded by 20 acres of sprawling vineyards with stunning views of the lush countryside.
Must try:
$22.99
Repeat after me—you can find good, dry red wines in Pennsylvania. The #37 is named after Vynecrest's 37th harvest, and it is a full bodied, spicy blend aged in American oak.
$10.99
If you prefer your white wine dry, the Vynecrst Vignoles may change your mind. This dessert wine has the essence of fruit combined with the flavors of mead.
$16.99
Another full-bodied, dry red with the bold flavor of cherry and a tannic finish, the Lemberger is Vynecrest's award-winning flagship wine.
The panoramic view surrounding Galen Glen winery is absolutely breathtaking, and their wine selection is equally impressive. The cool climate of the area allows Galen Glen to produce varieties traditionally grown in Austria, Germany, and Alsace. Their whites are their standouts, with dry rieslings and Grüner Veltliners that rival the best in the country.
Must try:
Grüner Veltliner
$16.99
Golden apples and white pepper spice are the predominant flavors in this dry white wine which pairs well with seafood, pork, and vegetables.
Riesling Fossil
$14.99
Named in honor of the crinoid-loaded sea that occupied the vineyard 300 million years ago, this dry riesling tastes strongly of stone fruits.
$16.99
A dry Alsace wine with flavors of rose, lychee, and honeysuckle. Pairs well with spicy food.
As rustic as they come, Pinnacle Ridge is housed in a big red barn in Kutztown and surrounded by acres of vineyards. The spacious building hosts a concert series from late May until mid-October, featuring local musicians, food trucks, and of course, plenty of wine. This is another winery where the dry and sweet whites really shine.
Must try:
Dry Riesling
$13.99
Described by Craig LaBan as "whip-crack dry," this riesling is citrus-forward with flavors of grapefruit and lime up front with back notes of melon and guava.
$12.99
Described as a "large white wine with a big mouth feel," the floral essence and flavors of lychee pair well with spicy food.
Chambourcin Rosé
$11.99
Bright strawberry flavors and a crisp mouth feel make for a refreshing aromatic rosé perfect for any time of the year.
Photo via Michelle Cryder
Tags:
Wine
Recent Articles

Feedback
How are we doing? Tell us what you like or don't like and how we can improve. We would love to hear your thoughts!