Behind the Bar: Jared Adkins of Bluebird Distilling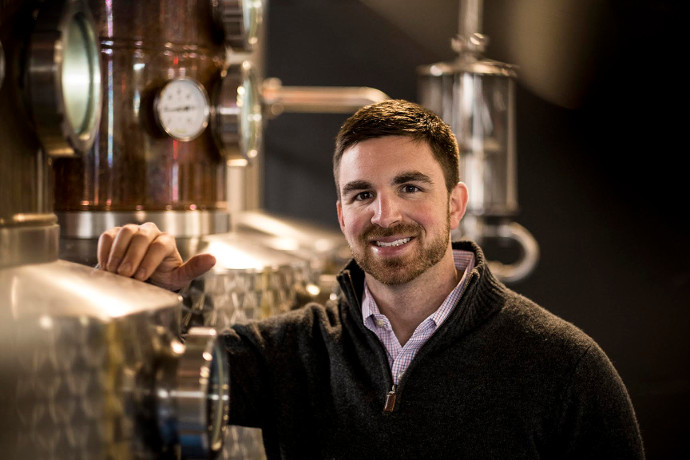 In this installment of our Behind the Bar interview series, we spoke to
Jared Adkins
, the founder and master distiller at Phoenixville's own
Bluebird Distilling
. Bluebird began making spirits in March 2015 and, after a year rebuilding the distillery, opened for sales in June 2015, and its uniquely bottled and high-quality craft, small-batch spirits can be found in bars around Philadelphia. We spoke to Jared about how he got his start, why he loves what he does, and exactly how many hats he wears on a day to day basis.
Drink Philly (DP): What specifically do you do?
Jared Adkins (JA): My title is Founder and Master Distiller - I have my hands in almost everything.
DP: How did you get your start?
JA: I didn't have any background in distilling. I was an engineer in corporate America and bottled for big companies like Nestle and Pepsi. I worked in a brewery for a few years before I came to distilling, but five or six years ago, I was reading the morning paper and read about how the laws were changing in Pennsylvania and how it was easier to open your own distillery. I was enthralled, started learning more about distilleries, trained at the Seibel Institute of Technology in Chicago, and it was about two years before my business plan was concrete and I could start Bluebird.
DP: Describe a typical day.
JA: I spend my day in the distillery - we have two distillers that I oversee, check out new recipes, how things are tasting - and in the afternoon, I work on sales, figuring out where we want to be sold next, the behind-the-scenes aspect. By night, I'm behind the bar or working in the tasting room to educate people on Bluebird Distilling.
DP: What would you say the mission of Bluebird Distilling is?
JA: Our mission is creating world-class spirits from grain to glass while enjoying life having fun.
DP: Your bottles have a very unique aesthetic to them. How did they come about?
JA: The bottle's called the apotheker style - I had this image in my head and was jotting down pictures all the time, and it ended up coming together when I met a designer from Washington state. The most important thing is that I want the bottle to express the quality of the spirit. For our labels are done on felt, and all the writing uses real metal like copper. Our products are high quality inside and out.
DP: What other products or liquors would you like to produce going forward?
JA: Coming out in January, we're releasing our first American Single Malt. It's just about ready to go, and I'm just finishing up its packaging right now. We're taking a traditional recipe and using American barrels - it's unique, and I love the sweetness and malt characteristics together. I'm also really into fruit brandies right now - we've produced a blueberry brandy, and I'm working on a peach brandy.
DP: What trends do you see happening in liquor today, whether in small-batch production or otherwise?
JA: I definitely see people drinking more locally, but craft spirits are really pushing new types of ideas that larger producers aren't trying. There's certainly great alcohol from larger distillers, but craft distillers really push the envelope as far as flavors and recipes are concerned. Pennsylvania has about 50 distilleries, and I think we're just going to keep growing.
DP: What's your favorite part of your job?
JA: Actually getting to have people try my spirits. The most rewarding thing is meeting someone, being able to explain what they're tasting, and enlighten them on what they're drinking - even more so than distilling.
DP: What's your favorite cocktail?
JA: Hands down, an Old Fashioned with the four grain bourbon.
DP: If you could have a drink with any person, living or dead, who would it be and what would you drink?
JA: I would say Mark Twain — the man loved his whiskey and would have some great stories to tell.
DP: What advice would you have for someone who wants to do your job?
JA: To a new entrepreneur, I didn't have a background in distilling - I just was extremely passionate about it. I worked long and hard to get here, and if you're passionate about something and work hard at it and do your research, anything's possible.
Photo via Bluebird Distilling
Tags:
Behind the Bar
Recent Articles

Feedback
How are we doing? Tell us what you like or don't like and how we can improve. We would love to hear your thoughts!