Where to Find Hot Cocktails This Winter in Philadelphia
Caution: hot drinks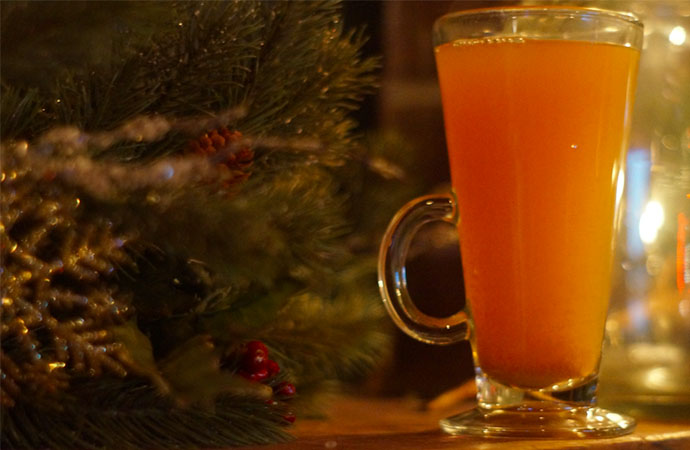 Winter officially begins on December 21, but for many bars in Philadelphia the season is already in full swing. Here's a list of bars where you can find boozy warm drinks that will make you wish every season was winter.
Hot Line "Bing" Toddy $9
Grab this medicinal drink at East Passyunk's favorite dim sum spot. Made with bourbon, lemon, ginger, and clove honey it's the perfect drink to cure your seasonal cold.
Mulled Wines $6-$8
Chaddsford Winery
's festive mulled wines the
Holiday Spirit
(sweet mulled red wine with spices) and
Spiced Apple
(sweet pressed apple wine with spices) are served at this year's Christmas Village at City Hall. During happy hour on Wednesdays from 5-7 PM they'll only set you back $6 and during normal operation they're $8 and come in a keepsake Christmas mug.
Hot Chai Cider $13
This is the perfect hot cocktail for chai lovers. Made with Bulliet Rye, lemon and chai spiced apple cider it's wonderfully spiced and delicious.
Spiked Apple Cider, $2+
Devil's Den provides the perfect atmosphere for winter-time drinking with their wood-burning fireplace. Enjoy spiked apple cider for $2 plus the cost of whichever type of booze you prefer.
Mulled Wine & Hot Apple Cider, $8-$9
Enjoy seasonally delicious warm drinks at Fishtown's grand beer hall. Grab a $8 mulled wine or a $9 hot apple cider spiked with Schnapps and play some ping pong outdoors in the warmth of Frankford Hall's space heaters and fire pits.
Mulled Wine, $7
What better place to get mulled wine than at a wine bar? Sip on Jet's Cabernet Sauvignon mulled with honey, cloves, cinnamon sticks, star anise, oranges, and golden raisins. They even throw some brandy in the mix to make things even sweeter.
Smoke in Your Eyes, $14
Head to Old City for lead bartender Kyle Darrow's smoky take on the hot cocktail. The cocktail is named after a song Miles Davis covered and the smoked glass that is used to hold the drink. It's contents are house-made cinnamon whiskey, Fernet and hot apple cider.
Hot Chocolate Bar, $10
Guests at this sky-high beer garden can spike hot chocolate with Fireball, bourbon cream, or peppermint Schnapps. Drinks are then topped with either marshmallows or whipped cream.
Linda & Lisa, $13
Lead bartender Daniel Kulisek mixes up this hot cocktail named after the female leads of the 1942 movie Holiday Inn. The drink is a hot toddy made with chamomile-citrus tea, Kinsey Rye and house-made blackberry-rosemary syrup.
Spiked Hot Chocolate, $9
Visit Society Hill's coziest bar for spiked hot chocolate that will warm you from the inside. The hot chocolate is extremely rich and delicious and the bourbon and fresh whipped cream make the drink complete.
3 Options, Various Prices
White Dog Café in University City will be debuting there winter menu on December 29 and along with that is a flurry of hot cocktails. Including on their seasonal cocktail list will be the Fleur de Vin (Remy Martin VSOP, Rittenhouse Rye, St. Germaine, honey, lemon and white grape); the Glengrog (Laproig 10 Year Scotch, Sailor Jerry Spiced Rum, Bitter Truth Allspice Dram, Don Ciccio & Figli Nocino walnut liqueur, agave and orange); and the Carrollton Toddy (Brotherhood Whiskey, Laird's Applejack, caramelized sugar, lime, apple cider, apple & pear shrub for an added fizz).
Photo of Devil's Den's Spiked Apple Cider via Punch Media
Tags:
Cider
,
Cocktails
Recent Articles

Feedback
How are we doing? Tell us what you like or don't like and how we can improve. We would love to hear your thoughts!