Behind the Bar: Hai Tran of The Rittenhouse Hotel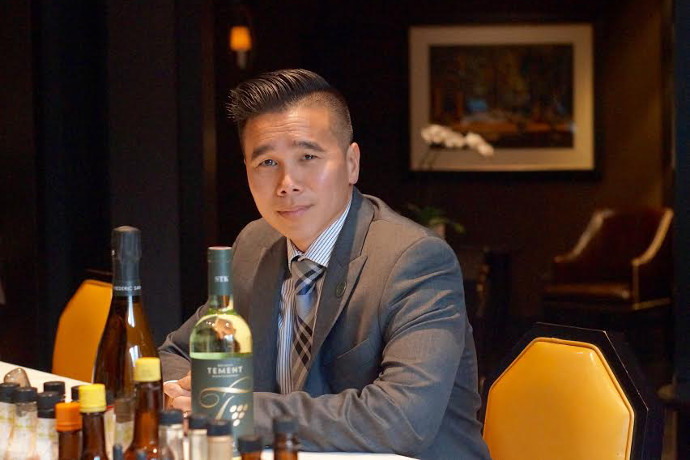 For this installment of Behind the Bar, we had the chance to speak to Hai Tran, who became the beverage director and sommelier at the Rittenhouse Hotel in November 2016. Before coming to Philadelphia, Tran worked in various places in North Carolina, became an Advanced Sommelier through the Court of Master Sommeliers, and sat for the Master's Sommelier theory portion twice so far (he'll return in July of 2017). We sat down with Tran to ask about his journey from North Carolina to Philly, his extensive knowledge of both cocktails and wine, and his experience so far at the Rittenhouse.
Drink Philly (DP): Where did you work before this?

Hai Tran (HT):
Umstead Hotel & Spa
in Cary, NC, and before that I was at
An
, a Southeast Asian fusion restaurant focusing on Vietnamese flavors, also in Cary.
DP: How did you get your start?
HT: I always joke and say that "you find a muse" in life – when I was an undergraduate at Duke University, I met a woman at Cornell's hospitality school, which has a very strong wine program, but you don't have to be 21 to attend classes. She was always talking about wine, and seeing the passion behind the education piqued my interest, and it was something I'd previously thought of as a hobby. What really opened the door for me was my first trade tasting – I was tasting Pinot Noir, and I realized it was very different than anything I'd tasted and each Pinot Noir tasted totally unique, which led me to learn about the intricacies of wine. Wine is bottled history, and each bottle has its own story to tell, and it's just waiting for someone to tell that story.
I got a B.S. in biology at Duke and was also working at a lab, but started waiting tables more and got into fine dining while going to as many tastings as I could. Back then, the Internet was kind of just gaining steam, so I relied on forums for my wine knowledge alongside magazines. On my days off, I would travel to other cities and check out their wine scenes to learn as much as I could. I guess I gained a reputation as the "quiet Asian guy with the faux-hawk" who asked a lot of questions, and at a wine shop I frequented, one of the employees asked if I'd ever considered going into the wine business. He told me about an opportunity in sales with distribution, and I quit serving and became a sales representative.
That helped open the next door at An, where I ended up doing late-night tastings with the chef, who, like me, is Vietnamese. We connected on a cultural level and talked about food a lot, and he saw that I clearly understood the connection of flavors between wine and food. Without knowing it, I ended up selling myself to him, and since he was wearing so many hats between buying and working as the chef, I could see that the wine program was fairly unfocused and needed someone to organize it, and he asked me to come on board to help out. I wasn't confident in my knowledge yet, and so I wanted to become a sommelier with his assistance and really forge a legitimate path so customers and guests felt comfortable with me. I learned how to build and develop a program, and since An and Umstead are owned by the same person, they recruited me at Umstead to take over for a previous sommelier.
DP: What is it like studying to be a Master Sommelier?
HT: It forces you to think about what you know and understand what it is that you're trying to learn about. Pure memorization can only get you so far, since that's missing the point of why you're going through the process to begin with. You need to understand why people make decisions all the way back at the winery, take that to the next level, and really get in-depth with every element of the wine. You also learn about sake, beer, spirits, and so on, because sommeliers deal with every beverage – even coffee! It's not just about wine anymore, but beverage as a whole.
DP: What brought you to Philadelphia & The Rittenhouse Hotel?
HT: I came here in November 2016. I always try to keep up with my peers, and see what they are up to with their respective programs, one of which was Justin Timsit. I decided to leave Umstead and knew I wanted to go to a larger market for more opportunities, so I started looking at bigger cities. What drew me to Philadelphia was conversations with Justin and visiting the property and the city itself, its food scene, its wine scene, and talking to sommeliers here, it got me excited to be in a larger market but still do what I did at Umstead.
DP: Describe a typical workday.
HT: I'll come in around noon or 1, see what's going on with reservations, and start work as the beverage director – attending meetings, knowing what's going on in the entire hotel, brainstorming new ideas and upcoming events, and so on. By 4, the rest of the staff arrives, so I'll keep them up to date and make sure their needs are met for that evening's service. I spend nights on the floor bouncing between Lacroix, Bar 210 and Library Bar and just providing service support, touching tables, and making sure everything's running smoothly.
DP: Are there any trends in the wine world you're excited about?
I think there's a trend towards transparency – when I was getting into wine, the wines were big and driven by 100-point scores and reviews. The rise of the Internet provided more voices, and winemakers realized they couldn't just cater to a few wine critics, but needed to make wine more accessible.
People are going away from conventional techniques and leaning towards more sustainable production. You're finding people who are thinking about what their environment and vineyards have to offer. There's a lot of thought and introspection going into winemaking these days. I'm also seeing an emergence of these "underdog" regions – South Africa, Chile, the reemergence of Australia – coming back and producing new and exciting wines. There's a lot of excitement about Eastern European regions like Greece, Croatia, Slovenia and so on.
DP: What type of wines are most in demand right now?
HT: The classics, definitely. People still drink and want Chardonnays, Cabernets, Pinot Noir, and Sauvignon Blanc – the latter of which has really jumped in popularity lately.
DP: Are there any underrated wines you think more people should know about?
HT: I don't think people appreciate Syrah like they should. It's a beautiful grape that always showcases where it's grown, and it's not just about being about being a "Zin wannabe" – it has a great savory flavor profile to it and it can be incredibly versatile. Within Syrah, there's a great yin and yang when it comes to flavor. People have dismissed it for a long time, but I personally have a lot of passion for it.
DP: Favorite beer?
HT: I like beers that offer what I like in wine, so I gravitate towards sours primarily, since they have the complexity that I love in wine and showcase a real depth of flavor.
DP: Favorite cocktail?
HT: Negroni – it's a cocktail with perfect balance.
DP: Favorite spirit?
HT: Bourbon – especially coming from the South. I love Henry McKenna 10 year.
DP: Favorite wine?
HT: I love Austrian wines. It's a passion for me, and I really got interested in them while working with Vietnamese food, since it pairs perfectly with those flavors.
DP: Are there any wine critics or publications that you really like and respect?
HT: Antonio Galloni, who runs
Vinous
. He has amazing content on his site and has really employed some of the top minds in the wine world to help him handle this juggernaut he's built. His approach is both intellectual and honest. I still read
Wine Spectator
and
Wine Enthusiast
to get an idea of what's going on in the media and the rest of the world.
DP: What's your favorite part of your job?
HT: Talking to people. I love interacting with guests, engaging them about what they're drinking, giving them a personalized experience, and making sure that they don't feel intimidated by the beverage. I want them to leave feeling like I took care of them and that next time they come back, they'll get that same intimate experience.
DP: If you could have a drink with any person, living or dead, who would it be and what would you drink?
HT: I would love to cop out and say it depends on the beverage, so I could have drinks with a range of folks, like a beer with Benjamin Franklin, champagne with Napoleon Bonaparte, Madeira with the Founding Fathers of the US, and so on. Unfortunately that isn't the question and if I had to choose only one person, it would be Thomas Jefferson. It would be amazing to go back in time, share a glass of First Growth Bordeaux (in his time these hadn't even been classified yet!) and talk about how he envisioned the future of the United States as he helped in building the foundations for our country.
DP: Do you have any advice for aspiring sommeliers?
HT: Don't be afraid to ask questions. There is no such thing as a stupid question, as the stupidest question is one that's not asked.
Photo via Drink Philly
Tags:
Behind the Bar
Recent Articles

Feedback
How are we doing? Tell us what you like or don't like and how we can improve. We would love to hear your thoughts!