More Movie Theaters Are Starting to Serve Drinks Nationwide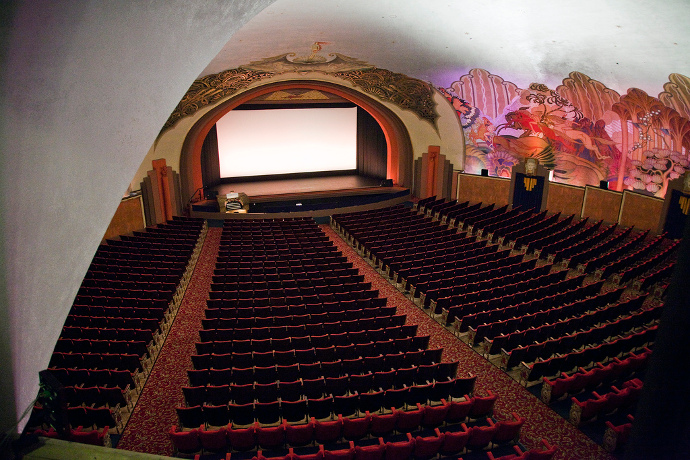 You may have noticed a growing trend in movie theaters recently: instead of ordering a popcorn, candy bar, and soda, you might be getting a popcorn, candy bar, and a pint of microbrew IPA. Booze is slowly, but certainly, taking over movie theaters.
Despite the popularity of films like the Marvel franchise or the newest Fifty Shades film, movie theater attendance has plateaued in recent years, if not declined, according to
The Hollywood Reporter
. Concessions already make up a large majority of movie theaters' revenue, and alcohol only supports that. For a long time, movie theaters in many states were not allowed to serve alcohol, but in recent years laws have been relaxed, and more and more venues are taking advantage of it to serve adult beverages.
"It is the fastest-growing amenity in our industry," George Patterson, senior vp food and beverage at AMC, told the Hollywood Reporter. "Dollar for dollar, alcohol doesn't cannibalize candy, soda or popcorn. If I put a bar in, I can almost guarantee my food and beverage revenue will go up. Over 70 percent of our guests are over the age of 21."
At the end of 2016, 178 AMC theaters had bars, while Regal Theatres had 175, and Cinemark, 100, and those numbers are still growing.
Not every state allows the sale of alcohol in theaters, though. New York is still a holdout, due to some maneuvering by Broadway theaters in 1934, right after prohibition was repealed. However, Governor Cuomo, in his recent budget, stipulated in his budget the repeal of the law. New Yorkers may very well be drinking a glass of wine in a movie theater soon. Meanwhile, the rest of the states already are, and it looks to be helping the struggling theater business.
Recent Articles

Feedback
How are we doing? Tell us what you like or don't like and how we can improve. We would love to hear your thoughts!