Sneak Peek of Philadelphia Distilling's New Fishtown Location, Opening February 20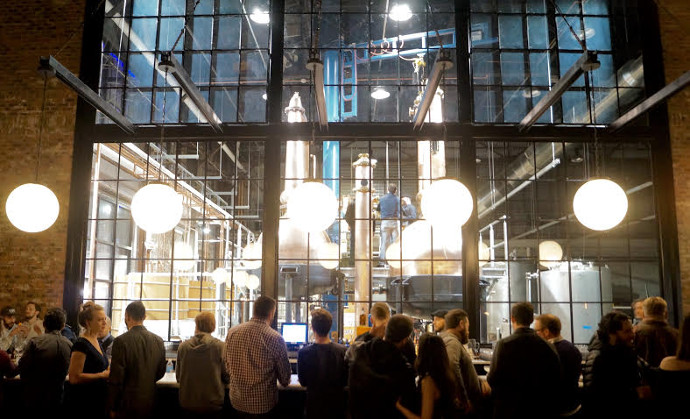 Philadelphia Distilling is moving to a bigger and better location in Fishtown, and their brand new distillery, complete with a full bar and tasting room, will open on Monday, February 20. This new space is the largest service concept within a distillery in the United States, according to Philadelphia Distilling, and it shares a building with event space and concert venue The Fillmore.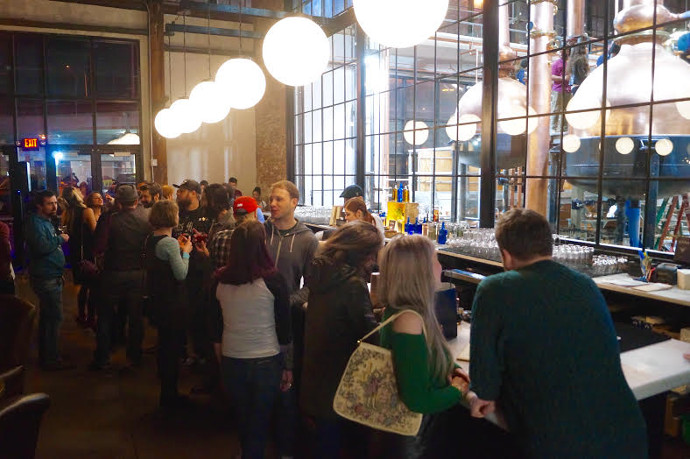 Their new space, which is located at 25 E. Allen St., is 15,000 square feet and was formerly a warehouse for the Ajax Metal Company. The spirit of the factory is still intact, but after a $4.5 million renovation, it has transformed into a state-of-the-art and fully functional distillery alongside a chic bar and lounge.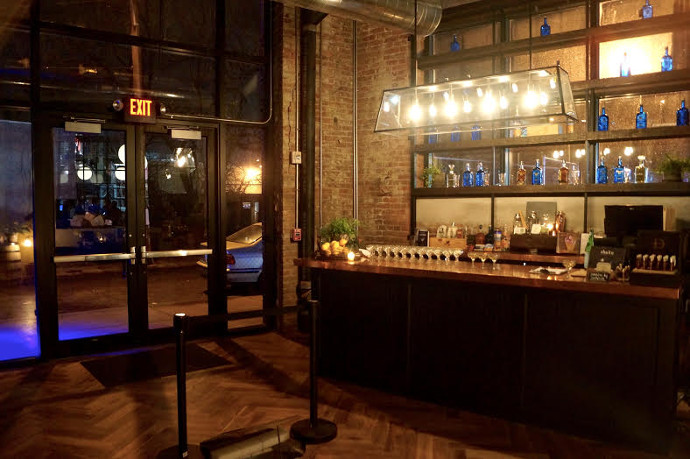 There will also be a tasting room next to Philadelphia Distilling's offices on the fourth floor of the building, which will have dual use as a private event space. The space will also offer an outdoor patio in warmer months and a retail store.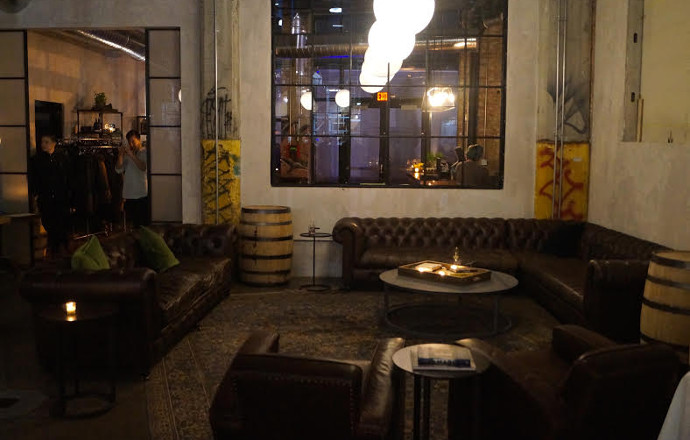 The distillery in the back also features hand-hammered 1500L and 2500L Forsyth copper pot stills and four open-top wooden fermentation vessels that were made by the Hall-Woodford Tank Co.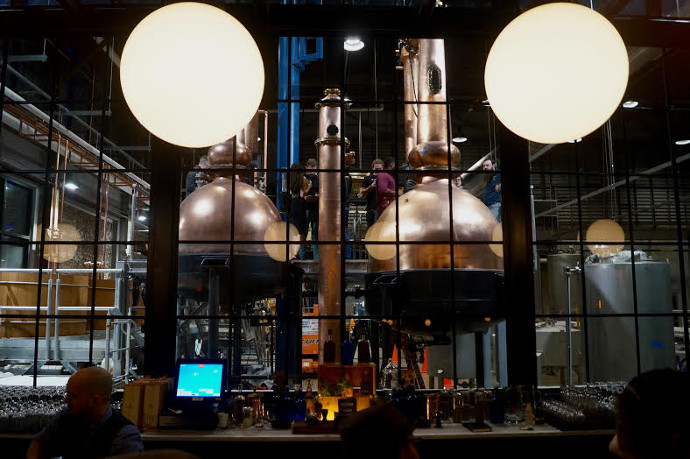 "For the last decade, we have been distilling Bluecoat Gin in a warehouse-turned-lab. This new larger facility shines the spotlight on Bluecoat Gin. Here we will continue to produce artisanal gin in true American style, with 100% organic botanicals," says Andrew Auwerda, President and Co-founder of Philadelphia Distilling. "This milestone expansion allows us to ramp up production, build the image of the brand, increase our consumer base, and create a visitor center that educates our fans about our proprietary distillation process."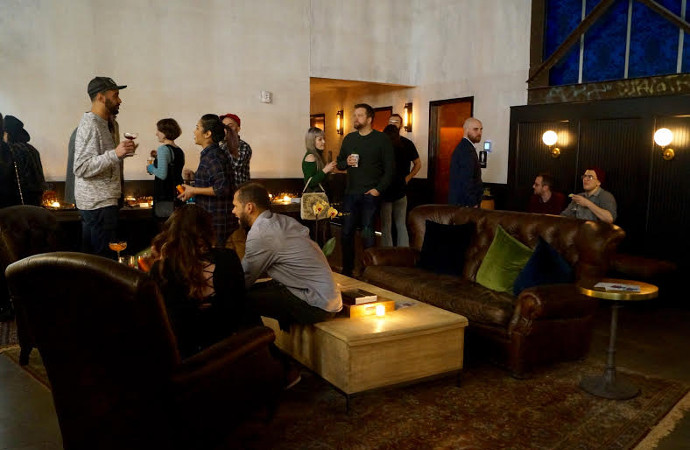 Their cocktail list ranges from classics to inventive originals from the space's bar staff, and though it is obviously quite gin-focused, there's certainly something for every kind of drinker here.
Classic Cocktails
Martini
Bluecoat American Dry Gin, dry vermouth, blanc vermouth, lemon twist ($11)
Clover Club
Bluecoat American Dry Gin, raspberry, lemon, egg white ($12)
Martinez
Bluecoat Barrel Finished Gin, maraschino liqueur, house rouge, orange bitters ($12)
Gimlet
Bluecoat American Dry Gin, fresh pressed lime ($10)
Negroni
Bluecoat American Dry Gin, bitter aperitif, sweet vermouth ($12)
Aviation
Bluecoat American Dry Gin, bitter aperitif, liqueur de violette, maraschino liqueur, lemon ($12)
Death in the Afternoon
Vieux Carré Absinthe Supérieure, sparkling wine ($11)
Vesper
Bluecoat American Dry Gin, Penn 1861 Rye Vodka, aromatized wine ($11)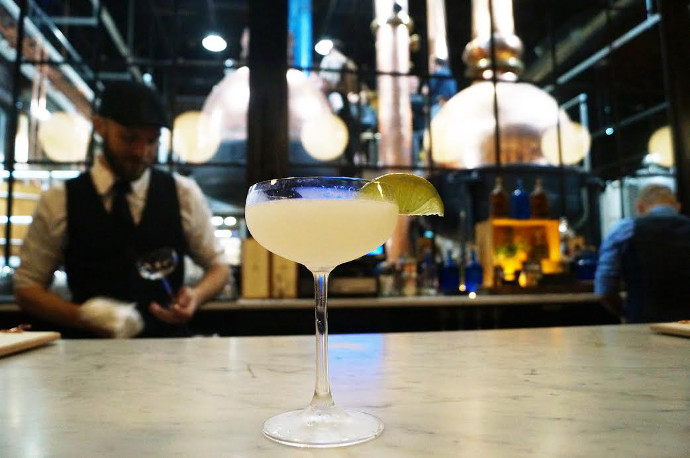 House Cocktails
The Library Co.
Bluecoat Barrel Finished Gin, bitter aperitif, house rouge, balsamic, orange peel ($12)
Mutter's Charm
Vieux Carré Absinthe Supérieure, bitter aperitif, honey, citrus ($12)
Sparks Shot Tower
Bluecoat Barrel Finished Gin, red beet, ginger, lemon, islay rinse ($11)
Outflanked
Vieux Carré Absinthe Supérieure, chicory, dandelion, heavy cream ($11)
Penn's Woods
Bluecoat American Dry Gin, dill, basil, coriander, lemon, club soda ($10)
Dutch Courage
Bluecoat Barrel Finished Gin, Angostura, honey, orange ($12)
Pennsylvania Punch
Daily selection ($8)
PHL G&T
Orange peel ($9)
Rhubarb, lime ($9)
Parsnip, rosemary ($9)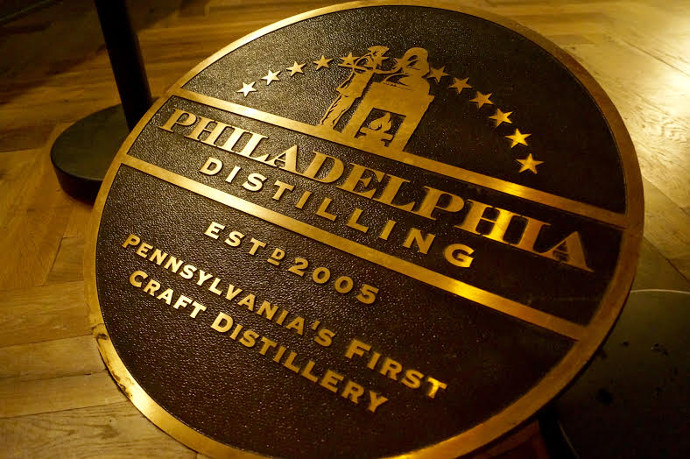 Check out Philadelphia Distilling's new space after February 20 for a tour, a spirit tasting, or a cocktail selection so you can support an excellent Philly company and drink locally.
The distillery will be open Thursday through Sunday from 1 PM to 9:30 PM, and tours and tastings will be Thursday and Friday at 4 PM and 6 PM and Saturday and Sunday at 2 PM, 4 PM, and 6 PM.
Philadelphia Distilling has been a great friend of Drink Philly since we got our start in 2010, and we're excited to see how they've grown since 2005 and where they go from here. Congratulations, guys!
(Philadelphia Distilling, 25 E Allen St.)
Photos by Drink Philly
Recent Articles

Feedback
How are we doing? Tell us what you like or don't like and how we can improve. We would love to hear your thoughts!