Check Out These Can't Miss Philly Wine Week Events, March 19-26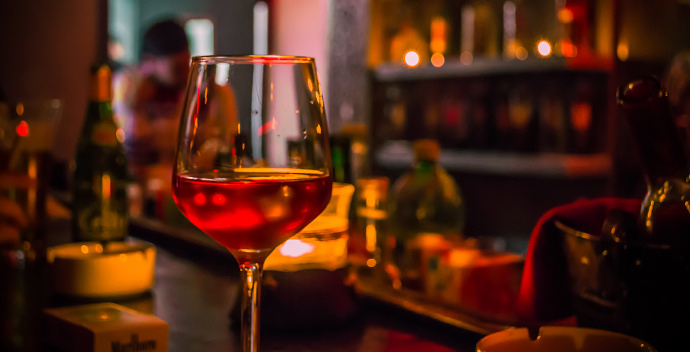 Philly Wine Week is in full swing from Sunday, March 19 through Sunday, March 26. Events and happy hours are taking place all over the city this week to celebrate wine and all of its glory. Here are some of the can't miss events this week, featuring awesome pairings, wine quizzo, and even fried chicken!
Week-long
Is Bigger Always Better?
Lacroix at The Rittenhouse
Beverage Director Hai Tran will be offering magnums (or larger!) by the glass all week. Keep an eye out on the resturant's social media for what's being offered each night.
Mystery Wine Blind Tasting
The Rittenhouse Hotel
At either Bar210 at Lacroix or the Library Bar, you can test your wine-tasting skills in a daily blind tasting. Try a pour, and if you guess that day's wine correctly, you'll leave with a bottle of your very own and be featured on the hotel's Instagram. The pours are 3 ounces and will cost you $10.
"3 Bs, Killer Bs:" Big Bottles Of Vintage Aged Barolo, Brunello & Barbera
Panorama
This Old City wine haven will be pouring Barolo, Brunello and Barbera from magnums for just $5 over cost per glass until supplies run out. Stop in and ask the bartender which wine is flowing any day this week.
Women in Wine
Tredici Enoteca
This Midtown Village restaurant is celebrating the best female winemakers from around the globe all week long! Visit at any time for a 3 glass and 3 cheese flight for only $22.
5 Courses & A Wine Pairing
Ela
This Queen Village spot will feature a 5 course dinner and wine pairing for $55 a person. They're also offering half priced bottles of wine all week.
Monday, March 20
Made in PA Wine Land, 6-8 PM
Martha
Winemakers from Allegro Vineyard in Brogue, PA and Waltz Vineyard in Manheim, PA will visit Martha for a special sampling happy hour. Stop by for free samples of wines like 21 month aged Cabernet and a Chardonnay fermented in stainless steel, 1/2 priced glass pours, 1/2 priced wine inspired cocktail, and complimentary snacks.
Wine Quizzo, 7-9 PM
Vintage Wine Bar
Test your wine skills with four rounds of trivia hosted by Victor Ykorul of Majestic Wines & Spirts. Bring a team or play it solo for a chance to win some sweet prizes.
Tuesday, March 21
Unusual Grapes of the World, 6:30-8:30 PM
Jet Wine Bar
Visit is offering a tasting of four of the most obscure grapes they can fine. The tasting includes five glasses plus light snacks. $40
Wednesday, March 22
Healthy Food and Wine Pairings, 5-8 PM
Pinot Boutique
Pinot Boutique is bringing the people from Snap Kitchen in for a sampling of delicious health food paired perfectly with some of the boutique's wines. $20.
Sparkling Wine and Fried Chicken Pairing, 5-10 PM
Kensington Quarters
The restaurant describes this combination as a "true Jagger/Richards" combo, and we'd have to agree. Stop by Hungry Pigeon on Wednesday for a pay as you go sparkling wine and fried chicken dinner. They'll also be playing some Stone's deep tracks.
Not Your Usual Happy Hour, 5-11 PM
Lou Bird's
This unusual happy hour will shine a light on rare wines far from standard growing regions — specifically, selections from Greece and Lebanon.
Thursday, March 23
Turn Up, Pig Out with Decibel Wines, 5-11 PM
Heritage
Decibel Wines representatives will be on hand for some fun and wine talk this Thursday at Heritage in Northern Liberties. They will be serving four pork specials to pair with Decibel's Sauvignon Blanc, Malbec, Pinot Noir and Amplified White.
Blind PA Wine Challenge, 6-8 PM
Panorama
Put your wine skills to the test at Panorama's "Blind" PA Wine Challenge. Enjoy three flights of three wines that include some of PA's very best Rieslings, Chardonnays and Cab Francs from Penn's Woods Winery. Can you guess which are from PA, which is from Europe and which is from another region around the world? $40.
Tempranillo Wine Dinner, 5-11 PM
Jamonera
This wine pairing dinner will exhibit three regions of Spain where tempranillo is the main varietal. The first course is a Spanish cured meat board paired with tempranillo from the Toro region, the next is confit duck leg with Ribera Del Duero, and last is rabbit fideua with Rioja. All three wines showcase the grape in unique and different winemaking traditions. $25-$40.
Turkish Wine Showcase, 5 PM-2 AM
Southwark
Learn about Turkish wines and try them by the glass or flight. The restaurant will be featuring five wines with a flight of all five for only $30.
Terradora di Paolo Wine Dinner, 5PM-11PM
Lou Bird's
For $100 per guest, sample 4 courses paired with amazing wines from one of Campania's most celebrated producers. Chef Natalie has prepared a unique menu inspired by Naples street food.
Friday, March 24
Grapes and Grain, All Day
Lo Spiedo
This event features Goose Island's collaboration brew "Chrysos" with local winery Karamoor. The beer is a limited-edition saison made from Goose Island's Sofie aged in Karamoor Petite Verdot and Cab Franc barrels. Chrysos and Karamoor wines will be $7 all day long.
Saturday, March 25
@Noon Naturally, 12-2 PM
Panorama
Explore the trend of organic wines and biodynamic bottlings with Giacomo DiLisi of Solair. Tickets are $40.
Afternoon Delights: Wine & Pastry Tasting, 1-3 PM
Jet Wine Bar
Enjoy delicious pairings like Sherry with scones and Beaujolais with bran muffins. Nook's baker Edna will be on hand to provide the pastries and the experts at Jet will pair them perfectly with wines that are crisp, bright, and perfect for day drinking. Tickets cost $40 and include five wines plus pastries as well as 15% off your day's bar tab and special pricing on to-go sale bottles.
Sunday, March 26
Mediterranean Brunch Pop Up, 11 AM-3 PM
Barbuzzo
Savor a special brunch pop-up at Barbuzzo's upstairs space. Chef Marcie Turney will curate the pre-fixe menu, which will be served with Italian wine cocktails, Negroni Mimosas, sparkling rose wines, Calabrian and Sicilian wine flights and Proseccos. $30.
3rd Annual Wine BBQ, 3-11 PM
American Sardine Bar
Celebrate the conclusion of Philly Wine Week at American Sardine Bar's first outdoor party of the season. Draft wine will be on hand as well as tapas style barbecue prepared by Chef Doreen Demarco. Pay as you go.
Fried Chicken & Champagne, 5-10 PM
Hungry Pigeon
Get your fried chicken fix at this last day of Wine Week pairing event. David McGuff of Bowler wines will be on hand to pour the champs and the restaurant will be offering a full variety of chicken to pair with the bubbly. Pay as you go.
Bordo Macellaio, 5-10 PM
Little Nonna's
Finish off Philly Wine Week with a delectable four course Italian dinner. The dinner includes an Italian butcher's board served family style with meats like lemon-rosemary chicken thighs, skirt steak spiedini, Negroni glazed lamb and smoked pork sausage. The dinner also includes one bottle of Columbera and Garella Nebbiolo-Vespolna Blend per two people. $50.

Photo via Flickr user aymen_bet
Event Date: 03/19,03/20,03/21,03/22,03/23,03/24,03/25,03/26
Event Time:
Location: Various
Price: Various
Website: phillywineweek.org

Recent Articles

Feedback
How are we doing? Tell us what you like or don't like and how we can improve. We would love to hear your thoughts!