George Clooney's Tequila Company Casamigos Sells to Diageo for $1 Billion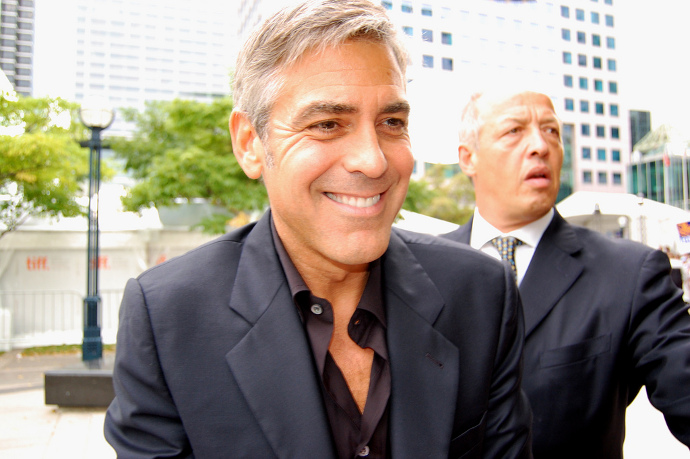 Artist and philanthropist George Clooney can safely retire from Hollywood now — Casamigos, the tequila company he owns with friends Rande Gerber and Michael Meldman, is being sold to Diageo, the world's largest spirits based liquor company, for a modest one-billion dollar price tag, CNBC reports.
The tequila line was founded more or less "on accident," Clooney told CNBC last November. He and Gerber had been drinking tequila in Mexico, and decided they wanted to develop their own bottle, just for themselves and their friends. Working with distillers they chose a flavor profile they enjoyed and began shipping bottles of it to the UK to drink and share. Eventually they were bringing in more than 1,000 bottles a year, and the distillery informed them they needed to go legitimate if they wanted to keep bringing in bottles. Meldman, a real estate tycoon, joined the team then to help with distribution, and Casamigos was officially born.
Now, the trio are selling the label to Diageo to the tune of $1 billion. In a press release sent out Wednesday, June 21, Gerber wrote, "We created Casamigos Tequila 4 years ago for us to drink personally and selling it for 1 billion dollars is something we never could have imagined. We remain committed to our brand and look forward to our future with Diageo and continuing our work with our dedicated and passionate Casamigos team."
The sale looks to be beneficial to Diageo, whose Chief Executive Ivan Menezes said in a press release, "We are delighted to announce this transaction today to extend our participation in the tequila category. It supports our strategy to focus on the high growth super-premium and above segments of the category." Tequila remains one of the fastest growing categories of spirits on the market, and investing in a high-profile, well regarded label like Casamigos is likely to pay off in the long run.
The sale continues the trend of craft spirits being absorbed by larger liquor companies, like the sale of Del Maguey Mezcal to Pernod in early June. It just goes to show: all you need is either 27 years of hard work and dedication to an art form, or a few years with a brand you made on a whim so you could drink tequila with your friends, and you could sell your company at a healthy price.
Photo via Flickr user csztova
Recent Articles

Feedback
How are we doing? Tell us what you like or don't like and how we can improve. We would love to hear your thoughts!