Behind the Bar: Jeff Jagger of Townsend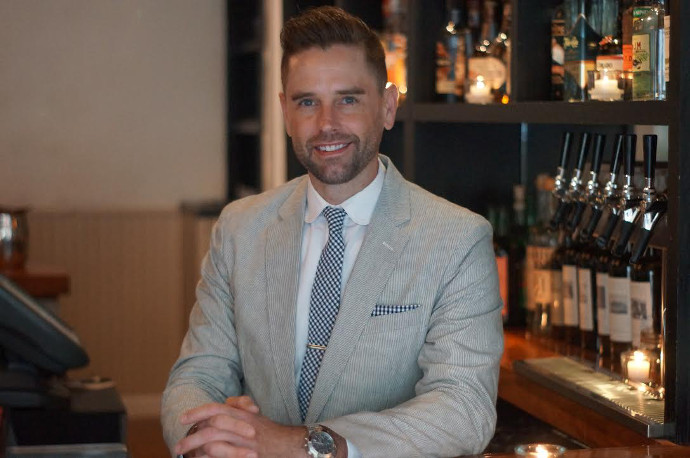 For this installment of Behind the Bar, we checked in with Jeff Jagger from Townsend, who's been at Tod Wentz's East Passyunk stalwart since its opening. Jagger, whose father was in the Department of Defense while he was growing up, describes himself as "not really from anywhere," living a nomadic lifestyle that ended up bringing him from Savannah, Georgia to Philadelphia. We asked Jagger about his previous bartending gigs, all the places he's lived, and the bar trick that patrons fall for every time.

Drink Philly (DP): Tell me a little bit about the place.
Jeff Jagger (JJ): Everything that we do on the bar side is because of Townsend the restaurant. The food is the main attraction, and we are unabashedly French - Chef loves classic French cuisine, so from the wines and cocktails are curated by the food.
DP: Have you bartended elsewhere?
JJ: Finn McCool's in Ambler, and I've been with the staff since McCrossen's for a long time.
DP: What's trendy right now?
JJ: There are so many great modifiers in cocktails you begin to see in the fall. Amaro is definitely perfect for mixing in cocktails. At Townsend, we make an allspice tincture that's great to use in old fashioned and Manhattan variations. We also make a fresh apple syrup using three different apples that adds a delicious component to cocktails.
DP: What are some trends you wish would die?
JJ: I'm not a giant fan of smoking things - scotch and mezcal are fine, but I don't love burning herbs and such. I think it often creates a stronger profile than a cocktail can withstand.
DP: Any predictions about where the industry might go next?
JJ: I think that you're seeing it now! I think you're seeing it at Friday Saturday Sunday, Double Knot, ITV, and so on. The food and the cocktails obviously need to be harmonious, but I think guests need to be challenged by what they're eating and drinking. I think this trend would best be called totality - it's awesome for guests to be able to try anything and be introduced to a new experience.
DP: One unexpected fact about you?
JJ: I lived in Hawaii for a few years — specifically in Oahu, in Honolulu in Salt Lake.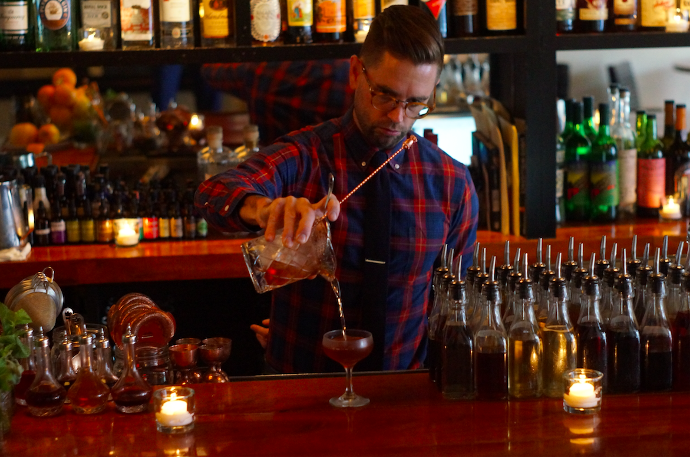 DP: Favorite beer?
JJ: Really depends on the season. Right now, I love low-alcohol, funky sours.
DP: Favorite liquor?
JJ: Rum. All the rum.
DP: Favorite cocktail?
JJ: A classic daiquiri. It's an amazing cocktail with a great history.
DP: What's your favorite kind of customer?
JJ: All of them. They're all different, and every guest is a different experience. Those of us industry do love to take care of others industry - let them relax and see them on the other side of the bar, so when we see industry and non-industry alike enjoying the experience equally, that's amazing for us.
DP: Favorite joke?
JJ: I'm no good at telling jokes! I do a trick called the "bar crab," and guests love it. You'll have to come see me to see it for yourself.
DP: What do you think the essentials are for a good home bar?
JJ: Definitely gin, because it's in so many classics. At first, I would start with a base of the major subjects - gin, rum, and so on, and then start stretching your palate to bourbons and so forth. Then you want to start getting into Campari, vermouths, and so on. For the at-home bartender, start slow. This gets addictive, and very expensive! I would say Beefeater, dry vermouth (I prefer Dolin), Campari, sweet vermouth (Carpano), a good bourbon like Old Grandad Bonded, some bitters (orange and aromatic) — those few bottles can build several classic cocktails to start you off.
DP: Where do you go for a drink when you're not working?
JJ: It depends on what I'm looking for. Sometimes I just want instant gratification and go to Good Dog for a beer and a shot. If I want wine, ITV has a great selection. For cocktails, I love checking in on Mission's staff, but I also love seeing Paul MacDonald, Catherine Manning, Zach Kessler, and more.
DP: What's the secret to being a great bartender?
JJ: The guest. If you're good at your job, you know! If the guest is happy and enjoying their experience and thinks we're doing a good job, that's how you know.
DP: If you could have a drink with any person alive or dead, who would it be and what would you drink?
JJ: Don Beach from Beachcomber's, which essentially started the tiki craze in 1934. He created the Zombie and was incredibly protective of the recipe. I would definitely drink a zombie with Don Beach.
Top photo via Drink Philly; subsequent photos via Punch Media
Tags:
Behind the Bar
Recent Articles

Feedback
How are we doing? Tell us what you like or don't like and how we can improve. We would love to hear your thoughts!