Behind the Bar: Jamie Steinberg of Volver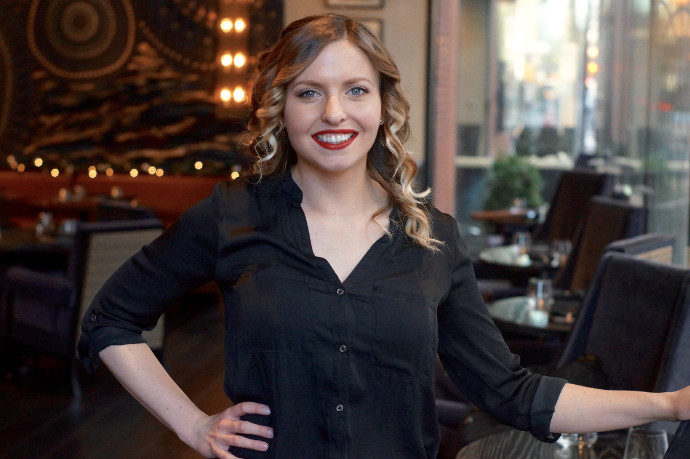 This time on Behind the Bar, we spoke to
Jamie Steinberg
, the head bartender at
Volvér
. Steinberg, the mind between this Center City bar's innovative and frequently changing cocktail menus, hails from the Northeast and Lower Bucks County. We talked to Steinberg about her degree in criminal justice, why she hates the word "mixologist," and her favorite martini joke.
Drink Philly (DP): Tell me a little bit about the place.
Jamie Steinberg (JS): It is Jose Garces' flagship restaurant, and it's also a Forbes 50 Restaurant in their travel guide for the second year in a row. The word "volvér" means "to return" in Spanish, and the premise behind that is that Garces has traveled around the world and brought his experiences back with him to create Volvér. Everything in the bar and lounge is a la carte, and some of the items are also in the dining room's prixe fix menu, so we can bridge that gap and keep things approachable.
DP: Have you bartended elsewhere?
JS: I started at Hooter's in Bensalem as a server and bartender at 18! After that, Miller's Ale House in Langhorne as a bartender, Continental Midtown, then R2L, and now Volvér. I'm also currently working at Ranstead Room.
DP: What's trendy right now?
JS: Definitely the classics and any kind of twists on classics.
DP: What are some trends you wish would die?
JS: I hate the word "mixologist." It encompasses a level of pretentiousness and arrogance that I can't even describe.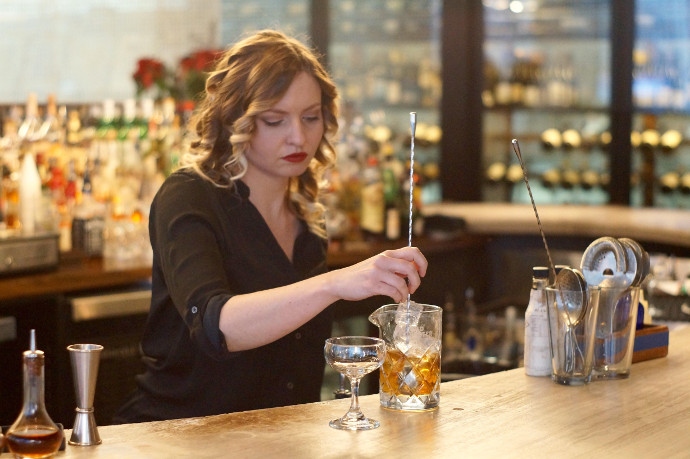 DP: Any predictions about where the industry might go next?
JS: I love where it's going now in the sense that you're seeing products like Lo-Fi Aperitifs and Don Ciccio & Figli Spirits - I'm loving American alternatives to European aperitifs, digestifs, amari, cordials, etc . I wouldn't be surprised if the industry entered another dark age where mixed shots like "green tea" or "gummy bear shots" and the like come back as they did a few years ago in my sports bar days. Like everything else, this industry is cyclical and the demand for that might come back.
DP: One unexpected fact about you?
JS: For a few years I wanted to be a cop and went to school (Temple) for psychology and criminal justice. I even applied to be a state trooper and learned to shoot.
DP: Favorite beer?
JS: Old Rasputin, an Imperial stout.
DP: Favorite liquor?
JS: Genepy, both while I'm behind the bar and to drink. It's so versatile.
DP: Favorite cocktail?
JS: Negroni, of all time, but I recently discovered Chrysanthemums and Episcopalians.

One of Jamie's original creations, the Don Juan (Cynar, Cocchi Torino, Xtabentün, mezcal).
DP: What's your favorite kind of customer?
JS: Anyone that has a good sense of humor and can banter. If I am crying from laughing so hard, I want you at my bar everyday.
DP: Favorite bar joke?
JS: I'm better with puns, but one of my favorite things to do is if someone asks for a dirty martini, I ask if they want it "slightly dirty like a peep show, or Christina Aguilera dirrrty?" (three R's included!)
DP: What do you think the essentials are for a good home bar?
JS: Start small and work your way up. You definitely want a few bitters - aromatic, Peychaud's - and then go for a sweet and dry vermouth. Dolin is great, but Iris Vermouth from Spain has a great price point. A few modifiers that cross the spectrum - an amaro for bitter, something herbaceous like Genepy, something floral like Creme de Violette. Finally, a base spirit of each that you enjoy.
DP: Where do you go for a drink when you're not working?
JS: I love Friday Saturday Sunday - I love Paul MacDonald and Madison Reynolds and seeing what they create. Allison Hangen, who's now at Oloroso, is amazing. She was my bar manager here, and I've learned so much from her.
DP: What's the secret to being a great bartender?
JS: Ultimately, don't judge a guest for their order - your job is to make their experience as amazing as possible. It's about multitasking, being perceptive of your guests, and tailoring their unique experience around their wants and needs.
DP: If you could have a drink with any person, living or dead, who would it be and what would you drink?
JS: Ben Franklin. He made his own beer and did everything else - he was a scientist, mathematician, diplomat, inventor, a Founding Father, and a Casanova. He did it all. I think I'd have a beer and a shot of rye whiskey.
Photos via Drink Philly
Tags:
Behind the Bar
Recent Articles

Feedback
How are we doing? Tell us what you like or don't like and how we can improve. We would love to hear your thoughts!