Behind the Bar: Amy Farrell of Bar 210 at the Rittenhouse Hotel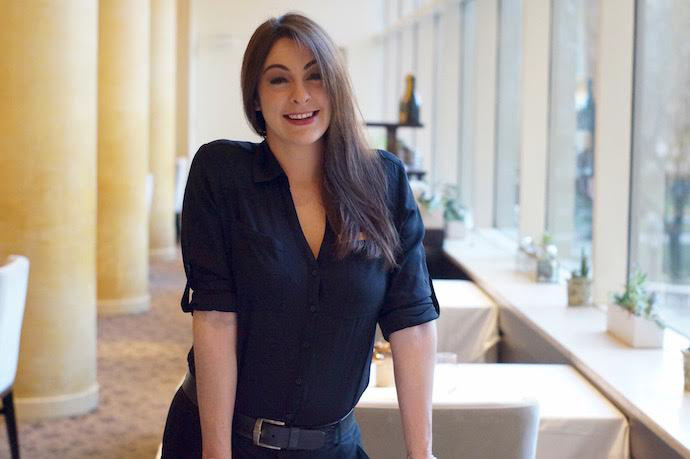 This time on
Behind the Bar
, we talked to
Amy Farrell
at
Bar 210 in the Rittenhouse Hotel
. Originally from Pittsburgh, Farrell grew up outside of D.C., got an acting degree from the University of the Arts in Philadelphia, and currently lives in the Rittenhouse area — so we chatted about the Steelers, her cat named Tully, and why being a kind bartender is so important.
Drink Philly (DP): Tell me a little bit about the place.
Amy Farrell (AF): Before Bar 210 was built, it was just extra seating for the restaurant (Lacroix), and drinks ran out of the service bar in the back of the house. I've been here since it opened in September of 2008, and it's kind of like my "bar baby." I love it here, because people have certain ideas about bars within fine dining restaurants, but I think we've shown over the years that it's a very comfortable bar for guests, neighbors in the city, and everyone who wants a good drink.
DP: Have you bartended elsewhere?
AF: When I graduated from college, I was a cocktail server at a nightclub (M Lounge) in Old City. I was a shot girl at Polly Esther's while I was in college. When a bartender called out sick, I lied about having bartending experience, and just took over. I opened Continental Mid-Town as a bartender as well.
DP: What's trendy right now?
AF: Whiskey, definitely. Classic cocktails, reimagined. I think people are more in tune with cocktails right now, so it doesn't have to be a "trend" as long as it's good.
DP: What are some trends you wish would die?
AF: I hate when you go to a craft cocktail place and it takes the bartenders forever to make a drink. There's a way to streamline, make a great drink, and still keep the customer happy.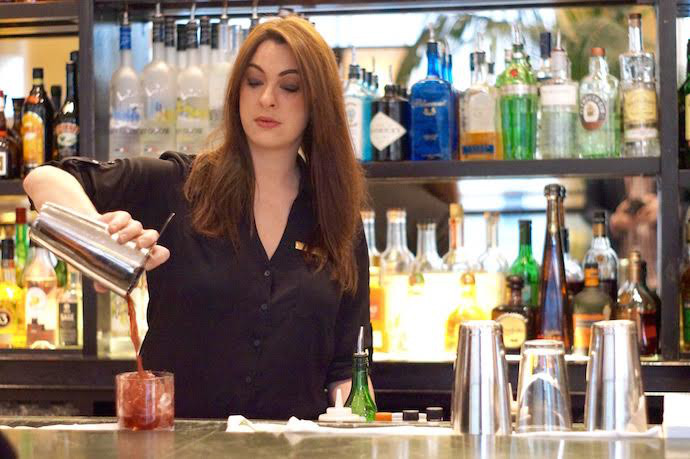 DP: Any predictions about where the industry might go next?
AF: I think it's headed in a great direction. So much of what's driving the industry now is quality - it's service based, it's product based, it's all around quality. The competition is so stiff that you have to be on point at all times.
DP: One unexpected fact about you?
AF: I'm a total tomboy. I was a dancer and an actor for years, but I've always loved sports. It was always a connection with my dad, who was a lifelong Steelers fan.
DP: Favorite beer?
AF: Lately, it's been Dogfish Head SeaQuench. It changes a lot. But Miller High Life is my go to beer.
DP: Favorite liquor?
AF: I love doing shots of Tully. My cat's named Tully. I love working with gin - it's got so much going on already, and then you can play with it even more.
DP: Favorite cocktail?
AF: Manhattan. I love them with High West Double Rye and Carpano - my husband (Kevin Farrell of Continental) made me one the other day.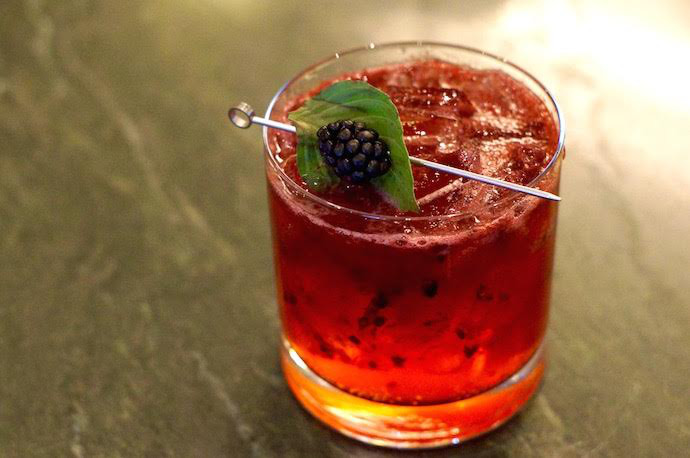 The Blackberry: Jim Beam Black, blackberry, basil, ginger
DP: What's your favorite kind of customer?
AF: Somebody that's in a good mood and that's open to trying new things. Someone who wants to be challenged, but isn't indecisive.
DP: Favorite bar joke?
AF: The only joke I can ever remember is "Why are lobsters bad at sharing? Because they're shellfish."
DP: What do you think the essentials are for a good home bar?
AF: I always have at least one of each essential spirit - gin, whiskey, vodka, rum, tequila. You need a good bar spoon, definitely. I think it's important to have an ice bucket, especially for entertaining. Pour tops, a Boston shaker (I like stirring in a glass), a good strainer, a wine key with a double hinge and a serrated knife. St. Germain is a good one. Campari, of course. If I'm getting ready to go out, I love a Campari and soda. I always have a bottle of Carpano. I like Dolin dry vermouth.
DP: Where do you go for a drink when you're not working?
AF: Black Sheep - that's my neighborhood bar, and sometimes you wanna go where everybody knows your name.
DP: What's the secret to being a great bartender?
AF: Being kind. I think so many bartenders want a guest to be a certain way, but every guest and bartender are different. If you don't have strict expectations, you'll be able to make every guest happy. The expectation should be on us, not the guests.
DP: If you could have a drink with any person, living or dead, who would it be and what would you drink?
AF: I'll choose one of each. Unfortunately, in 2011, my dad passed away from cancer, so if I could have both, I would drink with my dad and Terry Bradshaw. We'd have shots of whiskey and an Iron City beer.
Photo via Drink Philly
Tags:
Behind the Bar
Recent Articles

Feedback
How are we doing? Tell us what you like or don't like and how we can improve. We would love to hear your thoughts!