Behind the Bar: Marie Piraino of Bud & Marilyn's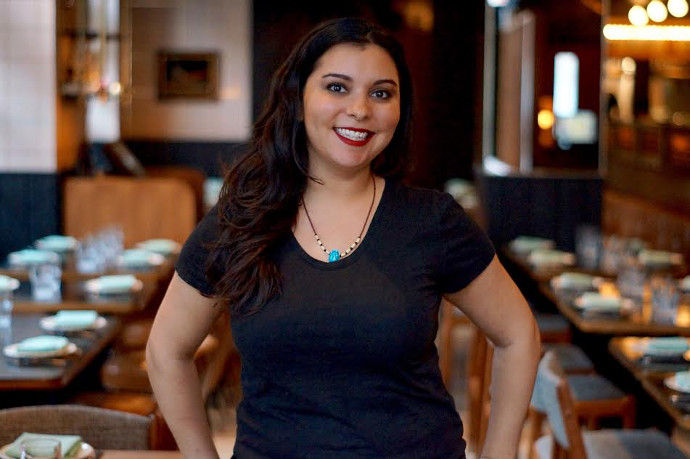 This week on Behind the Bar, we spoke to Marie Piraino at Bud & Marilyn's. Originally from West Chester, Piraino went to Agnes Irwin and Temple University, where she double majored in English and Spanish, now residing in Rittenhouse. Piraino isn't just a bartender — she's also the part-time brand specialist with L'Equipe St-Germain, which focuses on trade activities that promote health and wellness in the industry as well as staff trainings for brand education and runs consumer samplings. We talked to Piraino about the quintessential French aperitif, Miller High Life, and her family's heritage.

Drink Philly (DP): Tell me a little bit about the place.
Marie Piraino (MP): Bud & Marilyn's is currently the newest addition to the Marcie Turney & Valerie Safran restaurant group. We serve retro-American food and excel in comfort food - fried chicken, cheese curds, meatloaf - while still using super local, seasonal ingredient. Marcie and Evan (her brother, who is now the executive chef)'s grandparents were named Bud & Marilyn, and they used to own a small restaurant in Wisconsin called The Spot.
DP: Have you bartended elsewhere?
MP: I was at Petruce et al. before here until that closed. My first ever job was at Houlihan's in the Exton Mall when I was in high school. I was a server there, and I wanted a really lucrative section, but to get it, I had to ring a thousand dollars in sales in one night, and at that time, that seemed impossible — when I did it, everyone was completely blown away. I also worked at the Loews and helped open Bank & Bourbon, apprenticed at Emmanuelle, and worked at the PHS Pop-Up Garden at 15th and South.
DP: What's trendy right now?
MP: I love the low-ABV, aperitif-style drinking trend — having a low alcohol cocktail, like the St-Germain cocktail (club soda, dry sparkling wine, and St-Germain) — is great for all-day drinking, and these days, people are drinking less by volume and going for higher-end liquors. Plus, you're way less hungover the next day.
DP: What are some trends you wish would die?
MP: Bartenders not getting health insurance! I'd love to see that change as we're all growing up in the industry and seeing how working within the industry can really become a full-fledged, satisfying career. The 13th Street Restaurant Group (owned by Turney and Safran) is really great with this - they even started IRAs with matching for us this year.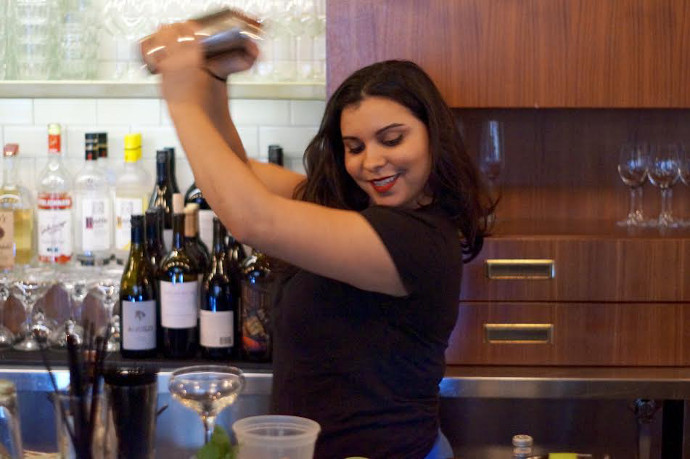 DP: Any predictions about where the industry might go next?
MP: We're kind of already seeing this, but more of a focus on "fun" - how to do cocktails with super fresh and high quality ingredients in an approachable, fun way, like maybe cheeky, childlike fun. I'm thinking cute and silly garnishes especially.
DP: One unexpected fact about you?
MP: I'm Egyptian. My mother was born there, and her whole family came here in 1969, so I'm first generation!
DP: Favorite beer?
MP: High Life, all day!
DP: Favorite liquor?
MP: My favorite to work with and drink is definitely St-Germain, because of the versatility.
DP: Favorite cocktail?
MP: If I could only drink one drink ever again, it would be the St-Germain cocktail, because I want it to be low ABV! Otherwise, the Negroni is a perfect drink.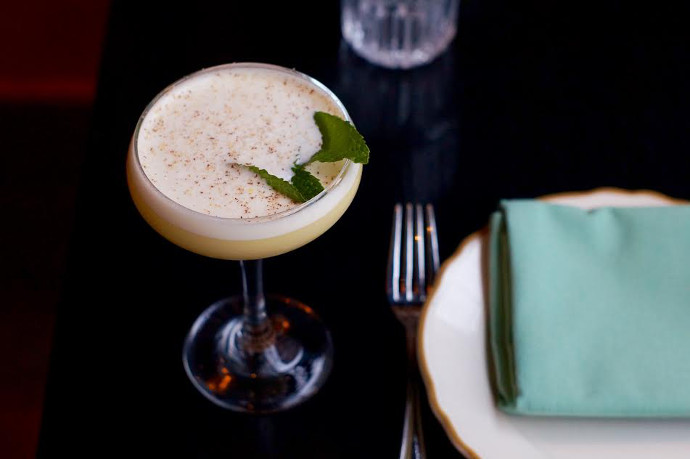 The French Flip: lightly beaten whole egg, St-Germain, green chartreuse, Grey Goose vodka & orange bitters, made with a dry shake
DP: What's your favorite kind of customer?
MP: The open novice — a person that comes up and says, "I don't know what I like or what I should be drinking. Make me something!" and lets me build a relationship with them about what kind of drink I should create. That's the kind of customer you can surprise and really create a rapport with this person.
DP: Favorite bar joke?
MP: I don't have one, but I love when bartenders I know come up with amazing cocktail names that make me laugh.
DP: What do you think the essentials are for a good home bar?
MP: First, the tools: a tin-on-tin shaker, so there's no danger of broken glass; a Hawthorne strainer; and a bar spoon. Bottle wise, I'd say if you have a home bar and are entertaining, I always say 2 dark spirits, 2 light spirits, and 2 modifiers. Bourbon and dark rum, gin and vodka, and modifiers something light, like St-Germain, and something more complex, like an amaro. Also, a hand-squeezer, specifically for lemons!
DP: Where do you go for a drink when you're not working?
MP: Dirty Frank's. If I'm not there, I go visit friends — I love Sheila at Dirty Frank's, my boyfriend Ryan (Meyers) at Barbuzzo, and Josa Lazas at Prohibition Taproom and Charlie was a sinner., and all my friends in the USBG.
DP: What's the secret to being a great bartender?
MP: Patience, definitely — with yourself, with your team, and with your guests. As a bartender, if you can take a minute to take a deep breath when you're weeded or frustrated, that goes a long way and helps build better relationships. My style as a bartender is very relationship-driven, both with my guests and my team, especially because you need the latter to be the best you can be. It's amazing to get to help cross-train and teach anyone who's getting their start.
DP: If you could have a drink with any person, living or dead, who would it be and what would you drink?
MP: My grandmother, who passed away, and we would drink mint tea. I'd like to ask her what it was like to come with our family from Egypt — she was the matriarch of the family and really kept everyone together and helped us create an incredible bond.
Photos via Drink Philly
Tags:
Behind the Bar
Recent Articles

Feedback
How are we doing? Tell us what you like or don't like and how we can improve. We would love to hear your thoughts!