Behind the Bar: Kyle Darrow of Red Owl Tavern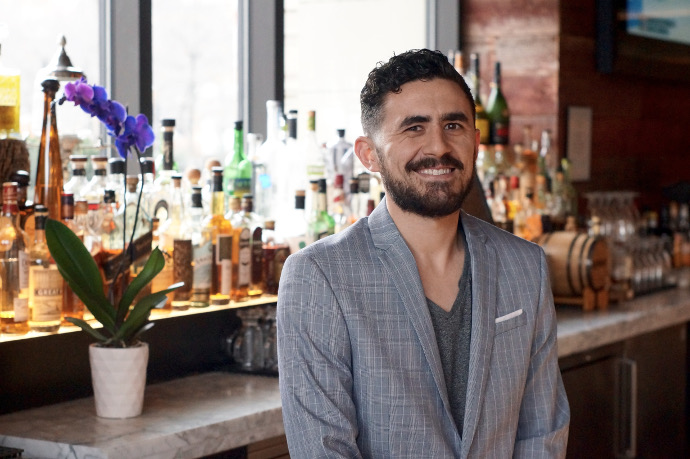 For this installment of
Behind the Bar
, we spoke to Kyle Darrow, the head bartender at
Red Owl Tavern
in the
Hotel Monaco
. A New Jersey native who now lives in the Italian Market and has worked at the Hotel Monaco for four years, we spoke to Darrow about great garnishes, dive bars, and Ernest Hemingway.
Drink Philly (DP): Tell me a little bit about the place.
Kyle Darrow (KD):
Red Owl
is an American tavern in the
Hotel Monaco
, and we've been open for five years. We're a pretty balanced bar program with great beer and whiskey selections, plus lots of cocktails. I've been overseeing the cocktail program for the past 2 years and served before that.
DP: Have you bartended elsewhere?
KD: I got my start at Dmitri's in Fitler Square, a great neighborhood bar that's since closed. (Editor's Note: There are still 2 Dmitri's in Philadelphia). I also worked at Tavern on Camac for a short stint.
DP: What's trendy right now?
KD: Garnish game! Using different kinds of unique glassware, and garnishes. A good drink has to be Instagram-worthy.
DP: What are some trends you wish would die?
Obscure ingredients for no reason.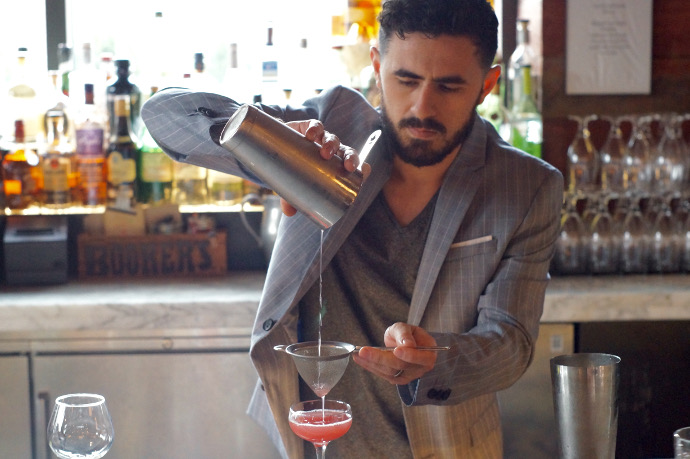 DP: Any predictions about where the industry might go next?
KD: I think we're going to see a lot more cocktails at neighborhood dive bars, and I think the snobbery associated with cocktail bars and mixology is becoming a thing of the past and bars are are becoming more approachable.

DP: One unexpected fact about you?
KD: I do my own tattoos, mostly for myself. I do tebori tattoos, which is a traditional Japanese style of tattooing.
DP: Favorite beer?
KD: I like simple clean Pilsners and kolschs.
DP: Favorite liquor?
KD: Bourbon, to work with and to drink, and cachaça, more to drink than to work with.
DP: Favorite cocktail?
KD: An Old Fashioned. I use Buffalo Trace and go heavy on the bitters.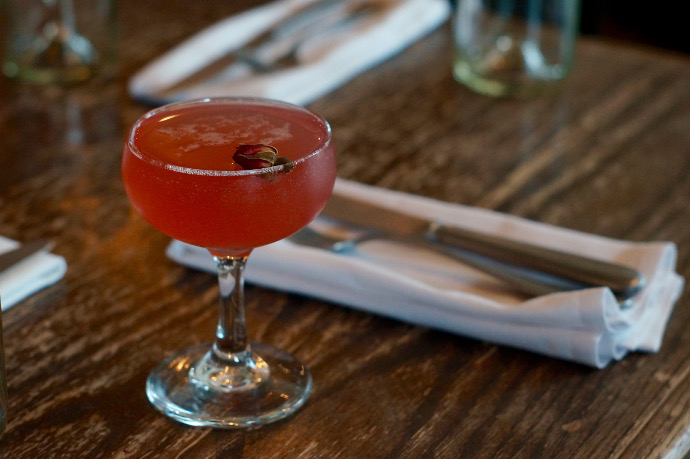 The Ruby Sunrise: Tito's vodka, prosecco, rose water, pomegranate, and grapefruit.
DP: What's your favorite kind of customer?
KD: Interesting people who want to have a conversation. I don't care what anyone drinks or where they come from, but if they're interested in talking and having a good time, game on.
DP: Favorite bar joke?
KD: The bar staff has a lot of inside jokes and phrases, but they probably wouldn't make a lot of sense to anyone else. Any time someone requests something not behind the bar, one of us says "I got a guy" and send the barback to get it. When a customer asks what our favorite drink to make is, we say "Jameson's."
DP: What do you think the essentials are for a good home bar?
KD: Angostura bitters, and basics of everything - one whiskey, one gin, one vodka - and then you can infuse your spirits and get creative. Buy relatively cheap spirits, since you can make it better in a cocktail.
DP: Where do you go for a drink when you're not working?
KD: We usually go to Las Vegas Lounge down the street from Red Owl after work. The bartenders are all great. I love Moriarty's for late night wings.
DP: What's the secret to being a great bartender?
KD: Being flexible and being able to adapt to different customers, spaces, tastes, and experiences.
DP: If you could have a drink with any famous person, living or dead, who would it be and what would you drink?
KD: Ernest Hemingway, and we'd drink a daiquiri. Preferably on the beach.
Photos via Drink Philly
Tags:
Behind the Bar
Recent Articles

Feedback
How are we doing? Tell us what you like or don't like and how we can improve. We would love to hear your thoughts!