Behind the Bar: Canyon Shayer of Philadelphia Distilling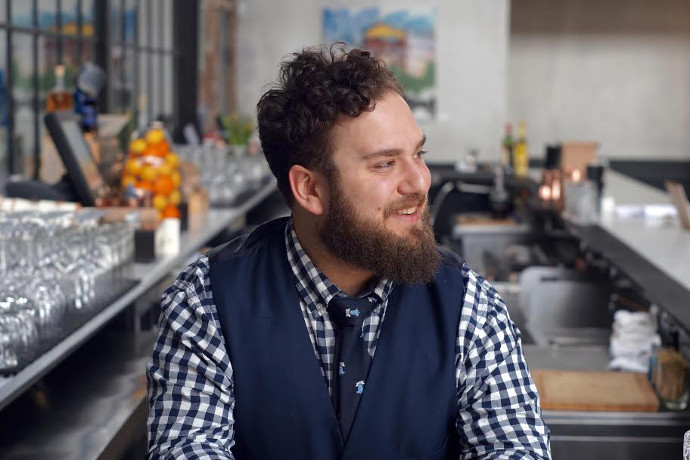 For this installment of
Behind the Bar
, we spoke to
Canyon Shayer
, the head bartender at
Philadelphia Distilling's
bar and tasting room. Shayer, who has worked at many of Philadelphia's best bars and has been at Philadelphia Distilling since it opened, grew up in Center City, attended Community College of Philadelphia with honors, and is currently residing in Old Richmond. We talked to Shayer about his past bartending gigs, ballet, and, of course, Bluecoat American Dry Gin.
Drink Philly (DP): Tell me a little bit about the place.
Canyon Shayer (CS):
Philadelphia Distilling's tasting room is a special place.
For our staff and our guests, It's a fundamentally unique experience. The bar team is utilized as a resource for the distilling staff, the marketing team, the events team, and everyone that distributes our spirit. We're able to lend our perspective and experience to a brand that's distributed locally and internationally. The addition of our team to the Philadelphia Distilling family changes the mold for distilleries, and helps facilitate a more complete picture, from botanicals to bottles to glasses and cocktails at our tasting room and around the world.
DP: Have you bartended elsewhere?
CS: I started as a busser at
The Dandelion
and was lucky to work with a staff of talented bartenders, including
Dustin Ream, Darren Ishman,
and
Christy Hughes
, to name just a few. They were willing to teach someone with no experience whatsoever. After the Dandelion, I worked at
Pizzeria Stella
,
The Ranstead Room,
Cavanaugh's Headhouse
,
and
Hungry Pigeon
, and spent 2 months at Pennsylvania 6 right before Philadelphia Distilling opened. All the while, I was working on
The Smokin' Tacos Food Truck
. That was the best way to de-stress after working behind a bar - make and sell tacos with your friends.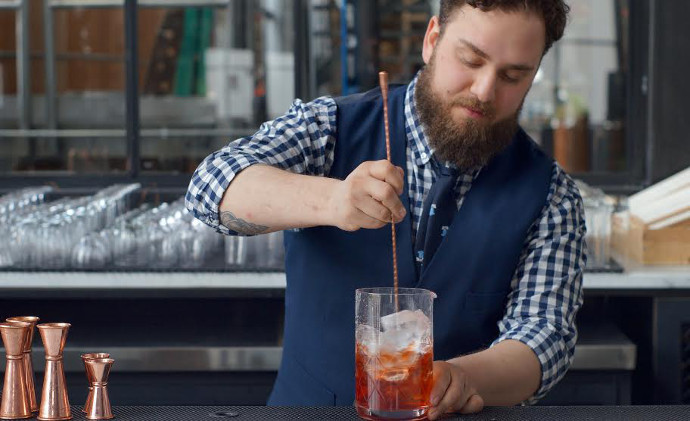 DP: What's trendy right now?
CS: I've seen a lot of bartenders online putting rocks in up glasses, like coupe glasses! I think more importantly, drinks are getting simpler and simpler and focusing on using the freshest and best ingredients.
DP: What are some trends you wish would die?
CS: Un-hospitable bartenders making cocktails esoteric with no redeeming qualities.
DP: Any predictions about where the industry might go next?
CS: Guests are taking ownership over what they're drinking. The responsibility isn't solely on the bar staff. Guests are much more knowledgeable about spirits and cocktails. Generally speaking, people are taking charge of what they're ordering. I think It's an important piece to recognize. People on both sides of the bar are orienting our industry towards quality ingredients and products that don't need to be gussied up.
DP: One unexpected fact about you?
CS: I'm an avid ballet fan.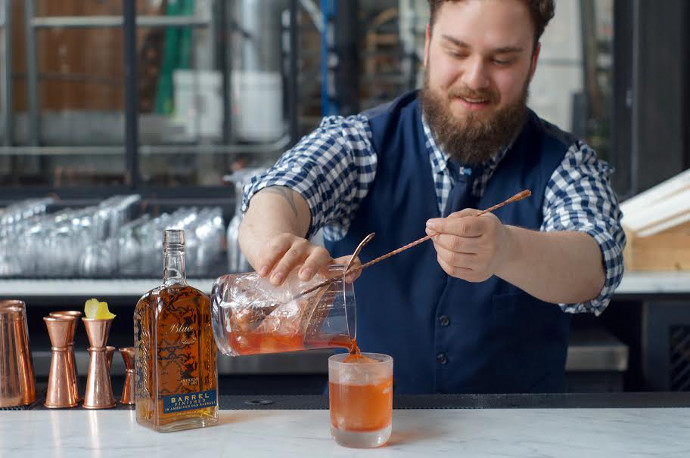 DP: Favorite beer?
CS: Steve Way's citra hopped IPA.
DP: Favorite liquor?
CS:
Bluecoat American Dry Gin
. I drank it long before I worked for this company, and I will for the rest of my life. It's delicious.
DP: Favorite cocktail?
CS: A Bluecoat Negroni, golden ratio style (1.5 ounces of the spirit and .75 ounces of each modifier).
DP: What's your favorite kind of customer?
CS: The one that's in front of me.
DP: What do you think the essentials are for a good home bar?
CS: Start with the understanding that there's not a wrong way to drink anything. Go to as many different bars and kinds of bars as you can, figure out what you like, and ask the bartenders what they would recommend. I would say start with a cocktail that you really like and want to learn how to make, and buy 2 bottles of each ingredient. For example, if you like Negronis, buy 2 bottles each of gin, Campari, and your favorite sweet vermouth. Start making your cocktails, and every week, go to the liquor store and pick up ingredients for a different cocktail.
DP: Where do you go for a drink when you're not working?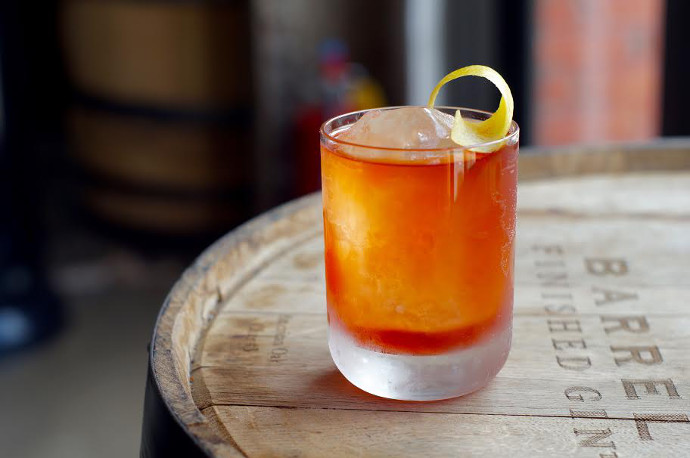 The Ninth Street (Bluecoat Barrel Finished gin, Cocchi di Torino vermouth, Campari, Espresso Fernet)
DP: What's the secret to being a great bartender?
CS: The chef from Pizzeria Stella, Shane Solomon, said it best: "Once you realize you're only as good as your ingredients, you can grow from there." The other big secret is knowing that it has nothing to do with you. Take pride in what you do, but your job is to facilitate the guest's experience. Hospitality and efficiency are paramount.
DP: If you could have a drink with any famous person, living or dead, who would it be and what would you drink?
CS: Sidney Poitier. I'd make two of whatever he wanted.
Photos via Drink Philly
Tags:
Behind the Bar
Recent Articles

Feedback
How are we doing? Tell us what you like or don't like and how we can improve. We would love to hear your thoughts!