Behind the Bar: Madison Reynolds of Friday Saturday Sunday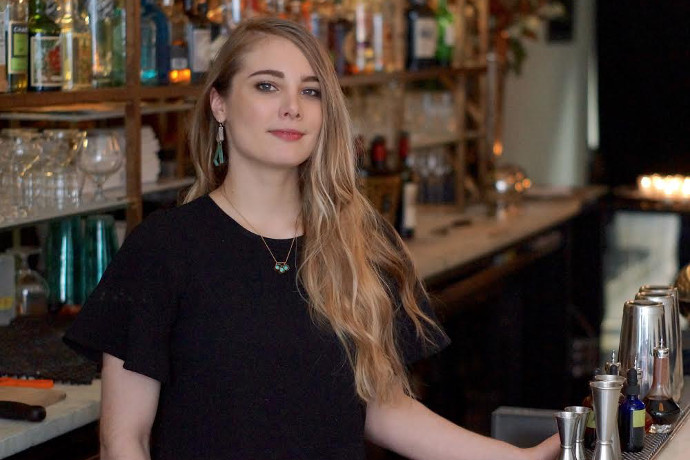 For this installment of Behind the Bar, we sat down with Madison Reynolds, one of just a few bartenders at the Rittenhouse Square institution Friday Saturday Sunday. After growing up in Montgomery County, Reynolds attended Montgomery County Community College before going to school for pastry and baking arts and training at upscale spots like R2L in Philadelphia and famous pastry kitchens like Momofuku Milk Bar and ABC Kitchen in New York City. Now a resident of Society Hill, we talked to Reynolds about why she loves sherry, how she translated her pastry training to bartending, and why she thinks Friday Saturday Sunday is such a unique bar.
Drink Philly (DP): Tell me a little bit about the place.
Madison Reynolds (MR): Friday Saturday Sunday reopened in December of 2016, and before that, it was a longstanding restaurant in the city that opened in 1973. We were known for having the tank bar upstairs, and we still get regulars from the old iteration! Hanna and Chad Williams, the owners and chef, previously trained with Garces, and they reopened under the same name after completely renovating the space. We serve contemporary New American food, and the bar program is very cocktail-centric. We place great emphasis on keeping a seasonal menu with unique flavor profiles.

DP: Have you bartended elsewhere?
MR: I wanted to transition out of pastry work and translate those skills to the bar after finding my niche in product knowledge and wine at the Culinary Institute. I jumped at the opportunity to barback at a.bar before transitioning to a serving position there, and had a short stint bartending at a.kitchen as well. After hearing my coworker Paul Macdonald talk about the food and beverage program they were developing at Friday Saturday Sunday, I knew I wanted to be a part of the opening team, and worked my way up from barbacking to bartending in about two months. I've been here ever since!

DP: What's trendy right now?
MR: Fortified wines and sherry are very trendy right now, which I love - low ABV bases and spirits. I've also seen a huge increase in orders for drinks like Aperol spritzes and sparkling wine. We like swapping out the Aperol for Cynar at work, which has been fondly dubbed the Rubix Cube.

DP: What are some trends you wish would die?
MR: Pretentious bartenders, definitely. You can provide direction and education to your bar guests, but it should never be at the expense of making them feel uncomfortable.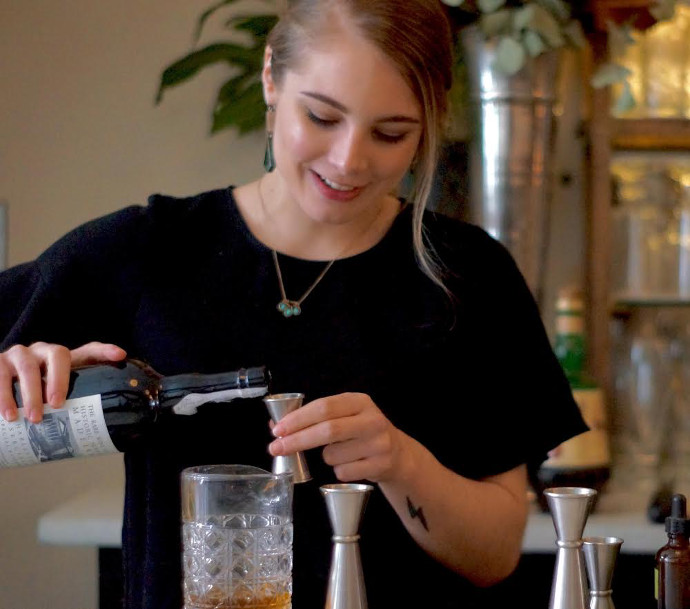 DP: Any predictions about where the industry might go next?
MR: I would love to see smaller menus at bars that don't include classic cocktails on them. I'd also love to see fewer citrus drinks and a larger focus on waste reduction.

DP: One unexpected fact about you?
MR: I've been playing guitar since I was 10, and I play in a band with a friend I met at a.kitchen.

DP: Favorite beer?
MR: Professor Fritz Briem 1809 Berliner Weisse. I also love Uinta's Baba Black lager.
DP: Favorite liquor?
MR: To work with, I love rum - because there is just such an eclectic range of flavors to choose from - and amaro to bring balance to a cocktail. My favorite spirits to drink are Cardamaro and Brennivin Aquavit.

DP: Favorite cocktail?
MR: I have two - I love Hanky Pankys and Chet Bakers.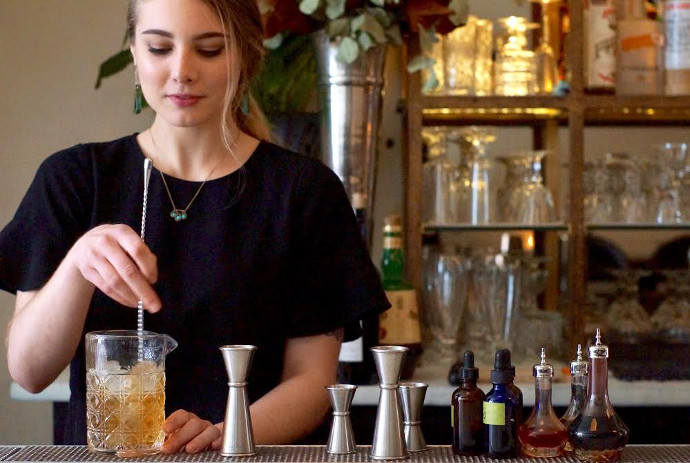 DP: What's your favorite kind of customer?
MR: Guests that are inquisitive and my regulars who I get to build relationships with over time. I hope to make my guests feel comfortable at the bar, and I respect the people who do the same for me.
DP: What do you think the essentials are for a good home bar?
MR: I feel like your home bar should reflect what you truly enjoy drinking as opposed to trying to replicate a bunch of classics. For myself I'd definitely want sweet, dry, and blanc vermouth, a decent bottle of rye (like Rittenhouse), Plymouth gin, Brennivin Aquavit, Angostura 1919 rum, Flor de Cana 4 year, Oloroso sherry, and two bitter spirits, like Cynar and Averna, plus a whole slew of bitters. I think you could definitely sub out your bases depending on what you find yourself normally drinking. Start with a Manhattan or Negroni setup, and you could make a myriad of drinks with those spirits!

DP: Where do you go for a drink when you're not working?
MR:
The Love
to visit Jorgen Eriksen and Kevin Lopez, and
Vedge
to visit Erica Carten and Chris Olsen, who are two good friends of mine.
Southwark
is my local bar to get a great cocktail and late night food, and if I could make it to
Watkins Drinkery
for beers and pool more often, my life would be in total balance.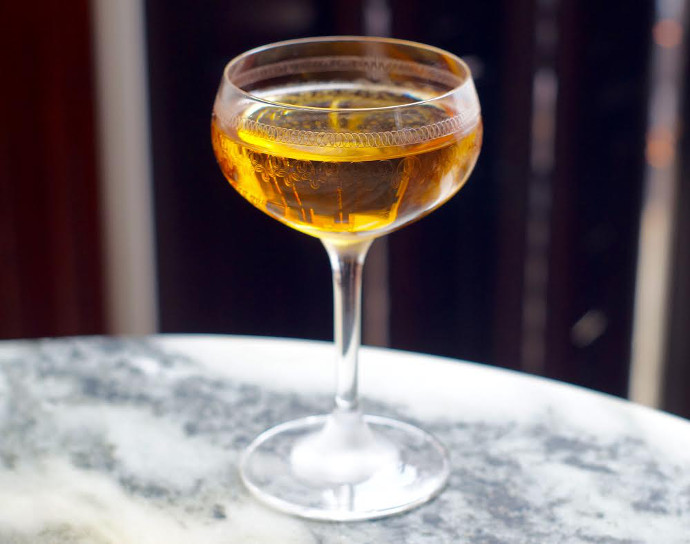 The 28th Emotion: Dolin Blanc, Montenegro, Benedictine, Sercial Madeira, orange blossom
DP: What's the secret to being a great bartender?
MR: Making guests feel comfortable and providing a unique experience. That's why I love this bar - all the bartenders give the bar its own special personality. I also think you need to give everyone at the bar the same amount of attention. I want every customer to feel the same way.

DP: If you could have a drink with any famous person, living or dead, who would it be and what would you drink?
MR: Rainwater Madeira with Jane Goodall, preferably in Tanzania.

Photos via Drink Philly
Tags:
Behind the Bar
Recent Articles

Feedback
How are we doing? Tell us what you like or don't like and how we can improve. We would love to hear your thoughts!