Behind the Bar at Center City Sips: Ashley Kane of Time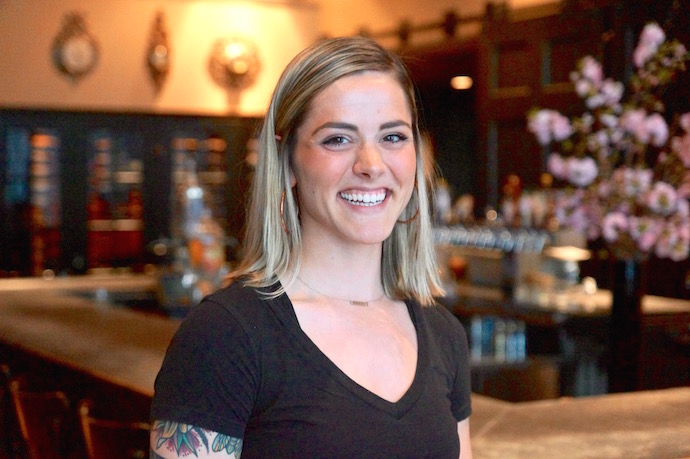 For this installment of
Behind the Bar
, we talked to
Ashley Kane
at
Time
, Midtown Village's premier jazz and whiskey bar. Kane, who has moved 24 total times in her life to spots all over the East Coast, attended the University of North Carolina before settling in Philadelphia's Passyunk Square, and we chatted about Fernet, the classics, her best advice for Center City District Sips, and Queen Elizabeth II.
Drink Philly (DP): Tell me a little bit about the place.
Ashley Kane (AK): Time is a jazz and whiskey bar that also offers a full menu of really great food, which I think most people don't know, and the menu was created by a female chef. We have 250 rotating whiskeys, live music every night, and a great, chill vibe between its 3 different rooms - the sports bar, the jazz bar, and the upstairs.
DP: Have you bartended elsewhere?
AK: Nowhere in Philadelphia - I worked at an English pub in North Carolina just outside of Asheville, and before that, I worked at a French bistro, which was my first job.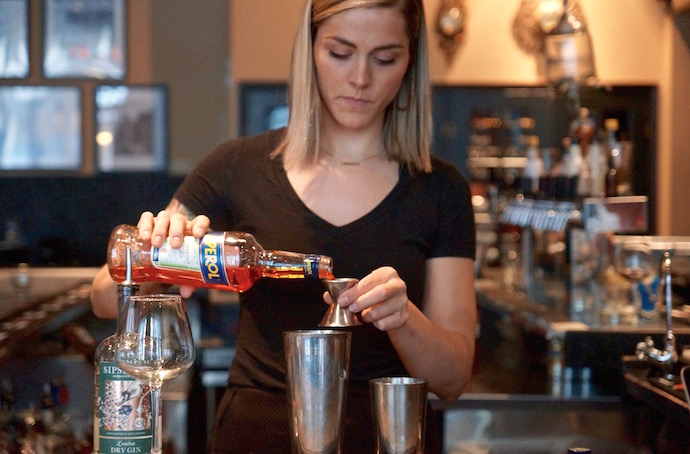 DP: What's your favorite thing about Center City District Sips?
AK: I think its purpose is great - it gets people out on a day when they wouldn't normally go out.
DP: What advice do you have for guests going to CCD Sips?
AK: Be smart. The bar's still open after the 2 hour cap, so don't rush! Take advantage of the appetizer discounts as well, so you're not drinking on an empty stomach.
DP: What do you recommend after CCD Sips?
AK: I'd love to see guests stop in for dinner or a drink somewhere in the city that they haven't visited before.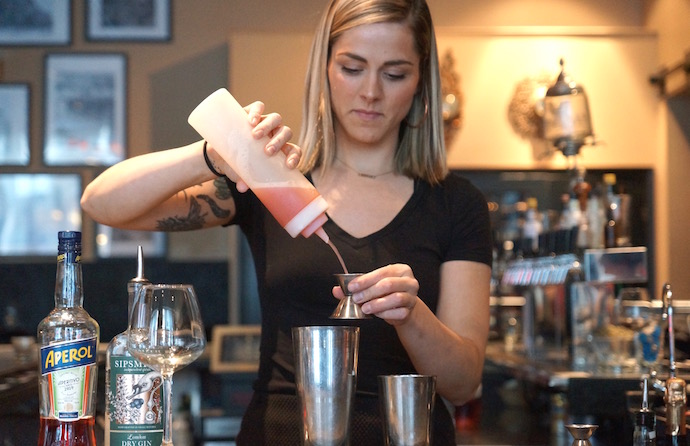 DP: What's trendy right now?
AK: I'm not so much into trends - the classics are a staple for me. I know what tastes good and what people like, and I think guests are the same way in that they won't follow a trend if it doesn't taste good! Gin has been huge recently, though, and if I can get someone who thought they didn't like gin to end up liking gin, I'm happy.
DP: What are some trends you wish would die?
AK: I need Fernet to die.
DP: Any predictions about where the industry might go next?
AK: I think, as we go into summer, I've been seeing a lot of floral vibes, and I love flowers on drinks! People are getting more inventive and there aren't as many boundaries on cocktails, and you can kind of do your thing.
DP: One unexpected fact about you?
AK: I do jujitsu, and I've done that for 2 years. It's been amazing for my mental health, and I know hours can be tough as in the restaurant industry, but I highly encourage others to get out there and find their "thing."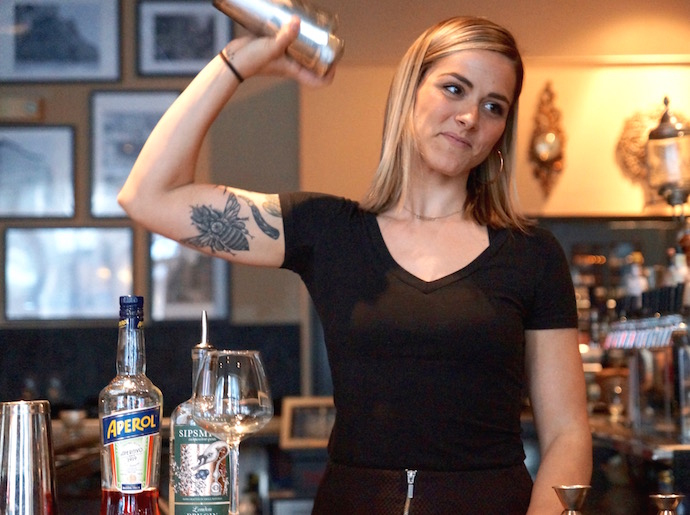 DP: Favorite beer?
AK: I love a really crisp saison or sour any time of year.
DP: Favorite liquor?
AK: Gin, to work with and to drink. I've been really into Barr Hill Tomcat Barrel Aged lately.
DP: Favorite cocktail?
AK: Right now, a black manhattan or a gin martini. I know, it makes no sense!
DP: What's your favorite kind of customer?
AK: I've met so many interesting people and I love having regulars, especially since I've been at Time for so long. I love a guest who's going to come in all the time and get to know me, and I can get to know them and even maybe make a good friend.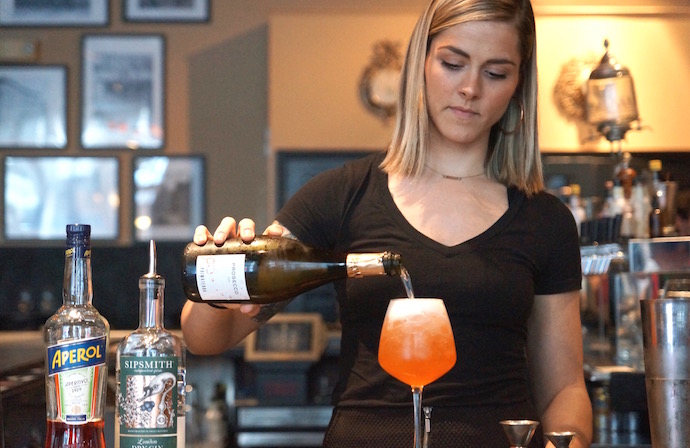 DP: What do you think the essentials are for a good home bar?
AK: Start with a great dry and a great sweet vermouth - Lastau is my favorite Spanish sweet vermouth, and for dry vermouth, I love Lo-Fi. Get to know which spirits you like, but I do think you should keep one of each spirit for entertaining. I also think every person should have a good scotch, a good bourbon, a good rye, and then a cheap whiskey or two for cocktails.
DP: Where do you go for a drink when you're not working?
AK: I love Katie Henry at Garage North - I think she's making exactly what people want. In this neighborhood, Cat and Toast at Tiki are so much fun! I also love Nick Frigo at Butcher & Singer, because we share a love of gin and cocktails, but we also have very different approaches, so we bounce ideas off of each other.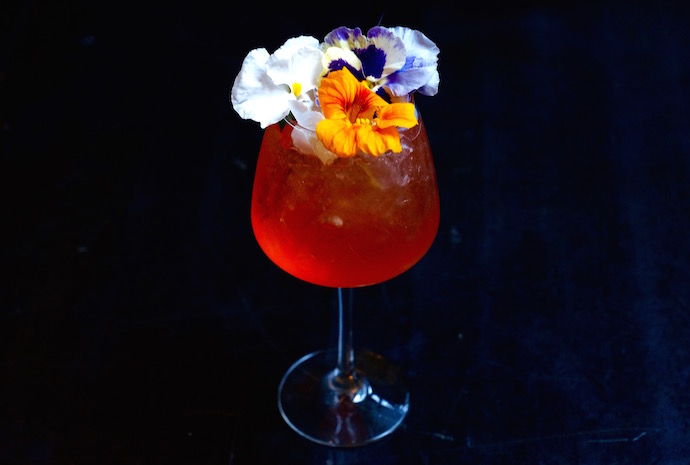 Bad Gal Spritz: gin, Aperol, grapefruit, and simple syrup, topped with sparkling wine
DP: What's the secret to being a great bartender?
AK: I think behind the bar it's important to teach as many people around you how to be great as well, it was hard for me as a young bartender to find a mentor. On the other side, we're here to facilitate people's good time, and they come to us in all sorts of moods, so being able to read their mood and make sure they have a good time is vital.
DP: If you could have a drink with any famous person, living or dead, who would it be and what would you drink?
AK: I'd love to drink a gin martini with Elizabeth II. I read recently that she wakes up to gin every morning, and she just seems like such a sassy broad. I'd love to see what she's about.
Photos via Drink Philly
Tags:
Behind the Bar
Recent Articles

Feedback
How are we doing? Tell us what you like or don't like and how we can improve. We would love to hear your thoughts!