Village Whiskey: 5 O' Clock Somewhere Happy Hour
What time is it?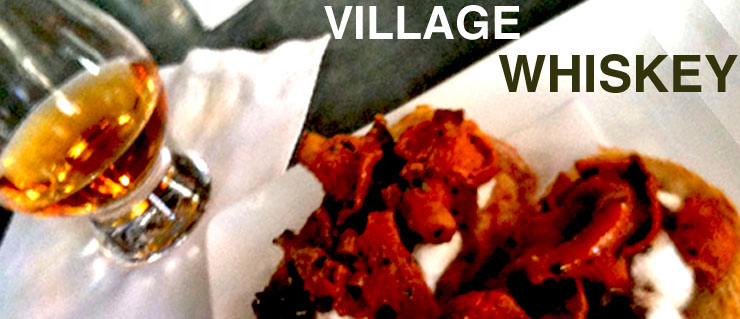 Note: The Saturday Happy Hour referenced in this review has been discontinued....sorry. :(
The dining room at Village Whiskey can feel spacious, like when you're lucky enough to be ensconced in one of the luxurious rounded-banquette tables. The popular Rittenhouse corner resto-bar can also feel extremely tight, like when you're working the 1-hour-plus wait by standing at the slim shelf that runs along the tiled back wall.
But the main bar is long and surrounded by plenty of high, comfortable stools, and the bartenders know how to put your mind at ease, ready to take care of you even in a crowd.
Either way, the year-old Jose Garces spot is a winner in both the food and beverage departments, with an arguably-best-in-Philly burger and a selection of over 150 (!) brown liquors, complimented by a solid bottle and draught beer selection.
The just-introduced "It's 5 O'Clock Somewhere" happy hour may be the best deal in the formidable Garces Group empire, which in Philly includes Tinto, Garces Trading Co., Distrito and his original outpost, Amada.
Served on Saturdays from 2-4 pm (who says day drinking is for Sundays only?), there are drink specials to fawn over. Each week features a different craft whiskey at $7 for a 2 oz. pour. Depending on which offering you find, this is half-price to way-less-than-half-price for some fine ryes and bourbons.
The first week presented Michter's Straight Rye, a sweet-spicy liquor that has won accolades from Wine Enthusiast and others. Look forward to the Ransom's Whippersnapper Whiskey, a pot-distilled, category-defying sip, and the Suntory Hibiki 12 Year, a Japanese blend.
For only $6, a cocktail of the day is also offered, and the astute mixologists won't disappoint with a traditional Sazarac, Martinez or the Village Manhattan. A solid Cabernet and a Chardonnay are available for $5 each (another half-price win), and three beers are on tap for $4 per draught.
In the edibles the dealage is just as phenomenal. The VW Slider, which features a custom-blend of coarse chopped meat, rolled and sliced instead of pressed, can be yours for just $3. Atop an eggy brioche roll with Thousand Island, tomato and Bibb lettuce, the thick patty seems just as satisfying (and more sane) than its full-size cousin.
Also offered are a tasty BBQ Pork Slider, pulled pork shoulder served on the brioche roll with crunchy, tangy cole slaw, and a duo of Pickled Canapés, which feature a seasonal pickled vegetable laid over creamy whipped ricotta and black olive tapenade. On a recent visit, they were earthy, rich pickled Chanterelle mushrooms!
So get your autumn outdoor pleasures over with on Saturday morning, and at 2pm duck into the cozy Village Whiskey for an early afternoon treat. But use caution, as those two hours go awfully fast abetted by $7 pours of brown fiery liquid. Or just plan on staying for dinner.
Recent Articles

Feedback
How are we doing? Tell us what you like or don't like and how we can improve. We would love to hear your thoughts!