Design Philadelphia: Where to Drink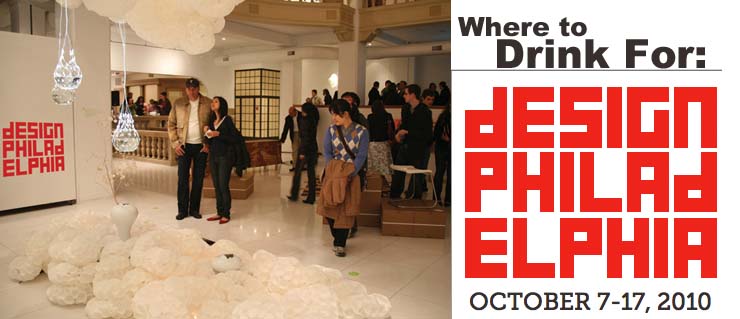 October 7th to 17th, artists and designers throughout the Philadelphia region will join together for DesignPhiladelphia, a celebration of the cultural importance of design.
DesignPhiladelphia plans to present "Lectures, symposia, and round table discussions" which will "create opportunities for people to connect across design caregories."
We've compiled a list from their program of all the Drink-related discussions that you can be a part of!
Birds, Boats, Battles, Buildings & Beer
October 7th, 6:00pm - 8:00pm
Metcalfe Architecture & Design, Suite 503
211 North 13th Street view map
Enjoy happy hour conversation with architects and designers, skyline views from our loft studio, and photographic and video displays of our newest architectural and museum exhibit design projects, including a tree canopy walk high above the forest floor, an Audubon museum, a mid-century kit house renovation, a yurt summer camp, museum exhibits about the most famous ferry of all, women's equality, a Civil War road show, and more. Or just come for the beer.
Free and open to the public.
Whiskey Tasting
October 8th, 6:30pm - 8:30pm
Hudson Beach Glass
26 S. Strawberry Street view map
Please join us with our partner Garces Restaurant Group for a one-of-a-kind Whiskey Tasting. We'll be tasting a variety of whiskeys including Garces' own recently released bottle. You'll be using the rocks glasses made in our studio on Strawberry Street. During the tasting a GRG cocktail maestro will explain the nuances of the different spirits while Sean Gilvey, the co-owner of Hudson Beach Glass Philadelphia, will be in the hot shop demonstrating how he makes the glasses.
Tickets cost $40 and include a glass to take home (a $40 value).
Tickets are limited and available on-line at www.hbgphilly.ticketleap.com or by calling the shop 267-319-1887.
Open to the public
The Absinthe Drinkers Concert
October 8th, 8:00pm - 9:00pm
AxD Gallery
265 South 10th Street view map
Okay, so these guys aren't exactly a drinking-related activity, but they do know how to have a good time!
As an added treat, after the opening reception for Passing Evidence: Christine Stoughton & Nancy Sophy AxD Gallery presents a special concert. The Absinthe Drinkers spawn catchy, original pop/funk/rock/whatever songs from works of literature ancient and modern. The Drinkers have funkified Baudelaire, punkified Shakespeare, and rockified a number of modern writers. October 8th will mark the first time The Drinkers have played AxD since their hit 2007 Fringe Festival show, Songs From Under the Bed.
The Art of the Martini in Glass
October 9th, 3:00pm - 6:00pm
More Than Old
144-146 North 3rd Street view map
An exhibition of martini glasses, vintage to hand blown contemporary. Additional barware will be on exhibition. Orangetinis and light refreshments will be served on Oct 9 from 3-6 pm.
Free and open to the public.
www.morethanold.com
Recent Articles

Feedback
How are we doing? Tell us what you like or don't like and how we can improve. We would love to hear your thoughts!