Behind the Bar: Adam Judeh of Fond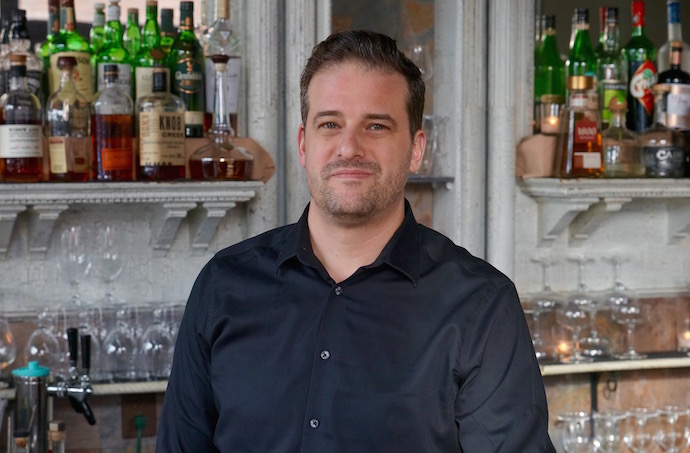 This time on
Behind the Bar
, we spoke to
Adam Judeh
at South Philly's
Fond
. Judeh, who grew up in both Holland and Jordan, relocated to the United States in 1999 and lived in California before finding his way to Philadelphia. We talked to Judeh about Fond's origins, his language skills, and where he likes to grab a drink after work.
Drink Philly (DP): Tell me a little bit about the place.
Adam Judeh (AJ): Fond is an American brasserie with a French influence. Chef Lee (Styer) worked with Georges Perrier at Le Bec Fin before working in the kitchen at Lacroix, and he then opened Fond nine years ago in the space where Laurel is now. He relocated here six years ago for a larger dining room, full bar, wine list, and a great view of the singing fountain.
DP: Have you bartended elsewhere?
AJ: I was a manager in the hotel industry for most of my career — I was the general manager at XIX at the Bellevue for six years. I left hotels in 2016 and joined the team at 1 Tippling Place, working alongside and learning from Myles Carroll, Chris Zingler, Rich Beury, and Dan Hamm, before joining the team here in early 2018.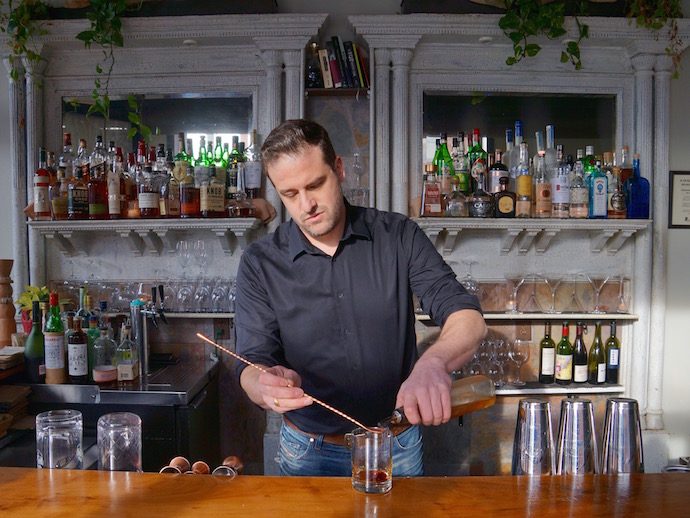 DP: What's trendy right now?
AJ: Not sure if this is a trend, but we've seen more requests for and interest in mezcal cocktails, as well as variations on the classics like Old Fashioneds and Manhattans.
DP: What are some trends you wish would die?
AJ: Following trends. We try to focus our attention on creating drinks that complement the menu, make use of seasonal ingredients, and make our guests happy.
DP: Any predictions about where the industry might go next?
AJ: I hope that the "no waste" movement maintains traction and creates momentum in a meaningful way.
DP: One unexpected fact about you?
AJ: I speak three languages fluently, including Arabic and Dutch.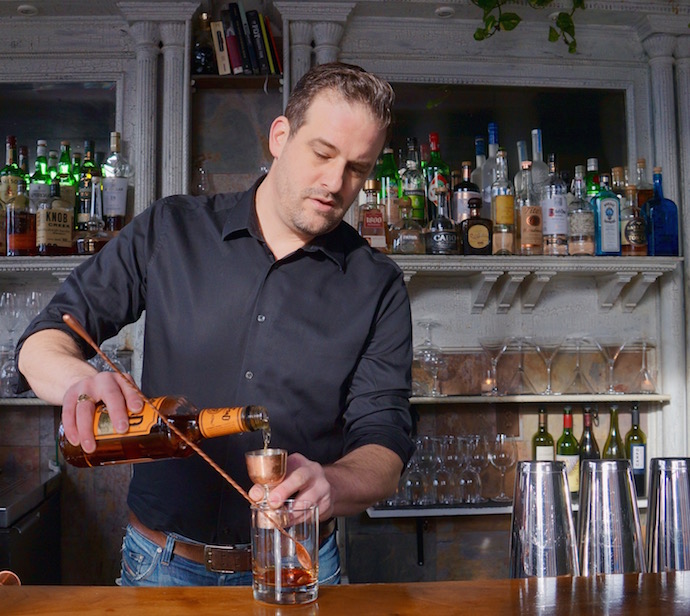 DP: Favorite beer?
AJ: I enjoy pale ales, sours, and dry ciders.
DP: Favorite liquor?
AJ: Brown liquor, to work with and to drink. I keep Blanton's at home.
DP: Favorite cocktail?
AJ: A rye Old Fashioned.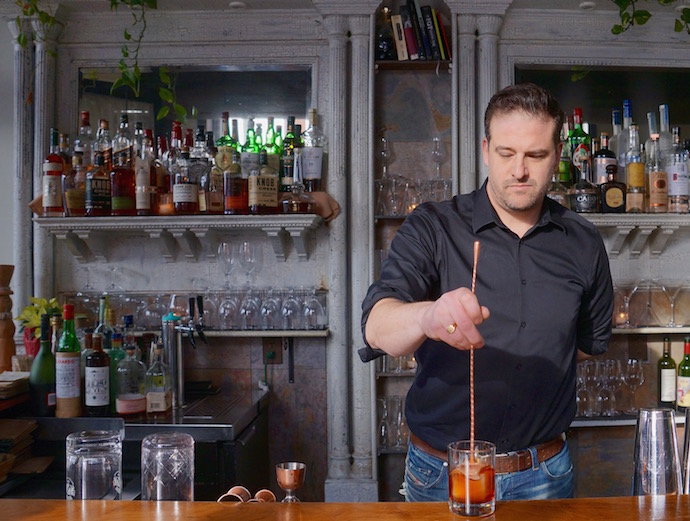 DP: What's your favorite kind of customer?
AJ: Somebody who's open to experiencing new things, whether that means food or drink. Being respectful always helps.
DP: What do you think the essentials are for a good home bar?
AJ: Quality liquor — it doesn't have to be top shelf, because as long as the spirits are well made, they will taste good in a cocktail. Fresh juice is key in creating a well balanced cocktail; no store bought mixers. Good vermouth and some bitters go a long way.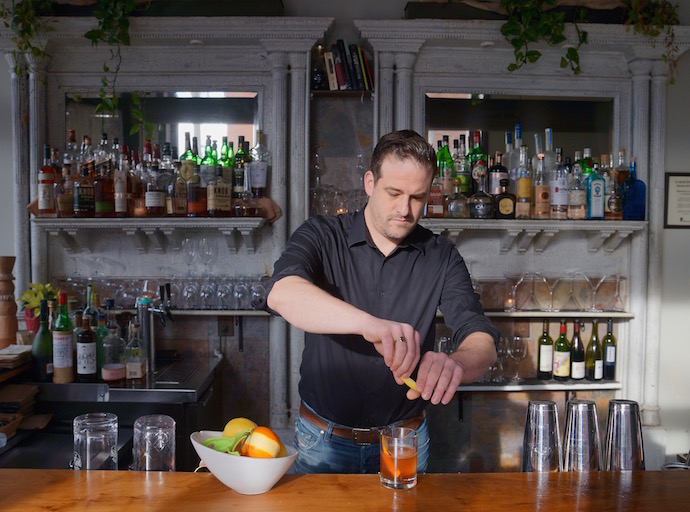 DP: Where do you go for a drink when you're not working?
AJ: If I'm in Center City, I go see Chris Zingler at Destination Dogs or Dan Hamm at Giuseppe & Sons. In the neighborhood after work, I love seeing Rich Beury and David at Stateside or Harry Jamison and Bohdan Darway at Townsend. We love to play pool at Watkins Drinkery with "Nice Guy Mike" and the rest of the crew there. For a late night drink, you'll us find at the counter with Gabrielle and Jorgen at Palizzi Social Club.
DP: What's the secret to being a great bartender?
AJ: It's mostly customer service, but also, a passion for creating memorable experiences — creating the experience around the guest rather than the bartender is key. Knowing your products and how they work together facilitates the creation of those lasting experiences.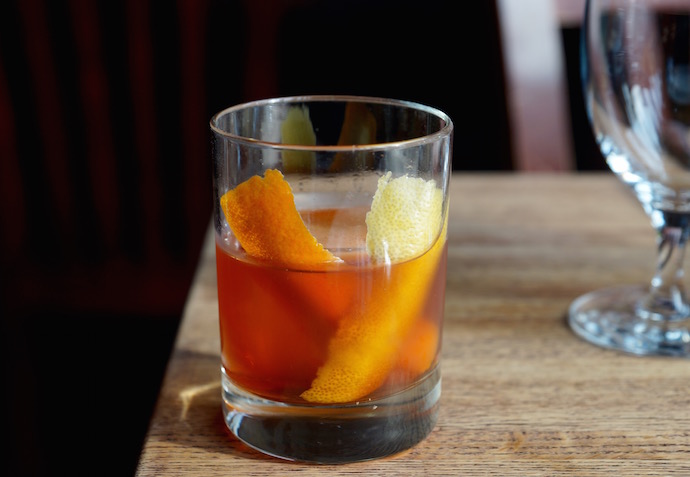 The New Hat, created by Fond's head bartender Carnie Gilfillan (charred orange syrup, bitters, bourbon)
DP: If you could have a drink with any famous person, living or dead, who would it be and what would you drink?
AJ: A bottle of Le Cigare Volant with winemaker Randall Graham from Bonny Doon.
Photos via Drink Philly
Tags:
Behind the Bar
Recent Articles

Feedback
How are we doing? Tell us what you like or don't like and how we can improve. We would love to hear your thoughts!