Cheap Date Idea: Dinner and Drinks at Del Frisco's (No Really!)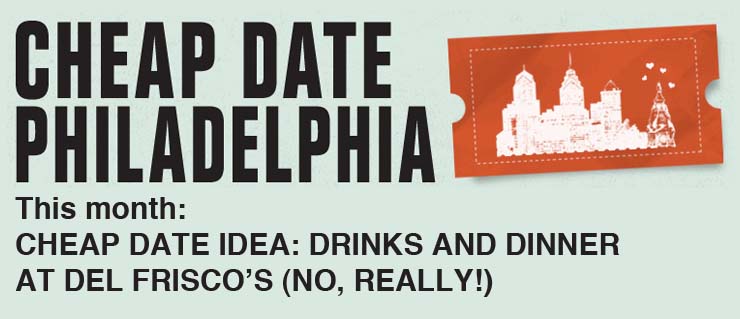 Last Wednesday, my date and I enjoyed a delicious glass of wine and a dinner of wild mushroom gnocci at Del Frisco's, for less than $15 per person. No, it wasn't restaurant week, it was happy hour. As every savvy cheapdater knows, taking advantage of happy hour is one way to cut costs on a date, but most drink specials end by 6 or 7pm, and most dates (most good dates, anyway) do not. This is no problem at Del Frisco's, however, whose generous happy hours extend from 5pm to 11pm Wednesday and Thursday, and 5pm to 10pm on Sunday, making this decadent Center City steakhouse a fantastic cheap date option when you want to go big, without spending big.
How cheap we talkin': Bar entrees $5 each, wine $6/glass.
Del Frisco's Double Eagle Steakhouse is one of seven "fine American steakhouses" located nationwide from Las Vegas to Boston. Although technically a chain, each restaurant is different and unique to its home city. The Philadelphia location is located in the historic Packard Building, in 23,000 square feet of space on the southeast corner of 15th and Chestnut that used to be a bank. The restaurant interior is grandiose, imparting the feeling, upon entry, of entering a grand banquet hall fit for royalty, or at the very least, celebrity. A wide marble staircase leads up to the main dining level, where gargantuan marble columns support a vast, sculptured ceiling. Dramatic swaths of red fabric drape the walls and windows as if the building were covered in a wine-stained toga, prompting my date to joke that it looked like the temple of Caligula in there. Even more eye-catching is the 40 foot, glass-encased wine tower that sprouts up from behind the bar like a tree trunk, housing over 1,000 bottles of wine.
After pausing to take it all in, my date and I made our way to the bar, which sprawls along the left hand side of the first floor. At nearly 7pm on a Wednesday, a lively after work crowd mingled with other well heel patrons, and flat-screen televisions behind the bar were tuned to the baseball game. I thought the televisions were a little at odds with the regal ambiance that pervaded the rest of the room, but at least they were kept on mute. A cheerful waitress found us quickly and explained the happy hour offerings to us. There was a $7 specialty cocktail (regularly $13) called the VIP martini, made with pineapple vodka, infused in-house. The beer selection was relatively unimpressive ($4 Stella, Bud, Bud Light and Miller), but the clear winner for my money was the generously poured $6 glass of wine, either a Cabernet Savignon or Chardonnay (brands change from week to week). We ordered one of each, and both were excellent.
The best part about Del Frisco's happy hour is that they also offer $5 bar entrees. My date and I both went for the wild mushroom gnocci, which was a creamy, hearty, savory delight, but cheesesteak dumplings, filet mignon tips, pesto crusted salmon salad, and steak quesadillas were also on the menu. Paired with the glass of wine, it made for a perfect light evening meal.
After dinner, we decided to take a stroll one block north on 15th and take in the lovely spectacle that is the City Hall plaza and surrounding statutes lit up at night. We first passed by Triune, the twisty abstract bronze by Robert Engman. Crossing the street, we were mesmerized by the rows of lights around the subway entrance, which, from certain angles, looked like some kind of alien landing strip. And across the street on the north side, Jacques Lipchitz's totem-esque statute Government of the People cut a striking silhouette against the buildings surrounding it. Still a bit giddy from the wine, we speculated about what Caligula would have thought of the Lipchitz, and whether it could have fit inside Del Frisco's, and then we headed home.
Why this will impress your date: To get to the bathroom at Del Frisco's you have to pass by a bank vault turned private dining room. Now that's just cool.
The Inside Game: The bar itself can get crowded, so if you want a more intimate dining experience, snag one of the cocktail tables in the area surrounding the bar. We had a great table toward the back with a view into their massive stainless steel kitchen, bustling with chefs and servers.
Score Extra Points: By presenting your date with a complimentary golf tee from the basket by the reception desk.
Next date: Any Wednesday or Thursday, 5 to 11pm, or Sunday 5 to 10pm.
10.11.10
Cheap Dater is the author of cheapdatephiladelphia.com, a website dedicated to finding fun dates in Philly for less than $15 per person, including food and/or drink!
Recent Articles

Feedback
How are we doing? Tell us what you like or don't like and how we can improve. We would love to hear your thoughts!