Best Sunlit Bars in Philadelphia to Drink Indoors Year-Round and Still Get Some Sun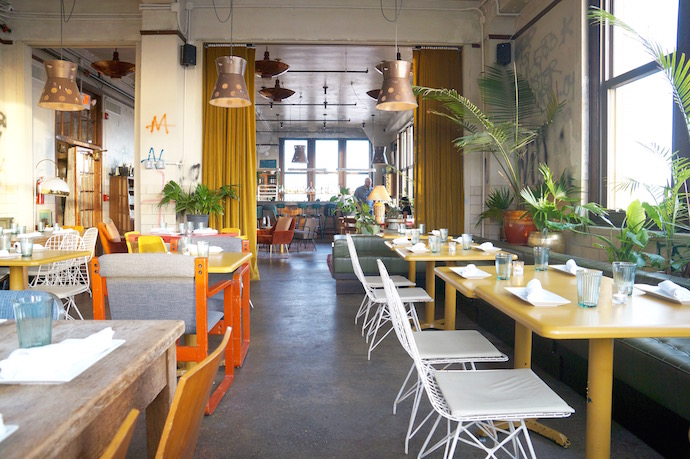 Photo by Drink Philly
Sometimes, when the East Coast cools down a little bit, you just need a side of melatonin with your cocktail, beer, or glass of wine. Here are the sunniest bars in Philadelphia where you can bask in the sun even when temperatures are low.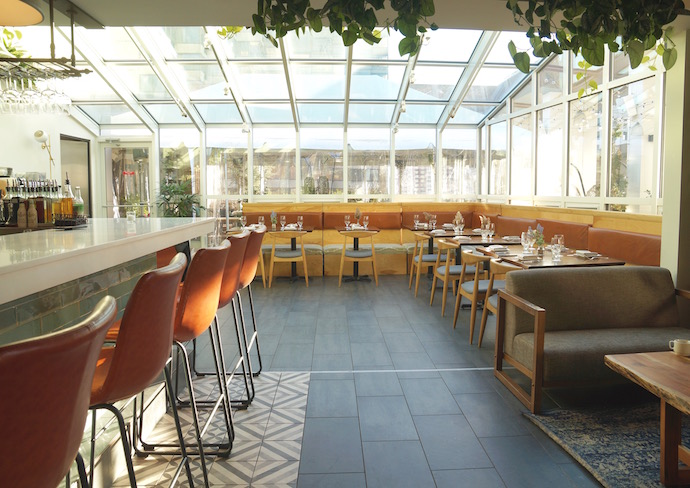 Photo by Drink Philly
Attico
The Cambria Hotel's sleek, chic rooftop bar offers panoramic views of the city and is open year round, thanks to clever tenting and a cozy indoor space where you can still hang out during the coldest months of the year. (219 South Broad St Rooftop; 267-536-5725)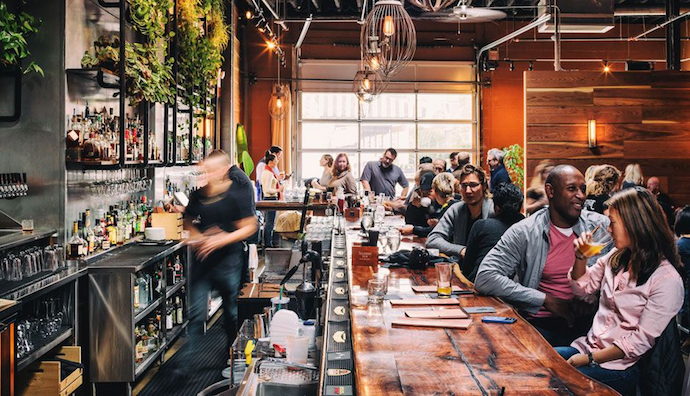 Photo via Heritage
Heritage
This pastoral oasis in Northern Liberties is filled with sunlight thanks to several skylights that let in natural lighting all year round. (914 N 2nd St.; 215-627-7500)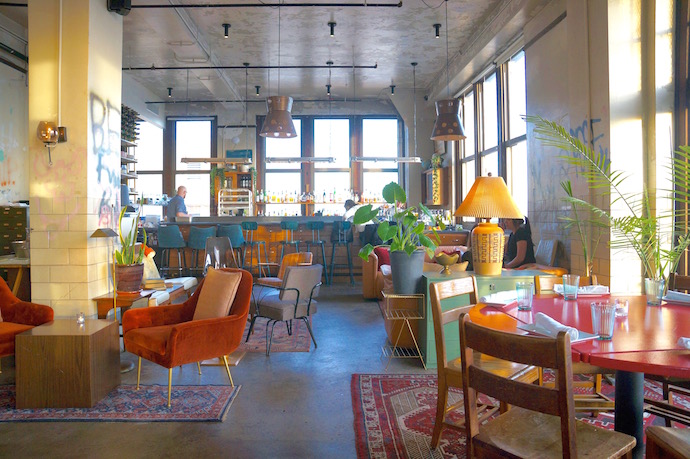 Photo by Drink Philly

Irwin's
Head to the top of the Bok building during the winter when Bok Bar is closed and hunker down at Irwin's, a homey space that looks like your dream living room and serves up creative cocktails to boot. (It will also be open during the summer as a companion to Bok Bar.) (800 Mifflin St.; 215-693-6206)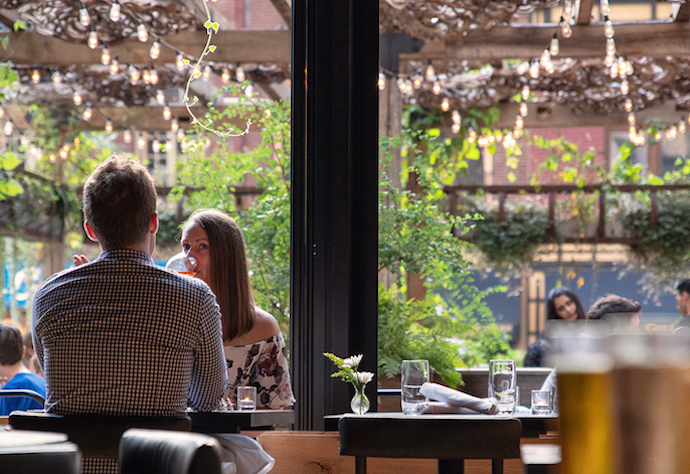 Photo via Harper's Garden

Harper's Garden
Situated near several of Philadelphia's downtown office buildings, Harper's Garden's patio and bar is the perfect after-work spot to unwind, thanks to its menu of small plates, its expansive wine list, and its refreshing cocktails. (31 S 18th St.; 267-886-8552)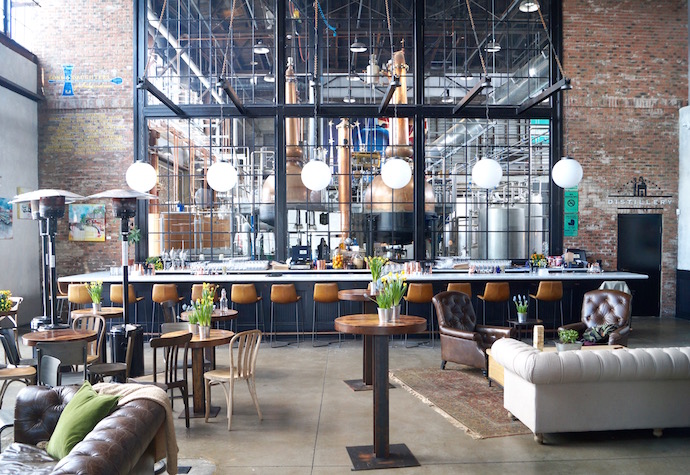 Photo by Drink Philly

Philadelphia Distilling
This Fishtown distillery, which is the first to open in Pennsylvania since Prohibition, is the home of Bluecoat Gin and Vigo Amaro as well as housing an incredible tasting room, which is one of the most gorgeous and photogenic bars in the city. (25 E Allen St.; 215-671-0346)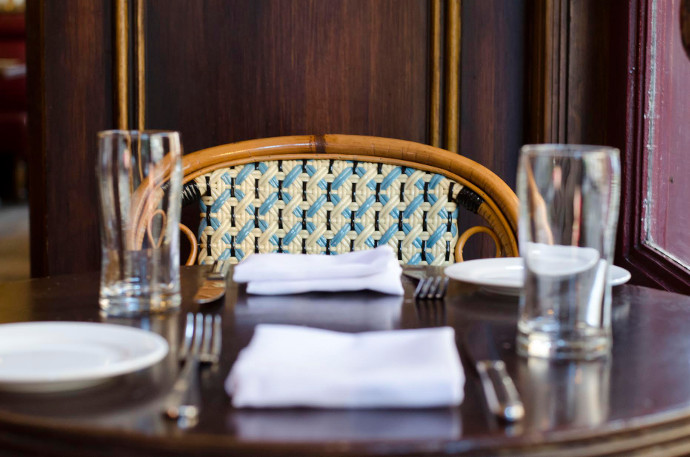 Photo by Danielle Delre

Parc
One of Stephen Starr's most famous restaurants, Parc perfectly mimics a Parisian bistro right in the center of Rittenhouse Square — sidle up to the enormous bar or grab a table by the window, and you'll think you're on the Left Bank. (227 S 18th St.; 215-545-2262)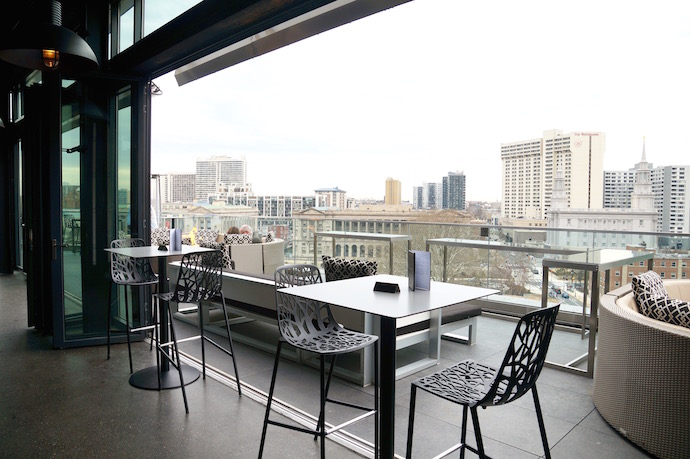 Photo by Drink Philly

Assembly
The Logan Hotel's stunning rooftop bar offers incredible views of the Benjamin Franklin Parkway and the Philadelphia Museum of Art, as well as comfy couches, firepits, great cocktails, and more. (1840 Benjamin Franklin Pkwy; 215-783-4171)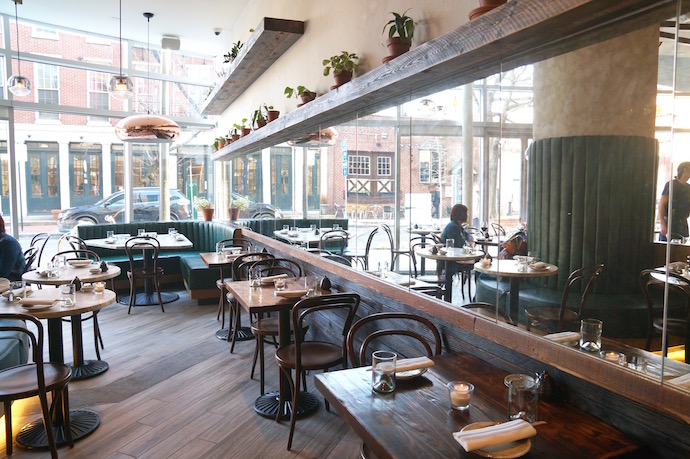 Photo by Drink Philly

Tuna Bar
Old City's stylish and sleek sushi bar on Race Street is home to creative rolls, wasabi-infused cocktails, and plenty of sake, but it also has floor to ceiling windows that let in abundant sunlight even in mid-winter. (205 Race St.; 215-238-8862)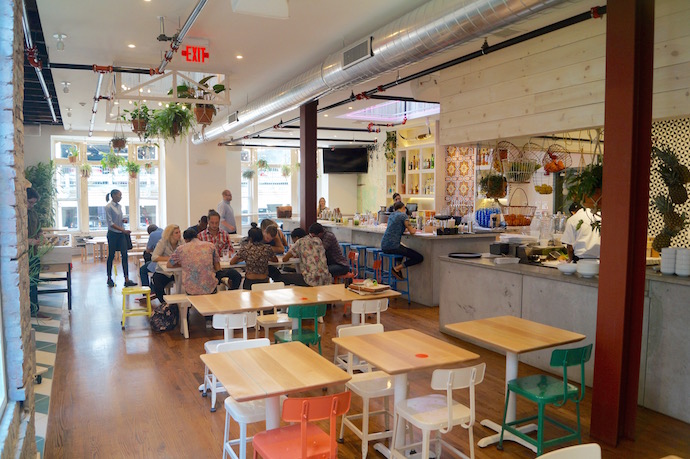 Photo by Drink Philly

Mission Taqueria
Situated atop its sister restaurant, Oyster House, Mission Taqueria's wide windows and skylights make it the perfect place to celebrate Taco Tuesday, share a plate of nachos, or sip a green juice margarita (all of Mission's margaritas are made with fresh juices squeezed right then and there). (1516 Sansom St 2nd Floor; 215-383-1200)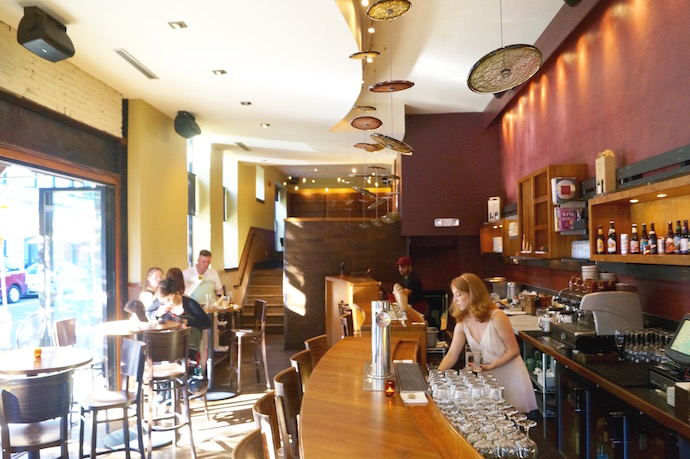 Photo by Drink Philly

Tria Café Wash West
Philly's premier wine bar has two locations, but thanks to huge windows throughout the whole space, Tria Café's sunniest location by a long shot is its outpost at 12th and Spruce, where you can pair the perfect wine and cheese in bright sunshine any time of year. (1137 Spruce St.; 215-629-9200)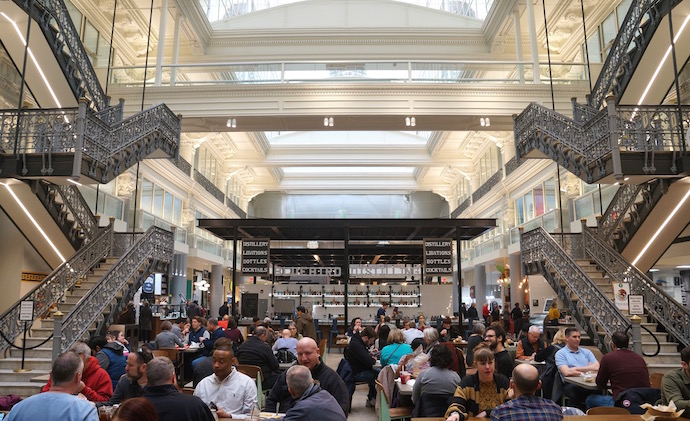 Photo by Drink Philly

The Bourse
This massive upscale food hall in Old City boasts vendors offering everything from tacos to local spirits to authentic Filipino cuisine to gooey grilled cheese, and you can enjoy the drink and food of your choice underneath the space's huge skylights that encompass the dining area. (111 S Independence Mall E; 215-625-0300)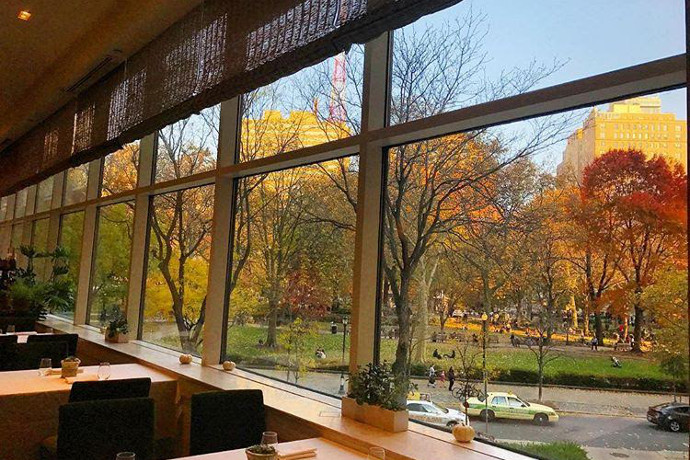 Photo by Abbe Stern

Bar 210
Even if you're not splurging on one of the city's best prix-fixe dinners or brunches at Lacroix, you can still visit their bar any time you'd like and enjoy a sunlit cocktail or glass of wine at the cozy bar. Grab a seat during the winter and look out at Rittenhouse Square (and if the weather is really cold, Bar 210 is a great spot to watch the snow fall). (210 W Rittenhouse Square; 215-790-2533)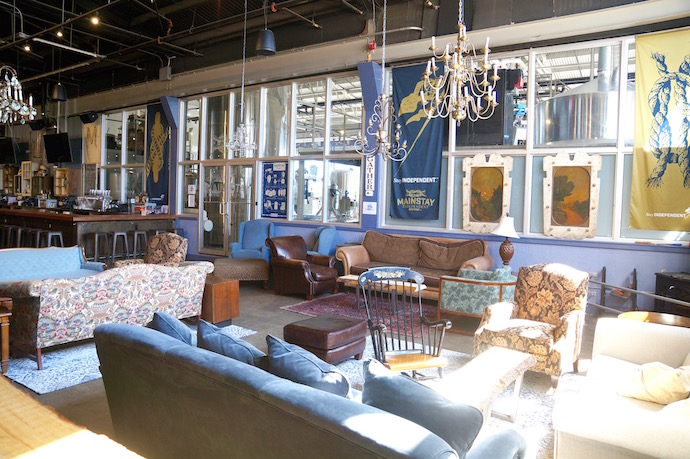 Photo by Drink Philly

Mainstay Independent at Craft Hall
The original Yards Brewing location has been transformed into a family-friendly food hall called Craft Hall, which is also home to Mainstay Independent Brewing Co., another worthy addition to the Philadelphia craft beer scene. Try one of Mainstay's signature brews in their bright space, which even has a fireplace for really chilly days. (901 N Delaware Ave.; 215-422-3561)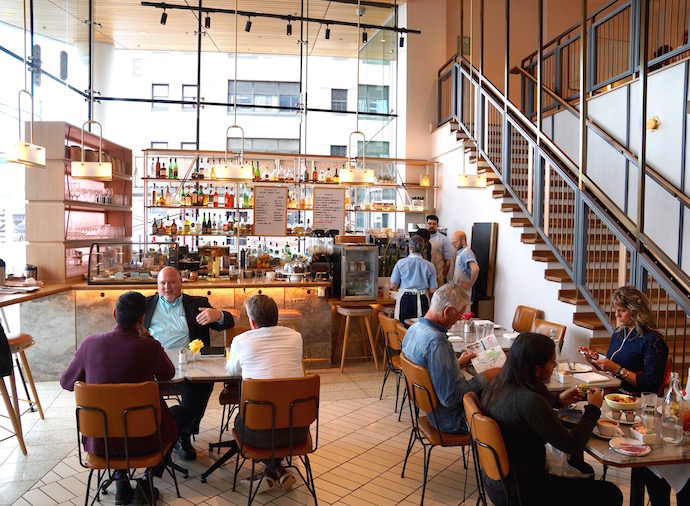 Photo by Drink Philly
Walnut Street Cafe
Located in the AKA University City, Walnut Street Cafe's all day space offers brunch, lunch, fresh pastries, a killer wine list, a full bar, and everything in between, as well as huge windows that overlook West Philadelphia. Bring your laptop, post up at a window seat, and enjoy the view while you work. (2929 Walnut St.; 215-867-8067)
Recent Articles

Feedback
How are we doing? Tell us what you like or don't like and how we can improve. We would love to hear your thoughts!