Behind the Bar: Raul Marin of Attico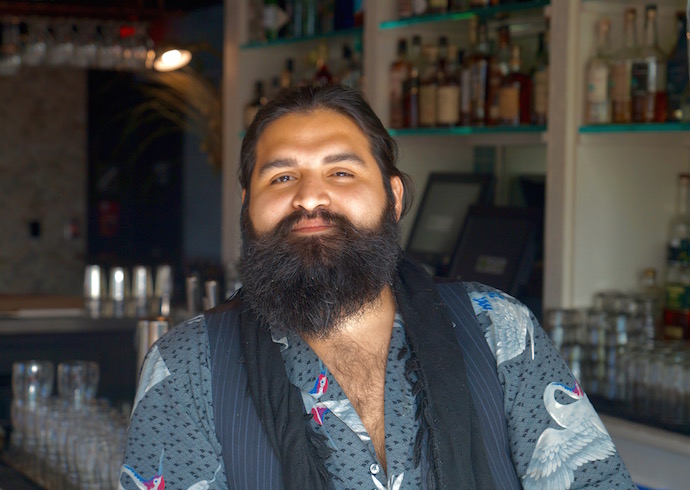 This time on
Behind the Bar
, we spoke to Raul "Papi" Marin, Head Bartender of
Attico
. Originally from the Yucatan Peninsula in Mexico, Marin grew up in Chicago and made his way to Philadelphia just two years ago, and is now a proud resident of Strawberry Mansion. He made his mark on the city pretty quickly, earning a spot in the Diageo Reserve World Class competition 2 years in a row (which ranks him among the top 50 in the country), and eventually, he wants to get into the top 15 in the nation as well as go global.
You can find Raul and his cocktails on Instagram at
@raulpmarin
, and when we sat down with him, we talked about what hospitality means to him, backpacking, and how bartending should just be fun.
Drink Philly (DP): Tell me a little bit about the place.
Raul Marin (RM): Attico is a cocktail rooftop lounge, like a garden right in the middle of the city - almost like a "secret garden." We do industry nights every Monday and partner with different liquor companies, and on weekends we have DJs - we want locals and industry alike to feel welcome. The cocktail program is perfect for a rooftop bar; you want to drink something bright and refreshing, but we want to marry that with complicated, complex drinks. We're always trying to make complex yet approachable cocktails that appeal to everyone while still expressing the flavor of each spirit.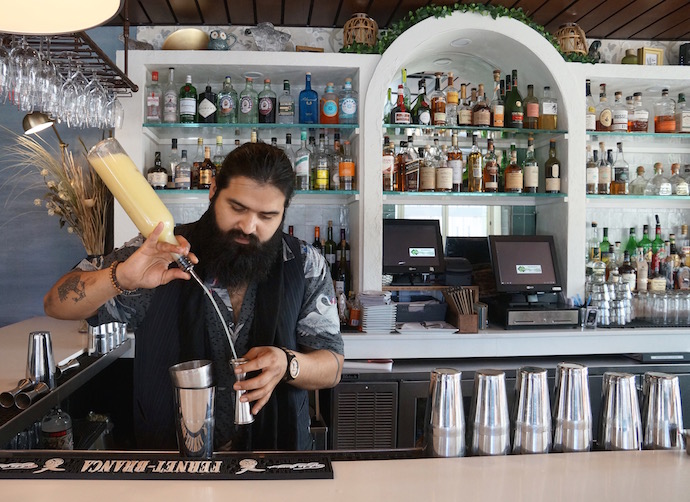 DP: What's trendy right now?
RM: Something I've noticed is people are toning it down a little. They're focusing on cocktails, but they're also putting the emphasis on hospitality, and I think being hospitable is on its way back, rather than seeming "too cool" to deal with the customer. Your guest chose this seat at this bar out of all the other bars in the city, so appreciate their choice.
DP: What are some trends you wish would die?
RM: Pretension and not being hospitable. I grew up in this industry (my uncle owned bars in Chicago and I worked in kitchens with my mom) and it's vital. I know it can get busy, but just make sure you treat your guests well.
DP: Any predictions about where the industry might go next?
RM: Having more fun! Don't get too serious. I'm serious about drinks, but it's about having a good time on both sides of the bar. Also, healthier options - a lot of people in the industry are trying to get healthier, and it's great.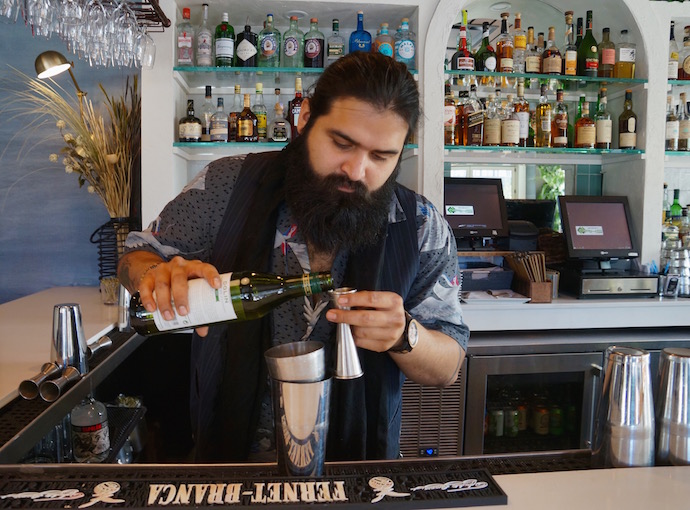 DP: One unexpected fact about you?
RM: I'm a backpacker. The craziest backpacking trip I ever took was up and down the Yucatan Peninsula for an entire month. I've also driven from Chicago straight down to Cancún. When I travel, it has to be a full experience. I don't do hotels - find me at the nearest hostel. I also once pretended I was a professional diver to swim with whale sharks in the Gulf of Mexico; I can't even swim. I bluffed my way through it.
DP: Favorite beer?
RM: Miller High-Life. It's crisp and fresh and uncomplicated. We deal with so much booze and so much flavor that sometimes it's comforting to just drink something simple. I like to shoot reposado tequila with it.
DP: Favorite liquor?
RM: I like working with any kind of rum, especially traditional Jamaican rum. To drink, tequila.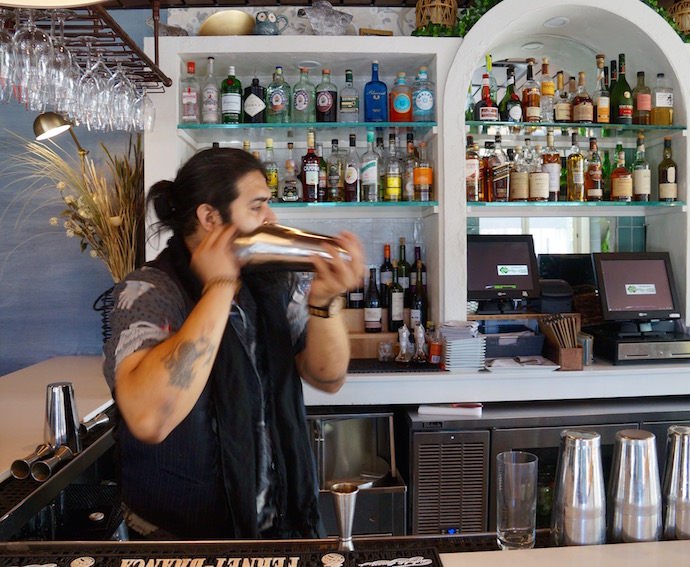 DP: Favorite cocktail?
RM: A classic daiquiri. I would use Appleton 12, Smith & Cross, and Rumfire, and split it between the three (in equal parts), and I like to do a cinnamon syrup instead of simple syrup.
DP: What's your favorite kind of customer?
RM: Whoever wants to hang out at my bar. Even if they just want a Miller Lite or a vodka soda, I still enjoy having people at my bar.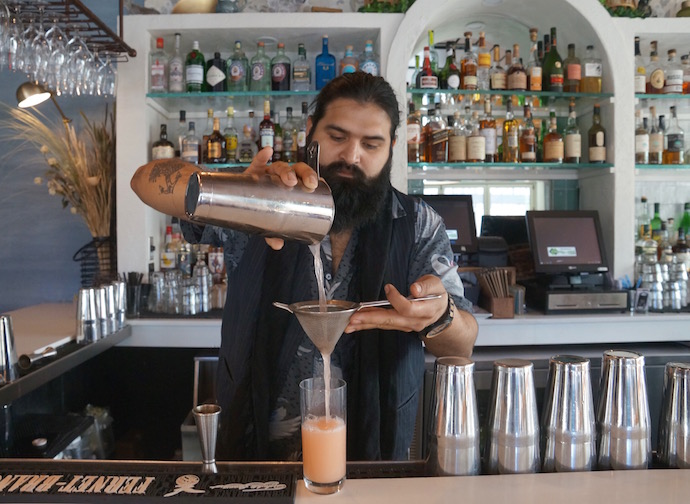 DP: What do you think the essentials are for a good home bar?
RM: A bottle of Carpano Antica, a bottle of Campari, a tequila blanco (like Don Julio), angostura bitters, and Peychaud's bitters. I would start off with tequila Negronis.
DP: Where do you go for a drink when you're not working?
RM: I like visiting the crew at R&D (Aaron Deary, Resa Mueller, everybody), I love going to Royal Izakaya to visit Catherine Manning, and I always have to visit my people at Southwark like Nick and Jesse. I love going to The Saint too - it's totally ratchet.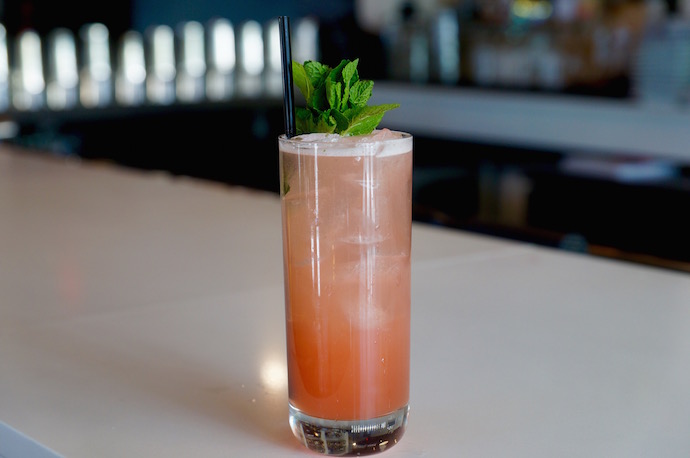 DP: What's the secret to being a great bartender?
RM: Being yourself and having fun. Look alive - guests can feel your energy.
DP: If you could have a drink with any famous person, living or dead, who would it be and what would you drink?
RM: Prince. One hundred percent. I'd drink a glass of Dom Perignon. I love how he was always unapologetically himself. We'd just talk about how our days went.
Photos via Drink Philly
Tags:
Behind the Bar
Recent Articles

Feedback
How are we doing? Tell us what you like or don't like and how we can improve. We would love to hear your thoughts!