Behind the Bar: Kevin Hoagland of Rouge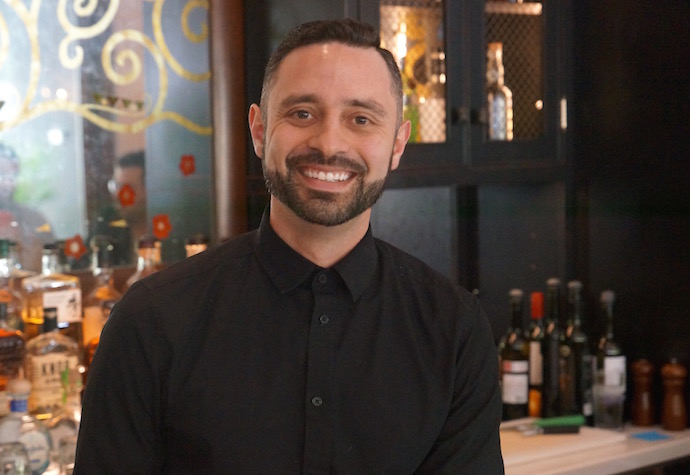 This time on
Behind the Bar
, we spoke to
Kevin Hoagland
from
Rouge
. Hoagland was born in Ceiba in Puerto Rico before traveling the United States throughout his childhood before moving to Stuttgart, Germany for a few years. After attending Western Kentucky University, Hoagland ended up moving to Philadelphia, and now, he lives in Old City. We talked to Hoagland about CBD cocktails, living in Germany, and why sampling is so important. If you want to see some of his incredible creations, find him on Instagram at
@cocktails_by_paperplanes
.
Drink Philly (DP): Tell me a little bit about the place.
Kevin Hoagland (KH): The cuisine trends more towards American, but it has the feel of a French bistro. We have people who have been coming here for years – Rouge is a timeless classic. It's been around since 1999.
DP: Where did you work before this?
KH: Mad Rex in Fishtown and Aqimero at the Ritz Carlton before that.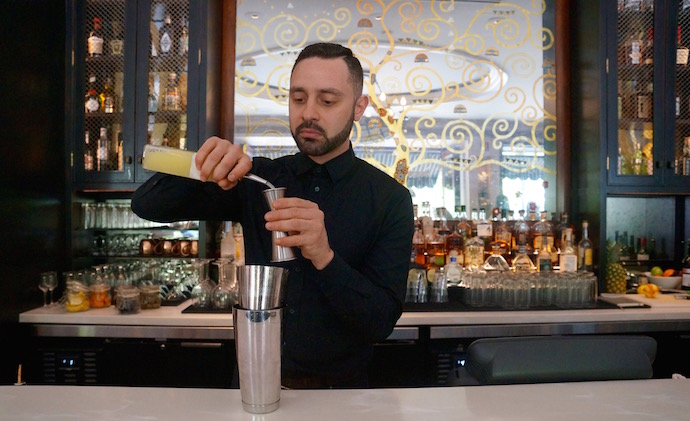 DP: What's trendy right now?
KH: A lot of low ABV cocktails – especially with brunch being so popular, people want to drink more throughout the day, but they want to enjoy their time and their cocktails accordingly. I think mocktails are on the rise too; people want to feel included but also a little healthier.
DP: What are some trends you wish would die?
KH: Arrogant bartenders. I feel like, with just fifteen chairs at this bar, people come here to have a good experience. It wouldn't be fun if I wasn't nice.
DP: Any predictions about where the industry might go next?
KH: CBD is a big trend – I just visited Colorado, and cannabis tinctures are huge there. CBD is definitely on the rise.
DP: One unexpected fact about you?
KH: One time, in Germany, I was a part of the Olympic Development Team for soccer to help scout kids for the Olympics.
DP: Favorite beer?
KH: Peanut butter porters – I love the one from Manayunk Brewing.
DP: Favorite liquor?
KH: Mezcal. I love Vida.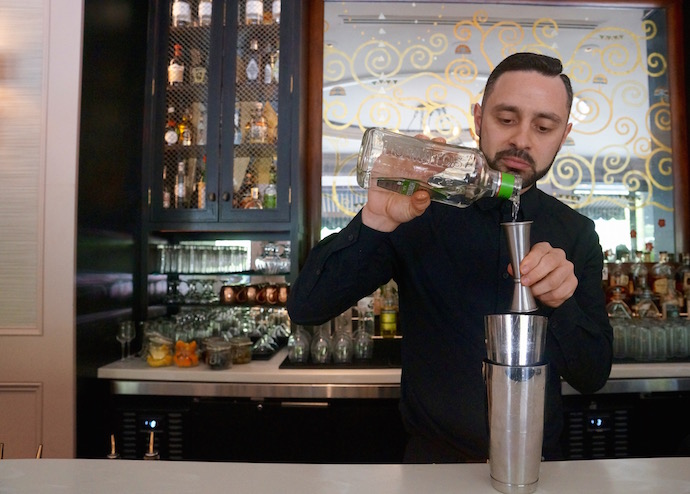 DP: Favorite cocktail?
KH: Eastsides, all day. I love them with Bluecoat American Dry Gin.
DP: What's your favorite kind of customer?
KH: One that lets me freestyle their drinks and lets me just go for it. I'll ask a few questions about they like, and then I can just go ahead and make something cool.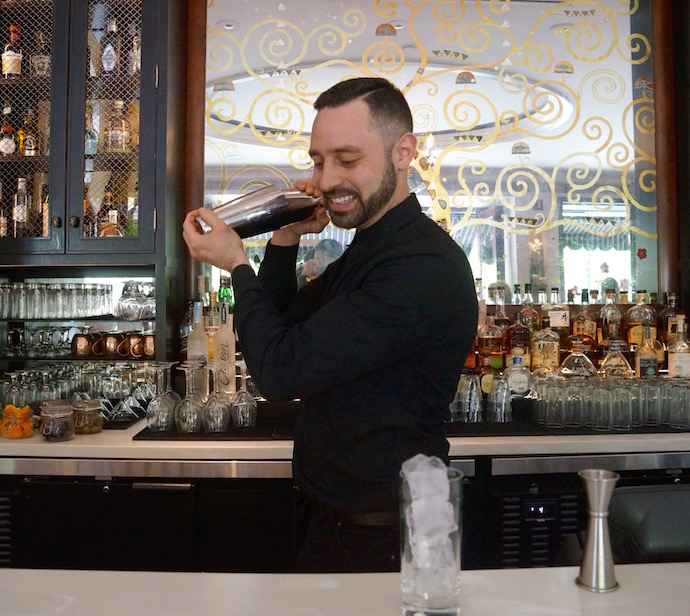 DP: What do you think the essentials are for a good home bar?
KH: Start with amari – they're fun to drink as-is – and then it depends on what you like. Aperol and citrus are important too, and then you can build in spirits of your choice. Start off slow.
DP: Where do you go for a drink when you're not working?
KH: Attico – Yuriy and Papi are great. I like this little hole in the wall, Hai-kori, a bao bar in Chinatown, and they do all tea-infused cocktails. Dominic over there is amazing.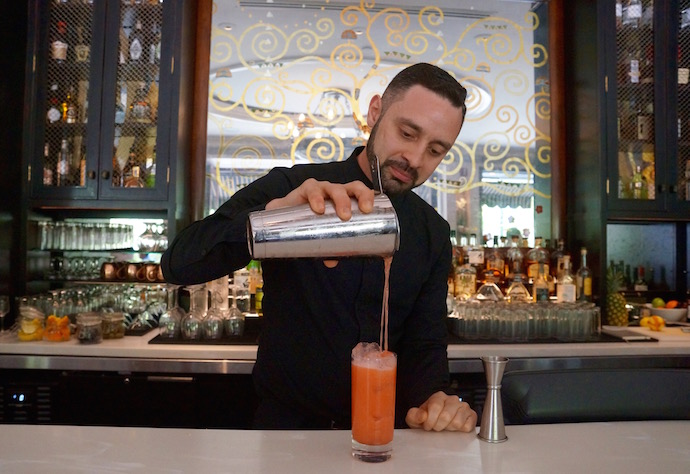 DP: What's the secret to being a great bartender?
KH: I think that knowing and remembering names (or introducing yourself to a new guest) is a great way to start the experience. Use the guest's name as much as you can. Sampling is also so important – some people are scared to try something new, but if you feel someone watching you as you make a drink, make them a tiny sample of them and let them try it.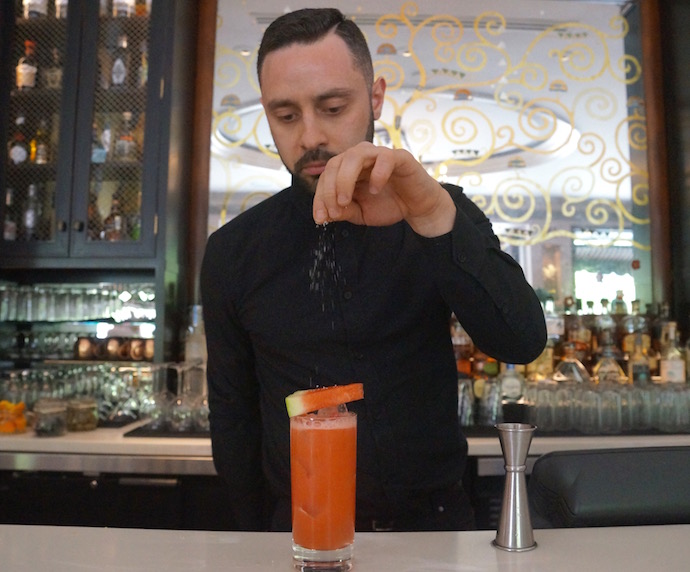 DP: If you could have a drink with any famous person, living or dead, who would it be and what would you drink?
KH: Jim Carrey, and we'd drink old fashioneds. He's hilarious and I've always grown up watching him perform. Maybe I'd drink with the Jim Carrey from back in the day, though.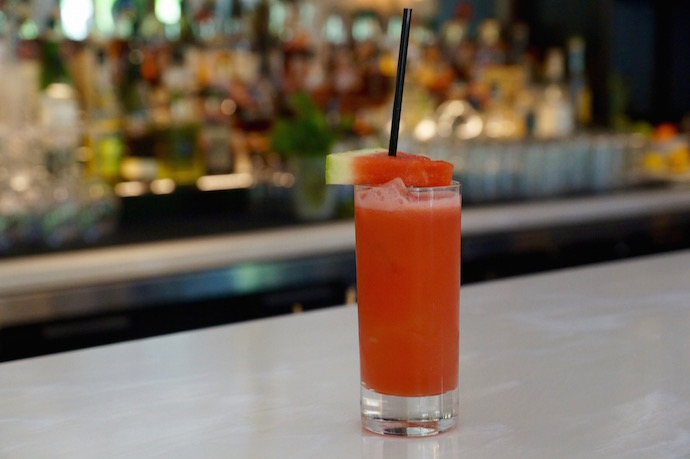 A watermelon margarita with a salted watermelon garnish.

Photos via Drink Philly
Tags:
Behind the Bar
Recent Articles

Feedback
How are we doing? Tell us what you like or don't like and how we can improve. We would love to hear your thoughts!