Behind the Bar: Kevin Castro-Villalba of Parc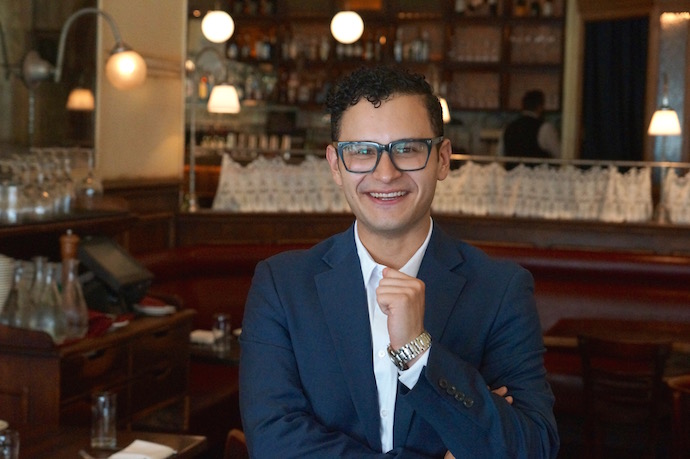 This time on
Behind the Bar
, we talked to
Kevin Castro-Villalba,
bar manager of
Parc
, Stephen Starr's perpetually busy Parisian bistro right on Rittenhouse Square. Castro-Villalba was born in Bogotá, Colombia, before moving to the United States at age four, where he was raised in Delaware. After learning to cook during his time at William Penn High School, he came to Philadelphia to break into fine dining, and now lives in Fairmount, splitting his time between Parc and his sommelier training. We talked to Castro-Villalba about his culinary exploits in high school, Chinon, and his love of scotch.
Drink Philly (DP): Tell us a little about Parc.
Kevin Castro-Villalba (KCV): Parc is a machine that never stops. It's always busy and there's never a dull moment; we have so many covers in a day that it becomes the perfect climate for success and the perfect environment for anybody who loves thrill and high-volume. We're very consistent in the way that we treat service and the way that we treat regulars. "Consistency" might not be the prettiest word, but it keeps everybody coming back, because people will always return to Parc.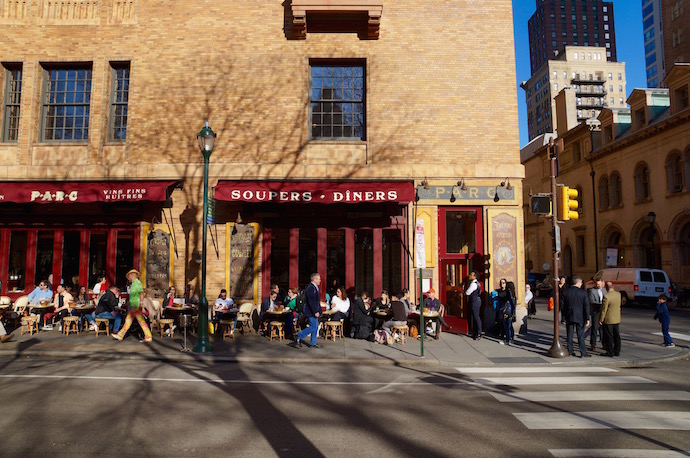 DP: Where did you work before this?
KCV: I moved to Philadelphia in 2014 and worked for Osteria and Alla Spina before transferring to the Townsend Group. I cooked for the Townsend Group and helped open A Mano, and I came here after that.
DP: How did you get your start?
KCV: During my sophomore year of high school, we [William Penn High School] had a $1.4 million kitchen installment thanks to a grant from the state. Kip Poole, my instructor, taught me everything I know (and even paid for my first somm exam), and we started a catering group of high school students called Penn Bistro that catered for everyone from foreign dignitaries & dignitaries of state to local governors. We also started a scholarship foundation in 2013, called Crop Foundation, which helps kids break into the industry whether they go directly into restaurants or seek out higher education. I'm still involved with the foundation, and we've expanded over the years.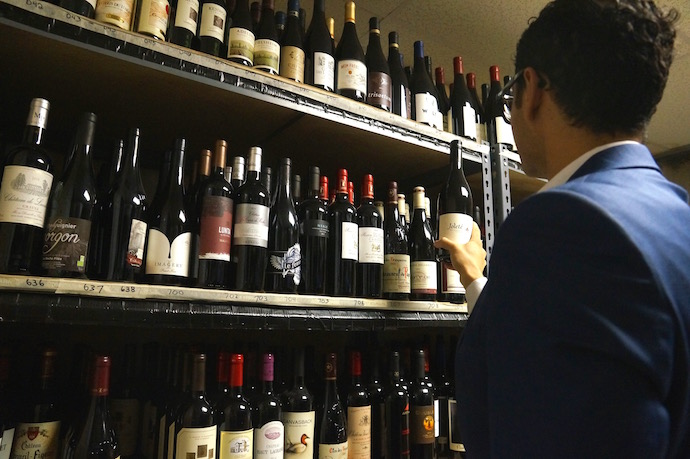 DP: Describe a typical workday.
KCV: I'll come in and make sure that the wine room is organized and everything is the way it's supposed to be and then hit the floor for service. Typically, lunch service goes until around 3:00, and once it dies down, I'll go do managerial work upstairs before returning to the floor for dinner service. Once that's done and I've checked in on everybody and make sure everyone's doing okay, I head back to more administrative work. I usually work ten to eleven hours a day, especially on weekends.
DP: What was it like to move from the back of the house to the front of the house?
KCV: It made me a lot more structured in the way that I perceive my workday and made me more organized with prioritizing and timing. I work with a "prep list" and am very regimented, which just helps my day go smoothly. When I worked with the Crop Foundation, I was also a part of the management team, so front of the house has always been near and dear to my heart. I just wanted to make sure I could succeed in the back of the house before I returned to the floor.
DP: One unexpected fact about you?
KCV: I was on Guy's Grocery Games on the Food Network where I came in 2nd place –– I should have won!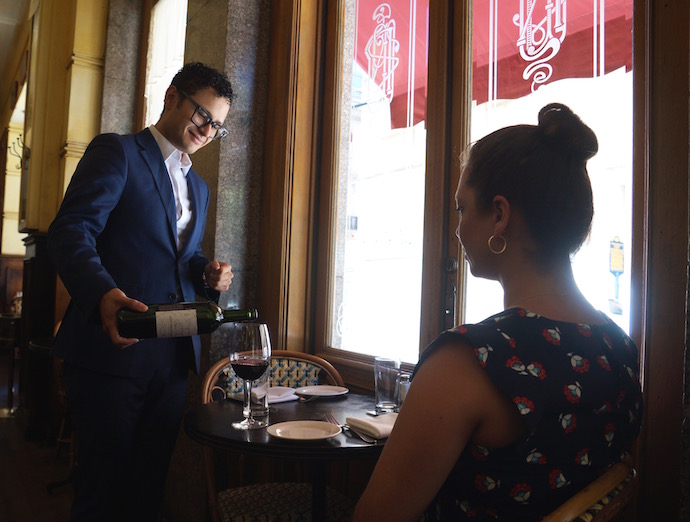 DP: Are there any trends in the wine world you're excited about?
KCV: I'm excited to see where the entire biodynamic and natural wine movement is going. I feel like for quite a while, it was turning into a movement where all the wine that you were getting was technically just cider. I had the pleasure of tasting Bobo Selections, which is natural and will hopefully be carried in Pennsylvania soon, and these are wines that use carbonic maceration that helps wine last longer (like they do in Beaujolais) while still leaving the original sediment in and keeping the wine's essential structure.
DP: What type of wines are most in demand right now?
KCV: At Parc, people are looking for Old World wines, and for the people that aren't, we have a great selection that guides guests to help find the flavors they're looking for. Rosé is pretty big, but I am seeing a slight change in people's tastes, and they're not ordering it as much as they did, say, last year. I've been seeing a lot more Burgundy and cider styles being sold.
DP: Are there any underrated wines you think more people should know about?
KCV: Chinon. It's a perfect selection; Cab Franc is a beautiful grape that people mistake for its overpowering older brother (Cabernet Sauvignon), and it has great stability that can offer a lot. Chinon can pair with everything from seafood to the heaviest meats, so it's a perfect food wine.
DP: Favorite beer?
KCV: La Fin du Monde. I'm more of a wine drinker, but if I'm drinking beer, I switch to this or pale ales.
DP: Favorite cocktail?
KCV: A Naked and Famous [a cocktail made with mezcal, chartreuse, Aperol, and lime].
DP: Favorite spirit?
KCV: To drink, I would have to say whiskey –– I like Talisker Scotch Whisky, which is the only one that comes from Skye. It's a sexy, sexy, scotch.
DP: Favorite wine?
KCV: It would still be Chinon. It's so close to my heart and it's little known. I really love Fabrice Gasiner.
DP: What's your favorite kind of customer?
KCV: The ones that let you give them an experience. The ones that come in and say, I've had your menu a hundred times, you pick for me.
DP: What's your favorite part of your job?
KCV: The people. My family. My team here is absolutely incredible. We're a dysfunctional family that I grew to love, and it takes a village, but it might as well be a small city at this point. Especially working with Carol Serena [Parc's long-running general manager], who is an incredible general manager.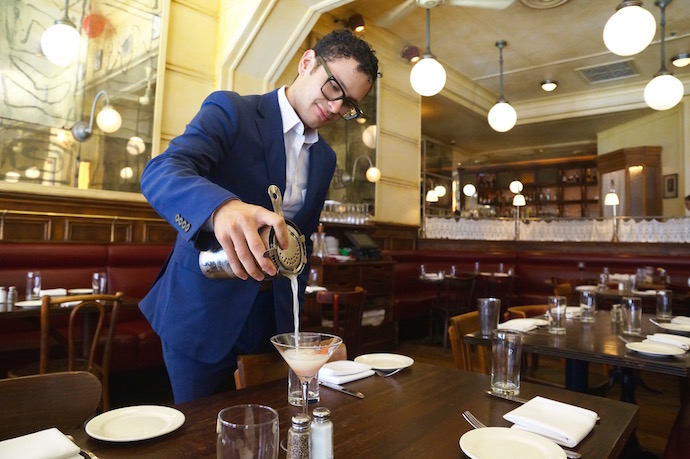 DP: Where do you go for a drink when you're not working?
KCV: I love seeing James [Smith] and Latifah from Vernick, who I've been visiting for the past couple of years. Sacha at Friday Saturday Sunday is absolutely incredible. I love to go to Stir on Chancellor Street, which is super fun.
DP: What has your experience been as a person of color, a member of the LGBTQ+ community, and an immigrant in this industry?
KCV: As a gay man, I've been lucky to work with so many female mentors throughout my career. Having people like Carol behind me propels me to get where I need to be, and they've given me people to look up to. As an immigrant, adversity is the stone on which I sharpen my blade, because nothing in life is easy –– the language barrier was difficult, but at the end of the day, I'm still me. Parc is so diverse and filled with people in the LGBTQ+ community and people of color, and it allows me to be unapologetically me. We watch out for each other.
DP: Do you have any advice for people who want to work in the wine world or the restaurant industry in general?
KCV: Just remember it's not always going to be easy, especially when you're starting out, and you'll have to keep your head down and keep pushing forward, but hard work pays off at the end of the day.
DP: If you could have a drink with any famous person, living or dead, who would it be and what would you drink?
KCV:
Dominique Crenn
from
Atelier Crenn
in San Francisco. Her presence in the LGBTQ+ community and her story have always inspired me. During the wildfires in California, while she was trying to help, I sent her a message on Instagram expecting nothing, and she responded with a beautiful comment thanking me. We'd drink a bottle of
1985 Olga Raffault Chinon
.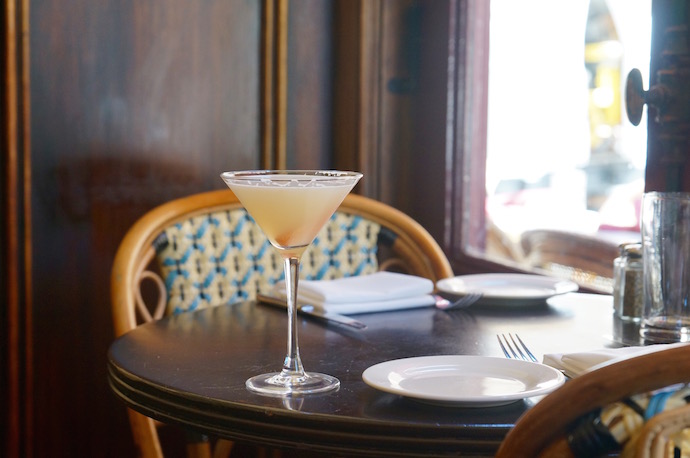 Romarin (rosemary-infused grapefruit vodka, St-Germain, grapefruit).
Photos via Drink Philly
Tags:
Behind the Bar
Recent Articles

Feedback
How are we doing? Tell us what you like or don't like and how we can improve. We would love to hear your thoughts!