Behind the Bar: Philadelphia Bartenders of James Beard's Raising the Bar Reception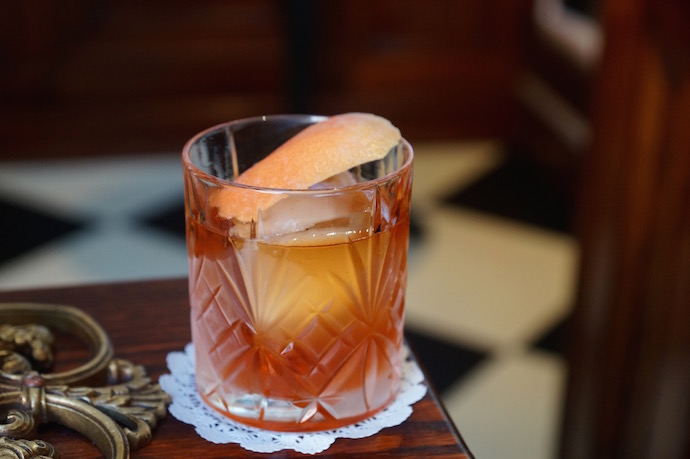 On Wednesday, October 30, six of Philadelphia's best bartenders — Aaron Deary from R&D, Damian Langarica from a.bar, Paul MacDonald from Friday Saturday Sunday, Resa Mueller from R&D, Colleen Nealon from Porta, and Maria Polise from ITV — will showcase their top-notch skills at Raising the Bar, a first-time event from the James Beard Foundation. We sat down with all six bartenders to ask how they've prepared for this brand new event, as well as a few other questions about what it means to be a great bartender, what's trendy now, and more.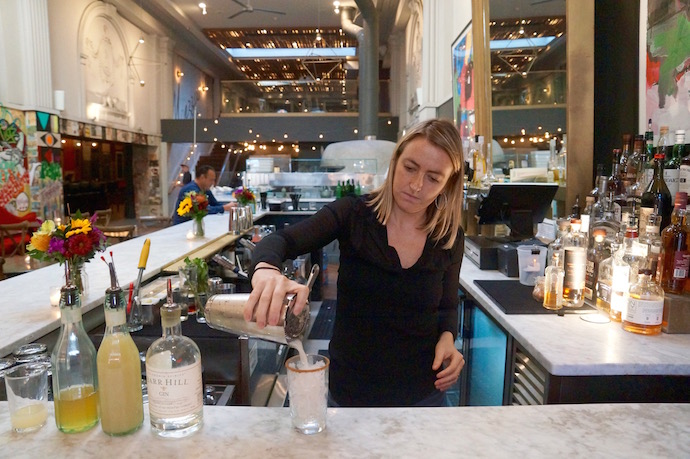 Porta (hosting venue)
Colleen Nealon
DP: Can you tell me a little bit about how you've prepared for this event?
Colleen Nealon (CN): With large scale events like this, hosting over 200 guests, you never really know how the night is going to turn out, so it's always better to be a little over-prepared with extra ingredients and supplies. As for the cocktail, I wanted to keep it simple — I'm featuring El Tesoro Blanco with spiced pear liqueur, a fall-spiced vanilla maple syrup, and fall spices in the cocktail.
DP: What drew you to working with the James Beard Foundation for this first time event?
CN: It's exciting to be able to participate in this event not only as a featured bartender, but in a larger role with Porta as the host venue of the event. The James Beard organization is a such a prominent culinary nonprofit, and it's been a great experience working with the Foundation. Furthermore, it's amazing to be able to support James Beard's Good Food for Good Mission, in which proceeds go towards benefitting waste reduction, sustainability and chef advocacy.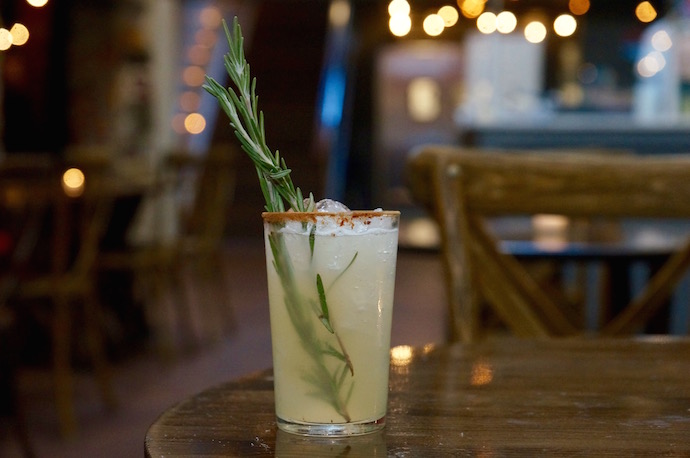 Porta's Apple Bees Knees (Barr Hill Gin, lemon, honey, cloudy apple juice).
DP: What can guests expect on October 30?
CN: It'll be a very busy, very fun night. Our space is colorful and dynamic, and it's versatile and customizable for events such as this. I'm looking forward to seeing this event, featuring some of the most talented bartenders and chefs in the community, come to fruition. Expect amazing cocktails and delicious food throughout the night, for a cocktail driven event unlike any other in the city!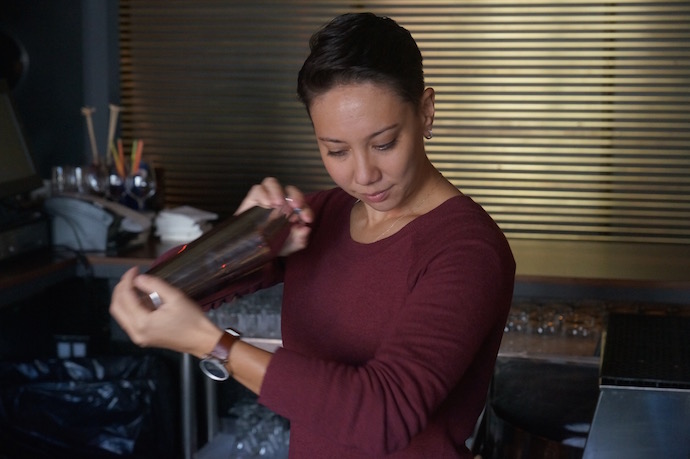 DP: Can you tell me a little bit about how you've prepared for this event?
Resa Mueller (RM): For beverages, we're doing a drink inspired by one of my favorite Manila treats. I love a restaurant called Happy Lemon, a Taiwanese chain, that does a lot of cheese tea, which is becoming a thing now here too - you basically do it with tea or coffee and then you add a savory cheese foam on top. I wasn't as into it when I first had it, and now Jill [Mueller's wife and business partner] and I love them. We use Single Prop Rum, which has an awesome flavor because they cut it with coconut water, and I make a coconut oolong soda to pair with it. There's also a little sweet vermouth in there to give it some body and match the weight of the cheesy foam, which is what tops the drink with lemon zest and lava salt.
DP: Any predictions about where the industry might go next?
RM: I think it'll embrace more types of drinkers. Before, people who weren't drinking felt uncomfortable to sit at the bar, but now with low alcohol options or nonalcoholic options, the idea of casual drinking has been expanded. You don't have to take it too seriously, and you don't have to order a light beer. Sustainability is huge too; it just makes sense. Anything you can do to reduce waste is super helpful.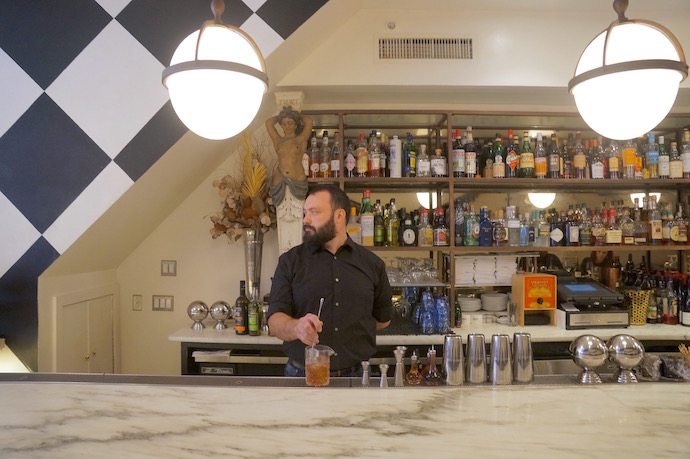 DP: Can you tell me a little bit about how you've prepared for this event?
Paul MacDonald (PM): I've really just workshopped the cocktail. I'm working with El Tesoro Blanco, and it's called Good Faith. It's a stirred cocktail that doesn't follow a standard cocktail ratio - it uses cold brew coffee where you might expect vermouth, for example. It's made with El Tesoro, cold brew, lemon coriander shrub (a housemade shrub I always use), and allspice dram.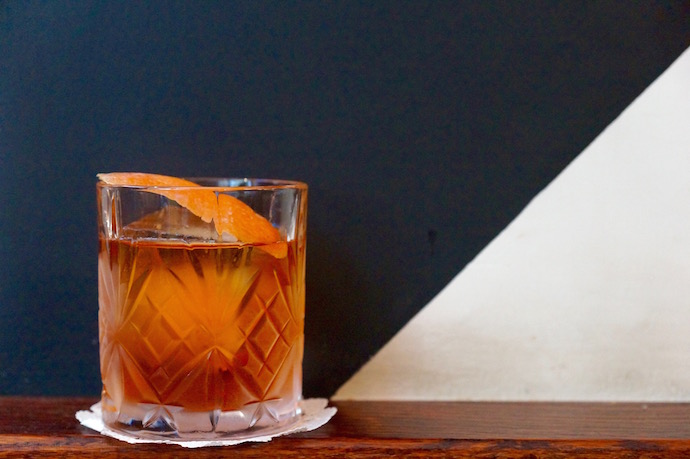 Friday Saturday Sunday's Fibonacci in Autumn (green chartreuse, Laird's applejack brandy, Cappelletti, Cocchi Americano, Amaro Nardini).
DP: How does it feel to represent Philadelphia for this first time event?
PM: It feels great. It's very exciting for me to see the Philadelphia restaurant and bar scene continue to make its way onto the national stage, and it's exciting to be working at a place that is at the forefront of that within the city, as well as my fellow talented bartenders. We've got a great roster, and it's nice to see when an out of town organization does its homework and really finds the people propelling the city forward; when you look at this roster, it's clear that James Beard did a great job putting us together. One of the things that I love about the Philadelphia restaurant industry is that we get along and help promote and support each other. There's a general feeling throughout the community that whatever helps you helps me; our goal is to elevate the city, its scene, and bring more people here, for all of our benefit.
DP: What's trendy right now?
PM: It seems to me that the things I like are currently trending, and what I see as the biggest trend in Philadelphia is a move towards low alcohol cocktails — fortified wines in place of spirits, drinks that you can drink a few of without getting drunk, and so on. I think for a long time, the goal was "bang for your buck," but I don't think that's the case anymore. The cocktail world is converging with the culinary world more and more, and people are looking for something they can enjoy without inebriation as the final goal anymore. I think fortified wine is really helping that - there's a budding interest in sherry and vermouth in particular.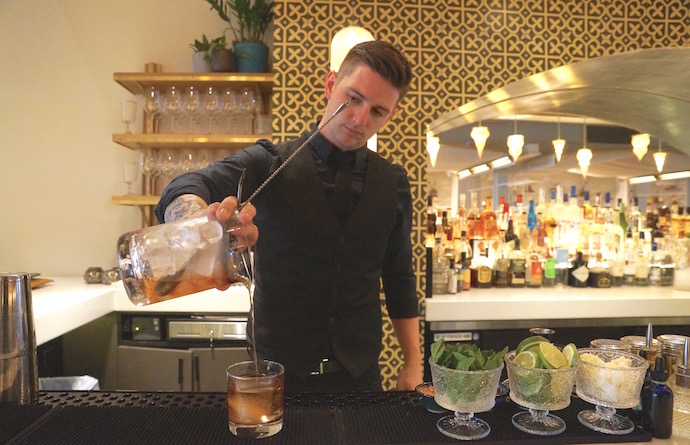 DP: How did you prepare for this event?
Aaron Deary (AD): Because sustainability is an important topic tied to the event, I chose a favorite we do at R&D - the Pineapple Negroni. Our team does their best to be sustainable and we're constantly finding ways to improve reducing waste and use by-products where possible, especially with our fresh produce.

With this drink, we juice fresh pineapple for other cocktails and work to find many uses for the pineapple pulp since it has a lot of flavor. The pulp, core and skins are used to infuse the gin (along with a little seasoning from spices). It's one that resembles us well - a simple drink with a little twist, that introduces tropical notes and fall spices while staying true to the classic Negroni cocktail.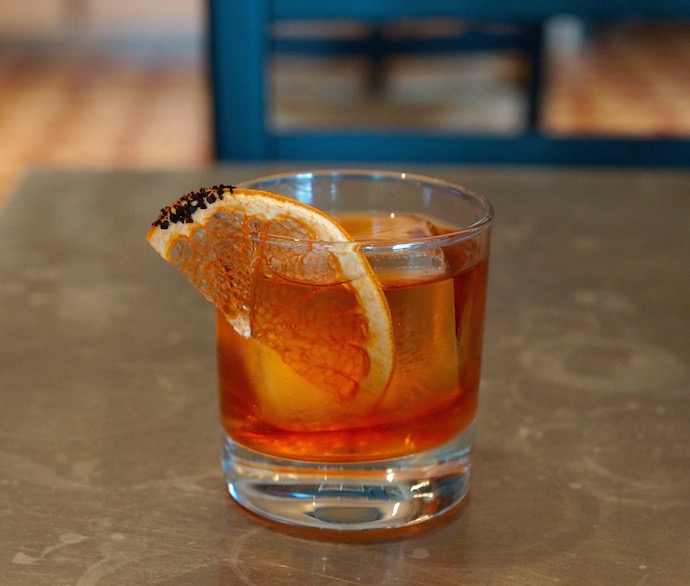 Suraya's The Tempest (El Dorado 12 year rum, éclat-contratto, rhum barbancourt, chocolate bitters, urfa-vermouth).
DP: Any predictions about where the industry might go next?
AD: Irish whiskey is making a comeback - ones like Teeling. They're using different casks finishes and different mash builds, so you'll see Irish Whiskey with more character and not just that mellow, smooth cereal flavor you're used to.
DP: What do you think the essentials are for a good home bar?
AD: Sweet vermouth, a good bottle of gin, a cask strength bourbon, Campari or Contratto Bitter, and a bottle of green chartreuse — just because.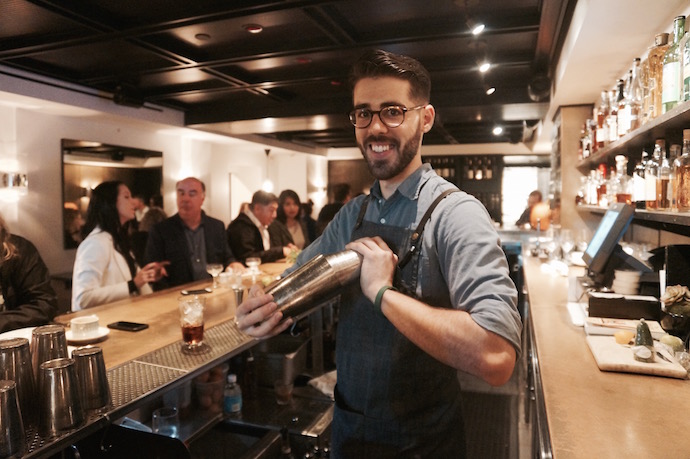 DP: Can you tell me a little bit about how you've prepared for this event?
Damian Langarica (DL): I basically just wanted to showcase what we do at a.bar and a.kitchen. Our food and our cocktail program is very seasonal, and we source all our ingredients locally, so inspired in this cocktail was the idea to create something very seasonal and autumnal. That's why I used apples, pears and spices (such as cinnamon and nutmeg) as the centerpiece of this cocktail, which are also flavors that you can easily find in the Rabbit Hole Rye Whiskey — the spirit that I chose to make my cocktail with.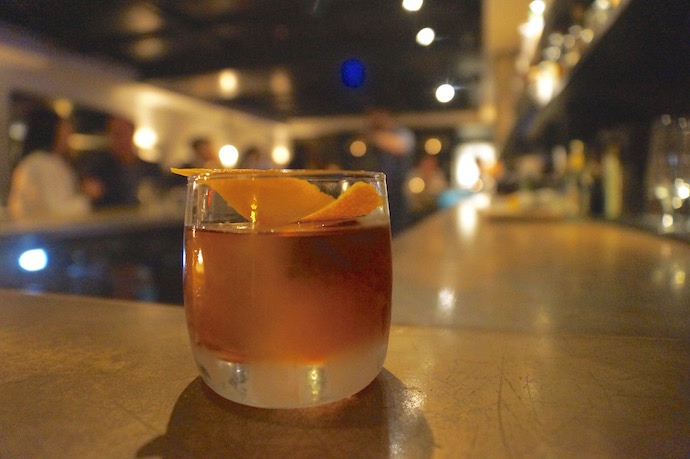 Mezcal Negroni at a.bar (mezcal, Cynar, sweet vermouth).
DP: What's your favorite kind of customer?
DM: Any customer that comes in and willing to get experimental and learn about new spirits and new cocktails - the kind of customer that has an open mind and is excited. I love someone who wants to try new stuff. I also love a customer who is difficult to please and set in their ways; it presents a challenge to me. It puts me on the spot and makes me push my boundaries to be creative, and it allows me to introduce that person to new flavors and new cocktails.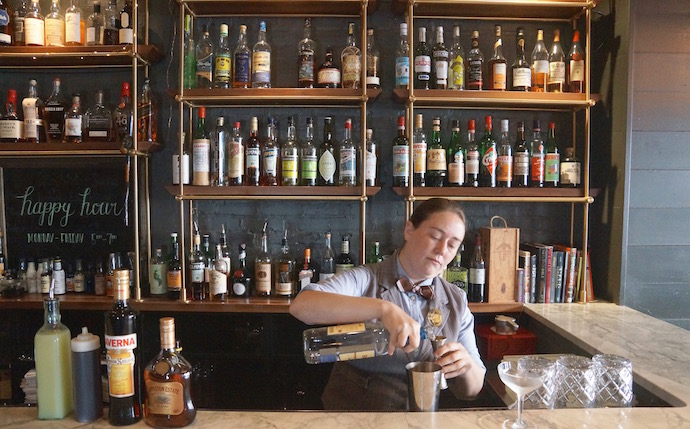 DP: Can you tell me a little bit about how you've prepared for this event?
Maria Polise (MP): I adapted a cocktail from our menu to include the sponsored spirit, Bluecoat, which I requested specifically because it's such a great example of a local spirit. It's adapted from our Flip 'Em the Bird, George, which is made with Bluecoat, Campari, Luxardo Amaro, green chartreuse, smoked pineapple syrup, and lime juice. It's usually without the Bluecoat, but I added it and split the base between the chartreuse and the Campari, adjusting the specs to make it work. Now, I'm not sure which one I like better! I think the cocktail represents my particular palette - strong bitter, herbal, and smoky flavors. It would absolutely be the first thing I would personally order on a bar menu.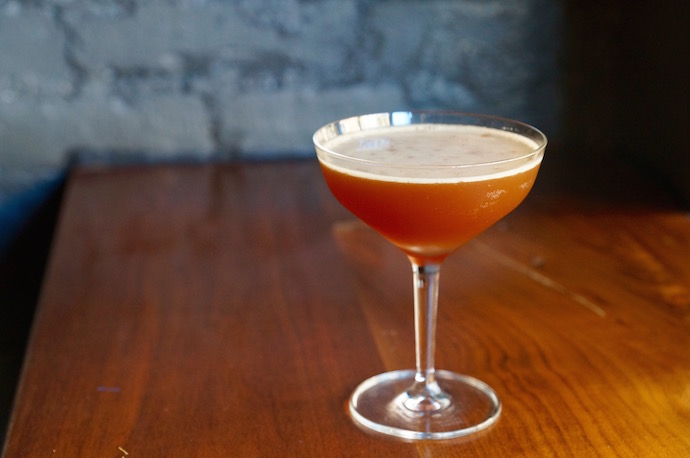 ITV's Robot Space Bear (Appleton Rim, Rhum JM, Averna, lime, housemade cola)
DP: What's the secret to being a great bartender?
MP: You have to find the balance between being fast, personable and knowing when you have to prioritize. There are times when you can't sit and talk to one guest for two minutes because you're at risk of ignoring everyone else, but there are also times when you would never spend time cleaning up because you can have a conversation with a guest. Striking that balance is so important. Also, always hide when you're upset, which is a skill I don't have.
DP: If you could have a drink with any person, living or dead, who would it be and what would you drink?
MP: Ada Coleman, who created the Hanky Panky cocktail. She had to leave the cocktail culture in the U.S. to go to Europe during Prohibition, and of course, I'd want to drink a Hanky Panky with her! I hope she'd make it, too!
Photos by Drink Philly
Tags:
Behind the Bar
Recent Articles

Feedback
How are we doing? Tell us what you like or don't like and how we can improve. We would love to hear your thoughts!