Behind the Bar: Resa Mueller of R&D, Pizzeria Beddia, and Lalo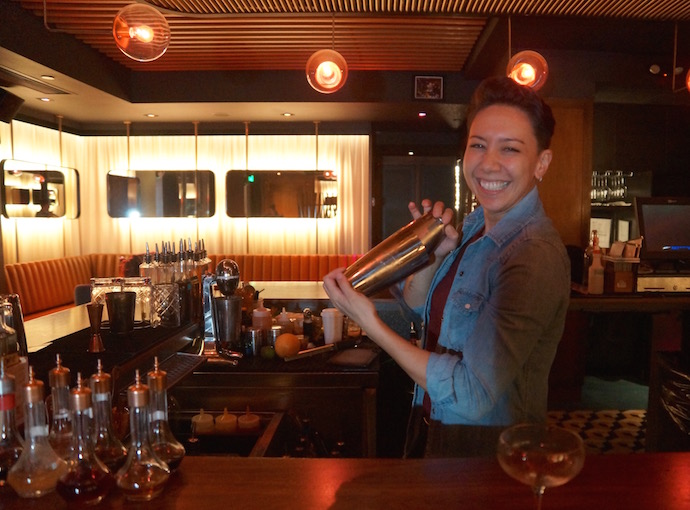 For this installment of
Behind the Bar
, we sat down with
Resa Mueller
, who bartends at both
R&D
and
Pizzeria Beddia
and owns
Lalo
, The Bourse's Filipino food stand, with wife Jillian Encarnacion alongside business partners Neal Santos and Mike Cher. Born in Hong Kong, Mueller lived all around the world before attending college at Bryn Mawr and settling down in Philadelphia's Northern Liberties. We chatted with Mueller about where she's bartended before, sustainability, and her favorite Tina Fey character.
Drink Philly (DP): Tell us about your places.
Resa Mueller (RM): For Lalo, our motto is "small but mighty" - we use family recipes and adapt them for seasonality and locality, while also trying to feed as many people as possible. R&D is a cocktail bar for the neighborhood; we take what we do very seriously, but we don't take ourselves very seriously. Pizzeria Beddia just does really cool pizza using local ingredients and focusing on natural wine - super simple, but well-executed.

DP: Have you bartended elsewhere?
RM: Lots of places - Emmanuelle, Mission Taqueria, Twenty Manning Grill (for eight years), and Royal Boucherie.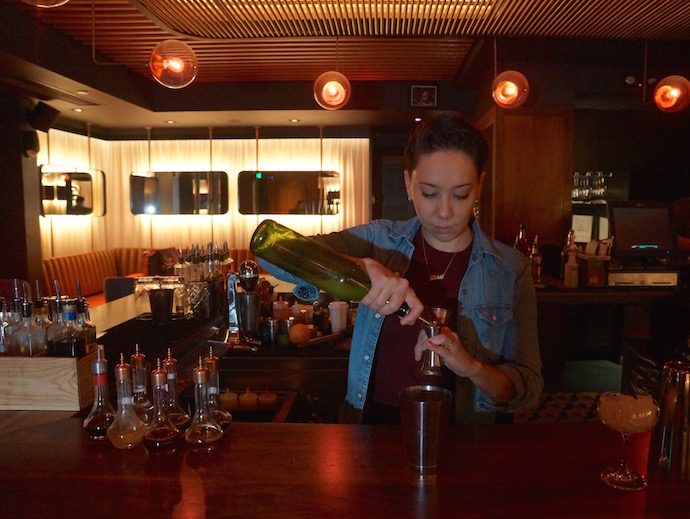 DP: What's trendy right now?
RM: I'm trying to make Mind Erasers a thing! That's my favorite last call drink. But otherwise, I think we're refocusing the lens on canon classics and using those as a jumping off point for amazing variations and adaptations for a 2019 lifestyle, like low ABV cocktails and tweaking them in unexpected ways. For example, I often try to incorporate a lot of Asian ingredients into my drinks to give a new take on a familiar classic

DP: What are some trends you wish would die?
RM: There isn't really any! I like everything. Maybe customers being too shy to just order what they want? Go ahead and get a vodka soda!

DP: Any predictions about where the industry might go next?
RM: I think it'll embrace more types of drinkers. Before, people who weren't drinking felt uncomfortable sitting at the bar; now with low alcohol options or nonalcoholic options, the idea of casual drinking has been expanded. You don't have to take it too seriously, and you don't have to order a light beer. Sustainability is huge too; it just makes sense. Anything you can do to reduce waste is super helpful in extending the viability of the industry.
DP: One unexpected fact about you?
RM: I'm actually really girly and dainty. Whenever I'm off, I take advantage of being outside as much as possible; except for really gritty outdoorsy stuff. Sleeping on the ground has no appeal to me.

DP: Favorite beer?
RM: I don't really drink beer that much, so, hard seltzer.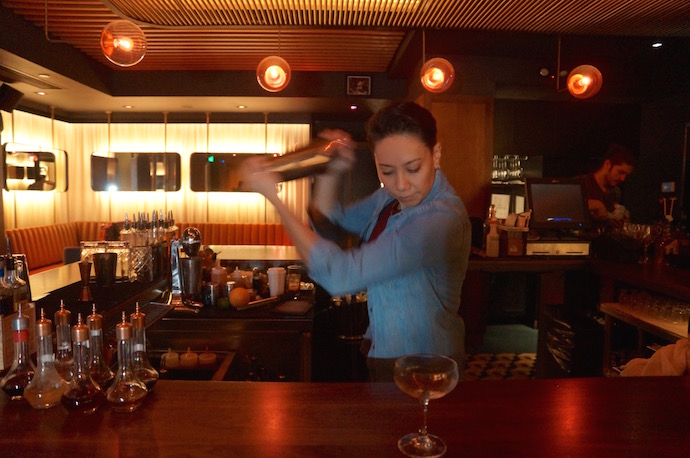 DP: Favorite liquor?
RM: To work with, gin. There's so many different things you can do and products you can use. Right now, to drink, my brother brought me a bottle of barrel-aged Genever that's so delightful. To drink, agave spirits. They're such beautiful agricultural products, and the variety is incredible.

DP: Favorite cocktail?
RM: A highball - soda water makes everything better. I think extra water and soda can open up a spirit, so I'll use any spirit.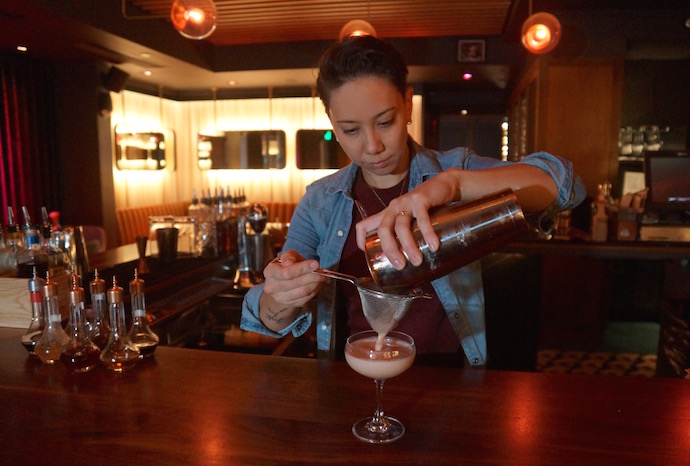 DP: What's your favorite kind of customer?
RM: Someone who is interested and excited about what we're doing, at any place I'm working.
DP: What do you think the essentials are for a good home bar?
RM: Beefeater Gin is great - it's so versatile. El Dorado 5 Year, for rum, is pretty neutral, which makes it a great option. Definitely have one tequila and one mezcal - the mezcal is really up to you and what you like, but for both, make sure you get one made as traditionally as possible. Siembra is fantastic for both. I would say Talisker for scotch and Rittenhouse Rye and Old Grandad Bonded Bourbon for rye and bourbon are really standard. Bitters - definitely get Angostura, orange, and maybe Peychaud's if you want a Sazerac. Also, absinthe; if something doesn't work, try adding absinthe. I like Vieux Carre.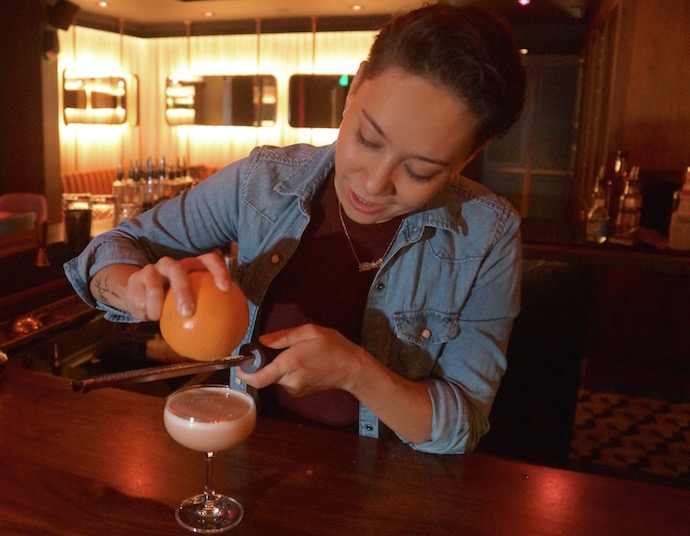 DP: Where do you go for a drink when you're not working?
RM: After work, we go to Fishtown Tavern to see Richie, Liz, and Allison, and the whole squad. I love Buffalo Billiards, which is another go-to spot. Both of those places create such a comfortable atmosphere for everyone. Philadelphia Distilling, because Canyon and his team are the best. Vernick, if I ever make it to Rittenhouse, but that's a trek.
DP: What's the secret to being a great bartender?
RM: I don't know! I guess don't try too hard. Be a normal person!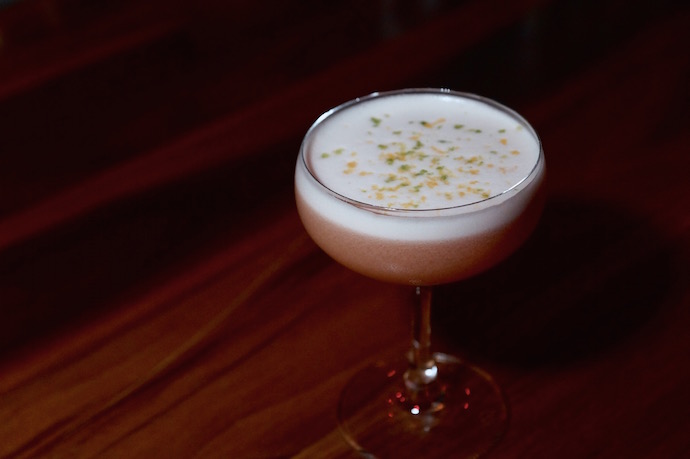 We Can Elope (Remix): pineapple gin, Barbados rum, guava, grapefruit, lime, absinthe
DP: If you could have a drink with any famous person, living or dead, who would it be and what would you drink, and why?

RM: 30 Rock's Liz Lemon [played by Tina Fey], and we would drink Funky Juice, because she's actually everything — and who doesn't love a spritz?
Photos by Drink Philly
Tags:
Behind the Bar
Recent Articles

Feedback
How are we doing? Tell us what you like or don't like and how we can improve. We would love to hear your thoughts!