The Damage of Trump's Wine Tariffs: Importers Expect Shutdowns & Layoffs, Industry Could Be Irreparably Harmed
100% Tariff on European Wine Would Cause Job Losses and Damage the Wine Industry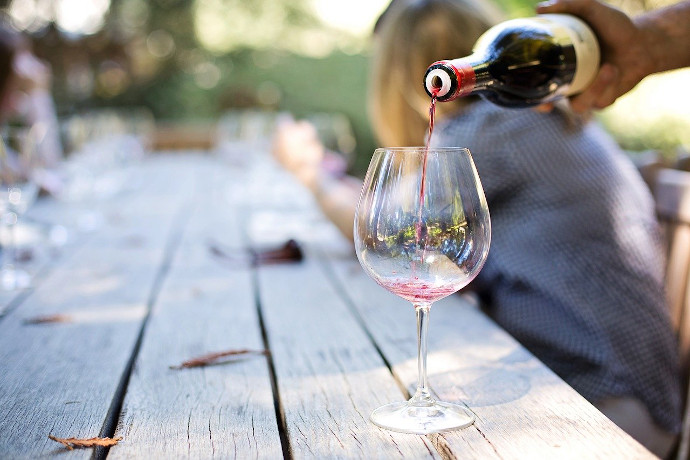 The wine industry in the United States may be in serious jeopardy thanks to proposed tariffs by the Trump administration, and you can make your voice heard to stop this move.
As reported by several outlets, including The New York Times, President Trump is planning to institute 100% tariffs on French wines, which could destabilize an entire industry as well as seriously impact consumers in this enormous industry.
The tariffs are a direct result of a trade feud between the Trump administration and France, which is taxing American tech companies whether or not they have a strong physical presence in France (and most don't). Though this is still unconfirmed, the report suggests that the administration indicated similar tariffs could affect countries like Italy, Turkey, and Austria if they also engage in digital taxation. In October of 2019, Trump and his administration enacted a 25% tariff recently on European imports like wine, Parmesan cheese, and scotch (which is already affecting the industry).
So how does this affect average consumers, and why should you care? Several wine experts are making compelling cases as to why this could cause widespread job losses and change the wine industry long-term for the worse. Here's a brief explainer, but if you're looking for something more in-depth, Opening a Bottle has a serious deep dive on this troubling development.
How it affects the industry
When it comes to wine, importers and distributors are the gatekeepers that allow you to get your favoite wine. Importers, distributors, and winemakers across the world could be devastated by taxes like this; if wine is too expensive to import, smaller importers and distributors may just shut down, and the larger companies won't be able to provide the manpower to create portfolios anymore. Importers and distributors are crucial when it comes to wine selection and education, and without them, Europe's best producers likely won't want to send their wines all the way to the States anymore. Restaurants and wine shops will also take a huge hit — with fewer distributors and a worse selection, many of these establishments might simply go under.
"I spent 20 years of my life building a successful business, and in one signature the Trump administration could make it all crumble," said Jenny Lefcourt of Jenny & François Imports. "We will know on January 14 if yes or no, everything we have built will be destroyed. This will affect a huge portion of the wine industry, from importers to distributors, wine shops to restaurants, European wineries, to in fact American wineries who won't have nearly as many stores to sell to. Trump will wipe out the small businesses he pretends to support. This is about a disagreement over aircrafts and tech companies. But it will end up devastating many American families including mine, as well as those of my employees."
How it affects you
When it comes to the consumer side, these tariffs, along with a potential lack of importers and distributors, means two important things: the price of wine will go way up, and the selection will be worse. European winemakers may choose to send their product to China rather than the U.S. (currently, demand for wine in China is at an all-time high), and we might never see some of our favorite varietals return to the States again.
Some might ask why they can't just "buy local" — even California wines will be affected, because distributors and importers may shut down en masse, leaving no middleman to provide your favorite West Coast wine.
How to help
All of this leads to one question: what can you do? You can visit Regulations.gov and voice your opposition to these tariffs (Opening a Bottle also has a photo explainer for this process), and you can also contact your elected officials - including your Senators and House Representatives - and tell them you're against the tariff. If you work in the restaurant industry, you almost certainly will be affected by this crushing blow to the industry, so speak up now; the deadline to sign the petition is January 13, 2020. When you sign the petition, write your comment and click "Comment now," and if you work in or adjacent to the wine industry, note how it affects you personally.
Whether you're an experienced wine drinker or just getting started, there's no denying that these tariffs could destroy an entire, thriving industry and cost hardworking wine professionals their livelihoods, so don't delay — make your voice heard and do your part to save the United States' wine industry. Reach out about this tariff by January 13, 2020.
Photo via Pixabay user JillWellington
Recent Articles

Feedback
How are we doing? Tell us what you like or don't like and how we can improve. We would love to hear your thoughts!